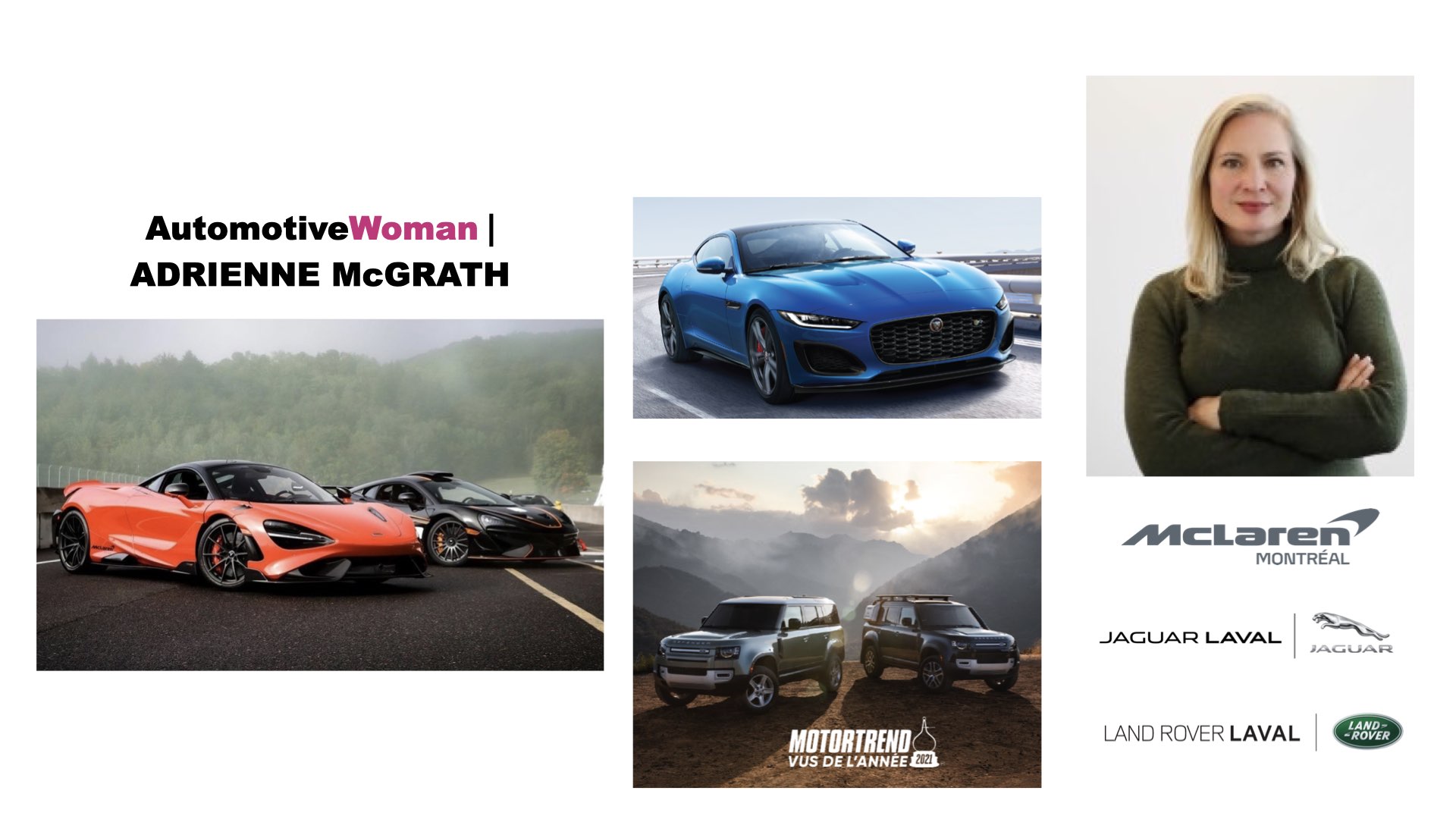 Automotive
Woman

Wednesday

We profile women who have achieved success in automotive and motorsports with integrity, passion and sheer determination. These women define the term AutomotiveWoman.

We are automotive leaders.
We are motorsport professionals.
We are women inspiring the next generation.

Who Am I: Adrienne McGrath
Company: McLaren Montréal and Jaguar Land Rover LAVAL
Current Position: Director of Marketing
Years at Current Position: 3yrs.
Location: Laval, Quebec, Canada
Career
Describe a typical day at work.
The best part of my job is that there isn't a typical day at work.  Beyond checking my emails in the morning, each day actually brings me something new.  
My job is about planning events, pushing various marketing projects forward and creating new opportunities for consumers to engage with our dealerships.  
One day we may be shooting a promotional video for social media content and the next I could be hosting a track day for our clients.  I love the versatility of the job.
Describe a current job-related responsibility which keeps you on your toes, daily.
Finding new and inventive ways to keep our clients and fans engaged with our dealerships is what keeps me on my toes.  It's an ever flowing creative process.  
As a woman, tell us the most challenging hurdle you've had to overcome while climbing the professional ladder? 
Learning how to be taken seriously. In the early years of my career, I would find it difficult to be heard in meetings. Getting my ideas across proved difficult for me, I'd lose the attention span of the room
It wasn't until I attended the 'Women of Influence' Congress in Toronto, at which Bonnie Brooks, CEO of the HBC at the time, was speaking that I was finally able to get some advice.  During the Q&A session, I had the opportunity to ask her how she got people to take her seriously.  She essentially replied, "Talk less, listen more and choose your words wisely".  Then it hit me, I had not been delivering my thoughts in a succinct manner. I trained myself to make a list of my thoughts and focus on what was necessary to convey.  That has helped me enormously in my career.
When met with discouragement, how do stay focused and/or prevail?
Achieving focus after being met with discouragement, is done by first accepting that things will never always go your way. 
You'll hear no – so stay open minded and flexible. 
You'll make mistakes – analyze and learn from them. 
And whatever you do – Don't make excuses. 
You may not always get the result you expected but every experience teaches you something new.
Being assertive is considered an asset in business.  As a woman, how do you balance the need to be your own champion with the stigma associated with the term, when it's applied to women?
The ability to be assertive is a manifestation of the confidence you have in yourself and your knowledge. My confidence grew with professional experience I gained. I feel that if you are self-assured, people will read that off of you and be less likely to question you.
Of course I have encountered the purveyors of the stigma.  I've been patronized for being assertive. 
For example, I once had a supplier call me a "tough cookie" when I suggested we would terminate our contract because he had missed two deadlines.  Can you imagine him calling a man a "tough cookie"? 
You cannot accept that type of language. I simply and quietly corrected him on how I expect to be spoken to. 
By no means are men the only guilty party of this type of behavior either.  I used to work in the fashion industry and found it disheartening how many women are insecure in their role and within themselves. The result is that it caused them to act (or react) in ways that do not help our narrative. 
My experience in the automotive industry has been nothing but positive. Perhaps it is because I work on the corporate side, or maybe it's because automotive lovers are more self-assured characters by nature. I can only say that I have met some of the most supportive, and driven individuals over the years of working in this industry.
Someone who has never made a mistake has never tried anything new. What was your one BIG professional mistake, and what did you learn?
The biggest mistake I have made is to just assume something will go according to plan.  You can hope for the best, but I have learned the hard way never to take something for granted. Especially when it comes to event planning.  You only have one chance to get it right. It is always better to check and double-check details from A-Z.  
Career defining moment, to-date. 
Marketing throughout Covid-19.  I'm so blessed to still have a job and I'm making the most of it.   This pandemic has taught me to think in innovative ways.  I created a video virtual vehicle launch for the new 2020 Defender and 2021 Jaguar F-TYPE.  That was something completely new for me.  I also organized an intimate (yet socially distanced) vehicle rally for our McLaren Montréal clients.  The destination was at a vineyard, where each client had a personal picnic that we designed featuring gourmet food from and in support of local vendors.  
Words of wisdom you received from a mentor; you'd like to pay forward?
"Try it."
My former boss and mentor extraordinaire Manon Kimpton taught me how to think in a different way.  Wherever I saw an obstacle, she taught me how to look for the opportunity.  
"Try it" was her answer to any idea we would bring to the table and that truly empowered anyone that worked for her.
Tell us the most challenging question you were asked in an interview? And how did you reply?
"Tell me about yourself."  
You'd think talking about yourself should be easy but I have two very different personalities and lives.
My work self is social and extroverted. I have met so many people that I'm not fazed by many. I can adapt to any social situation. I have worked with high-profile celebrities like Kendall and Kylie Jenner. I have thrown a number of lavish events. I have even been a guest at Prince's house for his Golden Globe after-party and walked right in there with ease. My work self is the most gregarious creature with a number of crazy stories!
On the flip side, I'm incredibly private and intimate in my personal life. I have a very tight circle of friends who recharge my battery when we get together.  When I'm 'off' all I want to do is go fishing or hiking with my fiancé and our dog. I'm what you would call an extroverted introvert. 
So, my reply to tell me about yourself" comes from the basic truths about me:  I'm very honest. I think of everyone as an equal. If you treat me well, I'll treat you even better. I'm a hard worker and therefore I don't have patience for laziness. I'm a great judge of character. And finally, you wouldn't like me when I'm hungry. 
If you switched career paths tomorrow, what would you do?  
I would probably fall into academia and delve further into the study of psychology.  I've always loved learning. My current obsession is with Dr. Gad Saad's book The Parasitic Mind: How Infectious Ideas Are Killing Common Sense.  He's an evolutionary psychologist and marketing professor at The John Molson School of Business here in Montréal at Concordia University. 
What piece of advice would you share with women keen to follow in your footsteps? 
Don't fall into the victim mentality. No other person can tell you what your limits are. 
Where do you see yourself in 5, 10 years from now? 
I don't forecast my future. I never have.  
Famous last words or motto you live by:
By walking, I found out where I was going. – Irving Layton
Complete the phrase:
I came. I saw.  I loved!
Me Unfiltered
Morning person, or night owl?
Night owl!
Favorite workout, or best way to blow off steam?
Essentrics (a form of stretching for the full body).
What's on your music playlist at the moment? 
Mansionair
Netflix & chill or a good book?
Depends on my mood.
Hobbies outside of work?
Fishing or Skiing.
Best motorsport documentary or movie of all time. Days of Thunder. Rush. Ford vs Ferrari. Other?
Well it's, the Bruce McLaren biography of course! McLaren (2017) 
He truly was such an inspirational individual. I was a McLaren fan long before I worked for the brand. 
Name a hidden talent? 
Latvian Folk Dancing.
If you won the lottery, what's the first extravagant gift you'd purchase yourself? 
An old castle with a ton of land to restore.
Most embarrassing moment? 
Wardrobe malfunction and let's leave it at that. 
Name a pet peeve: 
People who pronounce 'especially", "Xspecially".
Celebrity Crush:
Tom Hardy.  His ability to manifest so deeply into a character he's playing.
Name someone famous who would play you in a movie:
If I could chose it would be Robin Wright in a heartbeat! 
If you could invite only three people to dinner, who would they be and what topic would you discuss?
Dame Jane Goodall, Tiffany Haddish and the French street artist JR. I would like to discuss humanism with them. I enjoy provocative conversations.
Charities or Causes you support: 
Personally, Save the Elephants and The Jane Goodall institute.
I gift an animal adoption as a holiday gift for the kids in our family. They love it! https://www.savetheelephants.org/  https://www.janegoodall.org/ 
How do we connect with you online?
Professional: https://www.linkedin.com/in/adriennemcgrath/