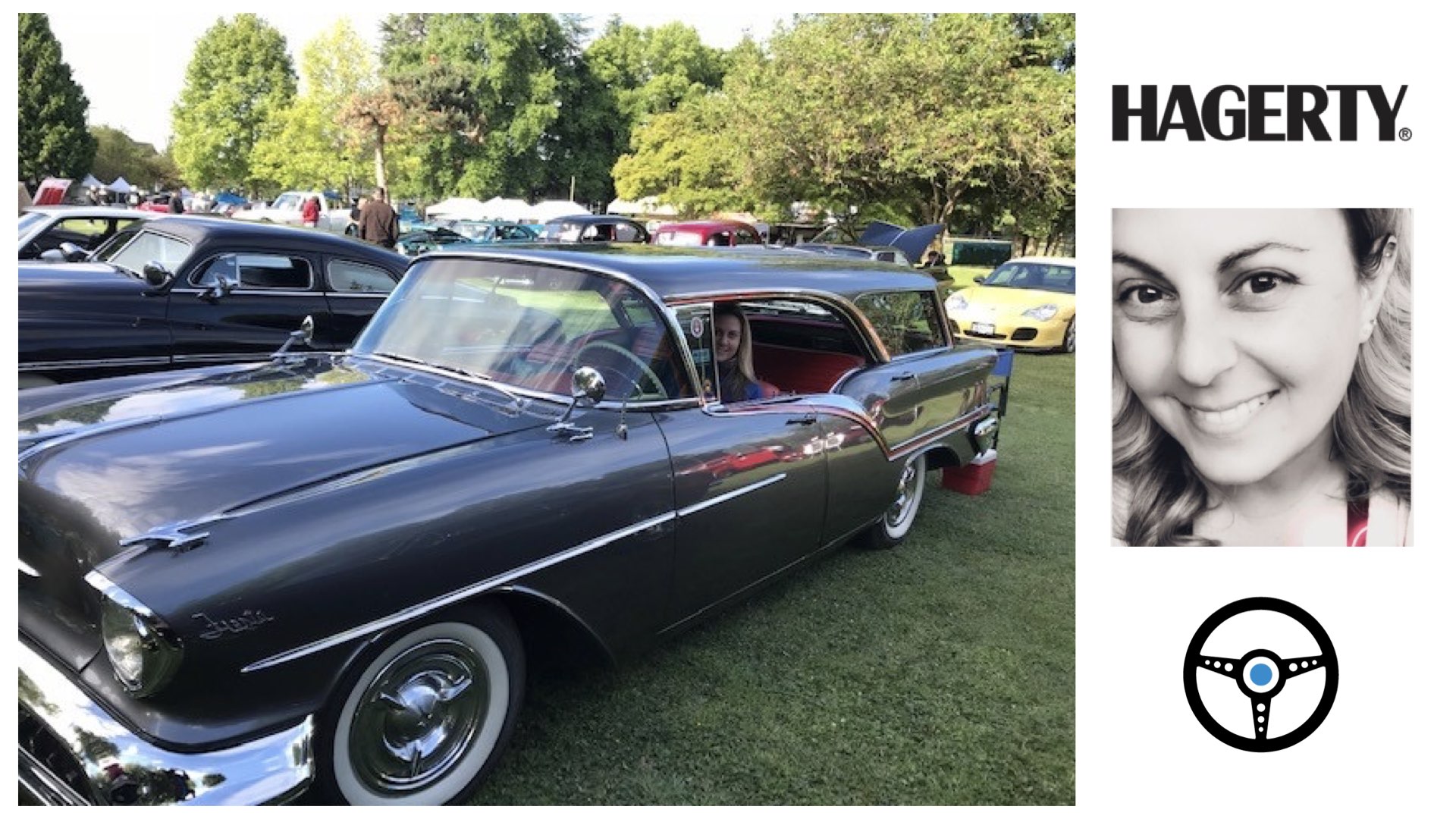 Automotive
Woman

Wednesday

We profile women who have achieved success in automotive and motorsports with integrity, passion and sheer determination. These women define the term AutomotiveWoman.

We are automotive leaders.
We are motorsport professionals.
We are women inspiring the next generation.

Who Am I: Brianne Kindzersky
Company: Hagerty 
Current Position: National Accounts Executive 
Years at Current Position: 4
Location: Vancouver, British Columbia, Canada
Bio
There was only one type of vehicle parked in my driveway growing up: Volvo. My exposure to the collector vehicle hobby did not actually take place until a few years into my insurance career when Hagerty became available in Canada and one of the producers I worked for tasked me with putting a policy together for one of his clients. And then another. And another. I was lucky enough to be given the opportunity to grow the Hagerty book in my office, later becoming a member of the BC Hot Rod Association and Greater Vancouver Motorsport Pioneers Society getting to spend time with local legends and some of the best people around.
After spending several years as a commercial lines broker I was given the chance to work for Hagerty and have been enjoying the ride ever since!
I have lived in British Columbia all my life but am so grateful that my job gives me the chance to see every part of our country and work with our broker partners from coast to coast.  Learn more: https://www.hagerty.ca
Career
Describe a typical day at work.
In my current role, most of my day is spent working with the 19 national accounts I am privileged to handle.  Meetings to discuss future joint initiatives, QBing stucks from their operation teams or just building out production reports.  I always make sure my week includes at least a couple lunch or coffee meetings with local car club members to discuss the latest happenings within the collector car community.  
Describe a current job-related responsibility which keeps you on your toes, daily.
Getting more women into the automotive enthusiast space is something that is a personal focus of mine through my work as there is a lack of female participation.  I am currently working with industry partners to encourage women to get into the collector vehicle hobby by hosting women-only seminars and planning women only events.  
Noticing a lack of participation by young women in particular, I connected with a young enthusiast, Gaby, and created the annual "Gaby's Choice Award" which is handed out at a BC Hot Rod Association event each year to a vehicle which Gaby chooses.  My hope is that as she enters high school, Gaby's passion will carry on and she will introduce even more young women to the collector vehicle community, not only as a hobby but as a potential career path.  
As a woman, tell us the most challenging hurdle you've had to overcome while climbing the professional ladder? 
Downplaying my achievements is a hurdle I have created for myself.  Diminishing my own wins to avoid criticism and not come across as selfish has led to frustration and potentially missed advancements in my career.  
When met with discouragement, how do stay focused and/or prevail?
I welcome discouragement.  When you are focused on being successful, and when you truly believe in the work you are doing, anything that doesn't propel you forward provides fuel to dig in even deeper.
Being assertive is considered an asset in business.  As a woman, how do you balance the need to be your own champion with the stigma associated with the term, when it's applied to women?
I haven't mastered this yet, it's a work in progress for me.  As a woman, thanking the whole team even when it is your own win is what we are accustomed to doing.  Adding smiley faces to emails to seem less aggressive, not jumping on team chat boards to shout out my victories and being overly accommodating are things I find myself doing.  I admire the many women who are assertive in business, and I work every day towards becoming one of them.  
Someone who has never made a mistake has never tried anything new. What was your one BIG professional mistake, and what did you learn?
I have definitely made some mistakes in my career.  Launching initiatives that didn't get the results I was hoping for and building out big engagements for broker partners which didn't get the participation or reception I had envisioned.  The previous VP of Hagerty Canada, James, always said to us when things didn't go the way we hoped they would "What did you learn from it?"  No judgement, no criticism, he gave us the space to try out our ideas, celebrated the wins and made sure the not-quite-wins made us better.  Being creative and taking chances is risky, not every idea will play out exactly how you want it to.  Own your mistakes and learn from them.
Career defining moment, to-date. 
When Hagerty was first offered in Canada in 2009 I was the auto department supervisor at the brokerage I worked for.  One of the producers in my office was an influencer in the collector vehicle community so was someone the car owners came to for insurance.  He asked me to learn about Hagerty so I would be able to write policies for his clients.  After spending weekends at car shows and evening with car clubs for a few years the producer recognized my passion and asked me if I would like to take over his Hagerty book of business.  By that time I had moved into the commercial department and Hagerty should have been handled by the auto team but he pushed to get it approved by management which ended up putting me on this amazing career trajectory.  
Words of wisdom you received from a mentor; you'd like to pay forward?
Don't wait until you feel 100% ready, you never will.  Trust yourself to figure out anything that comes your way.
Tell us the most challenging question you were asked in an interview? And how did you reply?
I haven't been asked any challenging questions in an interview that I can recall.  Being honest about myself and things I didn't know was how I always approached them.
For my last interview I showed up (against the advice of loved ones) with a certificate I had been given by my coworkers ("Nicest Person in the World") and I got the job.
If you switched career paths tomorrow, what would you do?  
I'd love to own a bookstore.
What piece of advice would you share with women keen to follow in your footsteps? And how do you recommend breaking into your industry, or field of expertise?
I didn't apply for the job with Hagerty even though I was approached directly about the role by the person would end up being my manager.  I read the requirements on the job posting and didn't feel like I was qualified.  When I didn't apply, the manager had Hagerty's recruiting team reach out to me and the rest is history.  If he had thought I wasn't interested I could have missed out on the greatest opportunity of my professional life because I didn't feel qualified.  If you want a position, apply, don't wait to have 100% of the things that the company thinks they want in a candidate.  Passion and customer service are two things that cannot be taught but are far more important than 90% of the usual requirements listed on a job posting.
Where do you see yourself in 5, 10 years from now? 
I have the great fortune of working for a company that has a mission I am passionate about (to save driving) in an industry that challenges me.  Both the automotive and insurance spaces will evolve but I hope to still be working for Hagerty in 5 and 10 years from now helping to pass the love of collector vehicles onto the next generation. 
Famous last words or motto you live by:
I didn't always know what I wanted to do, but I knew the kind of woman I wanted to be – Diane Von Furstenberg
If you're sad, add more lipstick and attack– Coco Chanel
Complete the phrase:
I came. I saw. I loved. (Latin: Veni, Vidi, Amavi).
Me Unfiltered
Morning person, or night owl?
Both.  I get up at 4am to run and then start my workday by 6am.  I usually shut my computer off around midnight after spending a few hours before bed prepping for the next day.
Favorite workout, or best way to blow off steam?
Running and playing the piano.
What's on your music playlist at the moment? 
The playlist I listen to most often is the one I put together for morning runs, and it is full of Eminem, Linkin Park, Papa Roach, Rob Zombie (and Milli Vanilli)  
Netflix & chill or a good book?
A book.
Hobbies outside of work?
A lot of my free time is focused on activities related to my work.  Being a member of multiple car clubs as well as a director on the Greater Vancouver Motorsports Pioneers Society is something I love.
Camping, fishing and skiing are my favourite non-automotive hobbies. 
Best motorsport documentary or movie of all time. Days of Thunder. Rush. Ford vs Ferrari. Other?
The Art of Racing in the Rain.
Name a hidden talent? 
Any hidden talents I have are also hidden from me, I've been waiting all my life to find one.
If you won the lottery, what's the first extravagant gift you'd purchase yourself? 
A 718 Spyder.  Not as extravagant as most people's first choice but I love this car.
Most embarrassing moment? 
My first day learning to drive, I had to drive through a school zone which had volunteers posting the speeds of vehicles as they passed by.  They laughed at my "speed" the first couple times I went around the block but by the third (fourth) attempt they cheered when I cracked 20kms/hour.
Name a pet peeve: 
49ers fans.  And Steelers fans. 
Celebrity Crush:
Local news personality Squire Barnes.
Name someone famous who would play you in a movie:
Sarah Silverman.  She's as funny as I keep trying to convince everyone I am. 
If you could invite only three people to dinner, who would they be and what topic would you discuss?
Prime Minister of New Zealand, Jacinda Ardern
Chancellor of Germany, Angela Merkel
Deputy Prime Minister of Canada, Chrystia Freeland
Three very strong female world leaders.  How to get more women into positions of influence, not just in politics.
Charities or Causes you support: 
Alzheimer Society and my local foodbank
How do we connect with you online?
Instragram: @bre.williams.kindzersky
Linkedin: www.linkedin.com/in/briannereneekindzersky