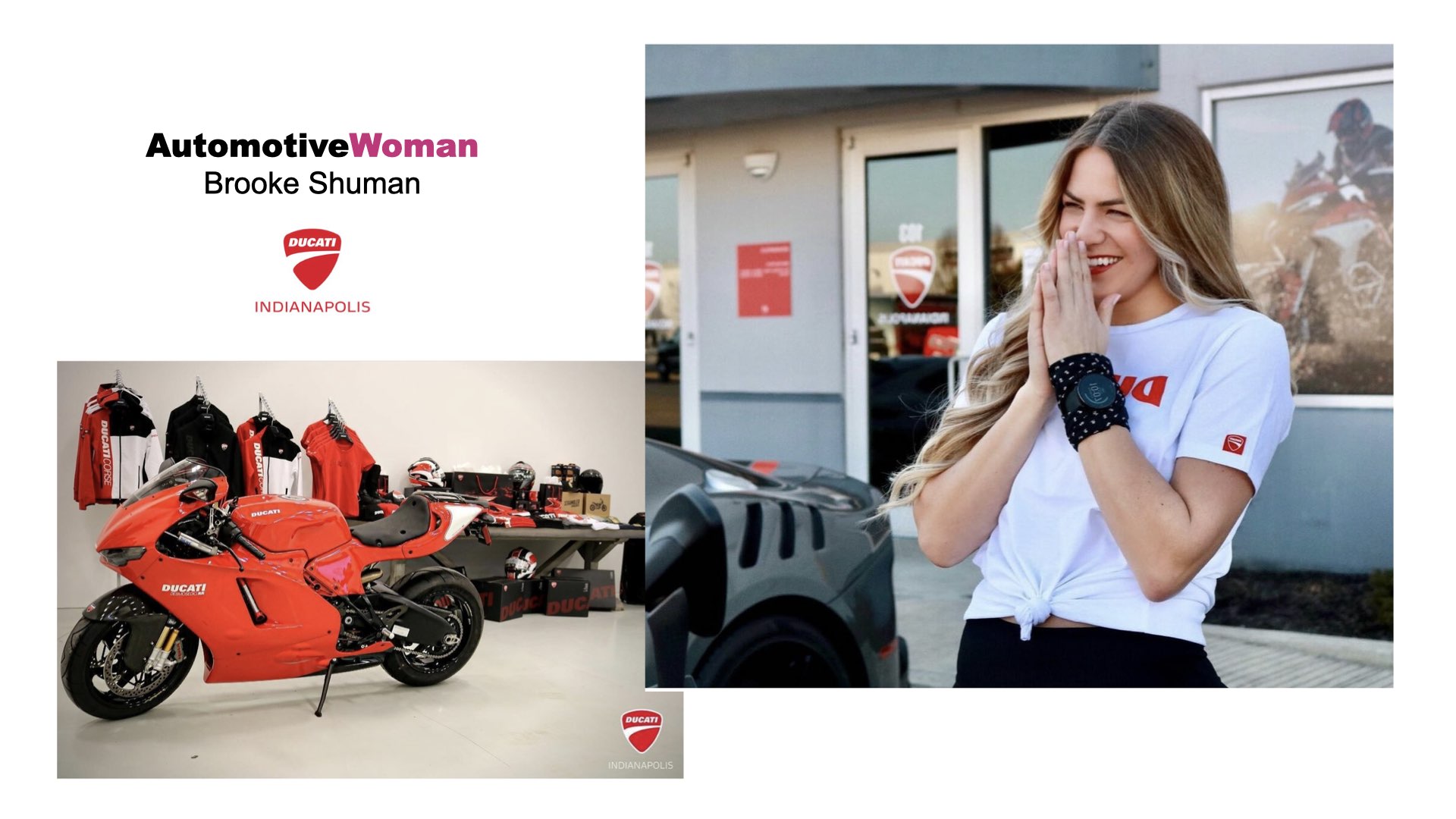 Automotive
Woman

Wednesday

We profile women who have achieved success in automotive and motorsports with integrity, passion and sheer determination. These women define the term AutomotiveWoman.

We are automotive leaders.
We are motorsport professionals.
We are women inspiring the next generation.

Who Am I: Brooke Shuman
Company: Ducati Indianapolis
Current Position: Marketing Director
Location: Brownsburg, Indiana, USA
BIO 
I grew up in a sprint car racing family in Lee's Summit, Missouri and studied business at University of Missouri. In 2013 I moved to Indianapolis to live with my now husband, Casey Shuman.
My first job in Indy was with RaceTrack Engineering as the Team Manager. We were contracted with Indianapolis Motor Speedway to manage the facility's entire sound system. I did that for a couple years before moving on to purchase, own and operate a non-wing sprint car sanctioning body with my husband. At that time, I also picked up a part time position with Bell Racing USA to manage their social media. Eventually I joined the Bell team in a full-time position as their Social Media & Digital Content Manager.
I met Graham Rahal while working at Bell in the IndyCar garage area since he was a Bell Athlete. He approached me about helping him and his wife Courtney Force-Rahal out with their personal foundation (Graham & Courtney Rahal Foundation). I happily agreed. We worked together on that effort for a few years while in a work-from-home setting so I could stay home with my daughter, Sawyer, who is now four years old.
I now work for Graham at his new Ducati Dealership in Brownsburg, Indiana as the Marketing Director. It has been a lot of fun so far, and I'm excited to see how much we can grow in the coming years!
CAREER
Describe a typical day at work.
My workday starts with a cup of coffee and email read/reply. Then I'll review my ongoing to do list and make a plan for my day. After that I usually catch up with my teammates on what their day will consist of and how we can work together to make sure all of our checklists get completed. Customers usually start visiting after that. My day is shaped by juggling customers and my to do list while also posting social media content throughout the day and interacting actively to capitalize on engagement.
Describe a current job-related responsibility which keeps you on your toes, daily.  
Right now, it's the steep learning curve I'm facing in regard to the Ducati brand. I come from open wheel, dirt track racing, so getting acquainted with a totally new industry has challenges. It's a fun job because the brand is iconic and packed with history, but it has kept me on my toes these past couple months in the best way.
As a woman, tell us the most challenging hurdle you've had to overcome while climbing the professional ladder? 
My own limiting beliefs about my potential. Our society instills many built in beliefs about what women should be doing or what we're capable of compared to men. Every time I decided to ignore those limiting beliefs in my head telling me I wasn't qualified enough or capable enough, I was able to succeed.
When met with discouragement, how do stay focused and/or prevail?
When I feel defeated, I reach out to my support system which includes my best friends, my husband and my family. They are always there to help by listening to me and encouraging me to try again. Discouragement, change, and failure are guaranteed in life if you are reaching for success or innovation. I try to remind myself that these experiences are just part of the journey and to appreciate them.
Being assertive is considered an asset in business.  As a woman, how do you balance the need to be your own champion with the stigma associated with the term, when it's applied to women?
Finding success with being assertive has been all about timing and delivery in my experience. I try to remind myself that we only grow in the uncomfortable. Comfort does not allow growth. If my assertiveness can help push someone or myself into growth, it's worth it.
Someone who has never made a mistake has never tried anything new. What was your one BIG professional mistake, and what did you learn?
I invested in the goals of a superior and played into being micromanaged by them because it shielded me from shouldering any responsibility. It took a couple years for me to see that playing my hand that way also removed me from any chance to be creative or receive deserved credit for the work and ideas that were mine. I had to step into my confidence and be willing to fail in order to break away from that mentality. It was a pivotal moment for me when I did. I have failed since then, but I've also been really proud of things I've been able to accomplish.
Career defining moment, to-date. 
Landing this job with Ducati Indianapolis!
Words of wisdom you received from a mentor; you'd like to pay forward?
It's not about winning or losing, it's about, "do you accept the challenge?"
If you switched career paths tomorrow, what would you do?  
I'd definitely be a therapist.
What piece of advice would you share with women keen to follow in your footsteps?  
A lot of people will imply that you can't do it. Do it anyway.
Where do you see yourself in 5, 10 years from now? 
Hopefully with good health, joy, and maybe a little wiser!
Famous words or motto you live by:
Ugh I have so many! I'll pick a couple.
"It is not the critic who counts; not the man who points out how the strong man stumbles, or where the doer of deeds could have done them better. The credit belongs to the man who is actually in the arena, whose face is marred by dust and sweat and blood; who strives valiantly; who errs, who comes up short again and again, because there is no effort without error and shortcoming; but who does actually strive to do the deeds; who knows great enthusiasms, the great devotions; who spends himself in a worthy cause; who at the best knows in the end the triumph of high achievement, and who at the worst, if he fails, at least fails while daring greatly, so that his place shall never be with those cold and timid souls who neither know victory nor defeat." – Theodore Roosevelt 
"It's not easy for anyone." – Peggy Olson
"How you do anything is how you do everything." – my dad
Also: Everything Brené Brown says.
Brooke | Words of wisdom, It's not about winning or losing, it's about, "do you accept the challenge?"
Fill in the blank:
I came. I saw. I held space for myself and others!
ME UNFILTERED  
Morning person, or night owl?
I used to be a night owl, but now I'm a morning person.
Favorite workout, or best way to blow off steam?
I run or ride my Peloton.
What's on your music playlist at the moment? 
Lately, it's been a lot of JP Saxe, Lorde, Kid Cudi, Chris Stapleton, Cardi B, Noah Cyrus, and Xavier Rudd.
Netflix & chill or a good book?
Both! I listen to books on my commute to and from work, but I love binging a good true crime documentary too.
Hobbies outside of work?
I started doing half marathons last year. This year I plan to run two. So, training for those, meditating, listening to books, and playing with my daughter Sawyer.
Best motorsport documentary or movie of all time.
Days of Thunder. Rush. Ford vs Ferrari. Other?
The Movie 1 (a Formula 1 Documentary)
Name a hidden talent? 
Sleeping, or dancing
If you won the lottery, what's the first extravagant gift you'd purchase yourself? 
Scrambler Ducati Nightshift
Most embarrassing moment? 
I tripped over a chain entering the front stretch of a dirt oval racetrack a few years ago during a red flag. This was when my husband and I owned and operated a sanctioning body. I was trying to get to the driver/car that flipped to cause the red flag in a hurry and miscalculated jumping over the chain. My face broke my fall. There's a video of it. Pretty incredible. It's on my Instagram grid somewhere if you're interested in seeing it.
Name a pet peeve: 
Clutter and people who talk badly about others
Celebrity Crush:
Charlie Hunnam
Name someone famous who would play you in a movie: 
My best friend says Blake Lively, and I love her for that.
If you could invite only three people to dinner, who would they be and what topic would you discuss?
Brené Brown, Harriet Lerner, and Glennon Doyle to discuss the journey of self-work and the point of life.
Charities or Causes you support: 
Graham & Courtney Rahal Foundation
Be the Bridge Foundation
How do we connect with you online?
Twitter, Instagram, LinkedIn & Facebook: @BrookeShuman_