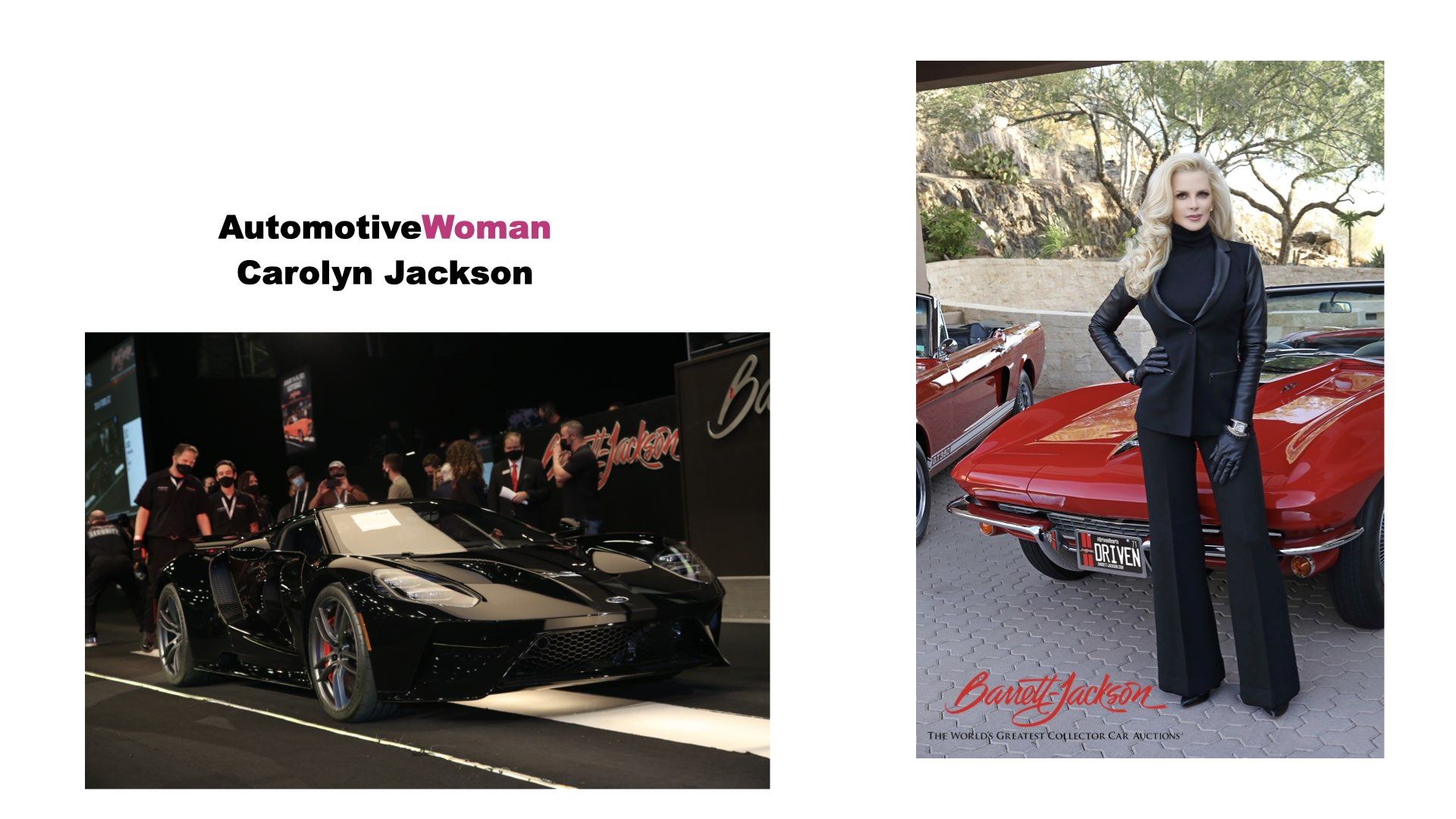 Automotive
Woman

Wednesday

We profile women who have achieved success in automotive and motorsports with integrity, passion and sheer determination. These women define the term AutomotiveWoman.

We are automotive leaders.
We are motorsport professionals.
We are women inspiring the next generation.

Who Am I: Carolyn Jackson
Company: Barrett-Jackson Auction Company
Current Position: Vice President of Brand Strategy
Years at Current Position: 10yrs.
Location: Scottsdale, Arizona
BIO
Born and raised in Manhattan, Carolyn is a model of resilience and determination. With Bachelor of Science degrees in finance and marketing, she enjoyed careers in the financial services and luxury real estate industry before taking on the role of overseeing Barrett-Jackson's image as The World's Greatest Collector Car Auctions.
Her complete bio can be viewed on the company's website here.
Career
Describe a typical day at work.
Whether I'm in the office or at one of our auction, there is no typical day! We work in an incredibly fast-paced environment that is always changing, and flexibility is the key.
Describe a current job-related responsibility which keeps you on your toes, daily.
Barrett-Jackson is a multi-faceted business; therefore I continually work to have a handle on all aspects to make sure they properly convey the Barrett-Jackson brand (which has been established for over 50 years now) and promote the unique automotive lifestyle for which the company has become known. This includes everything from planning our Opening Night Galas to spearheading campaigns for great causes to making sure our customers receive the best possible experience at our events. I also make certain the Barrett-Jackson brand is conveyed consistently throughout our website, social media, magazine content, signage, advertisements and more.
As a woman, tell us the most challenging hurdle you've had to overcome while climbing the professional ladder?

Gender-based stereotypes. If a man takes a strong stand in business, he is perceived as powerful. If a woman takes a strong stand, she is perceived as difficult. Far too often, women are summarily dismissed. If you're going into a meeting where your ideas could be questioned, arrive at the meeting over-prepared. Your position doesn't make you powerful, your knowledge does. 
When met with discouragement, how do stay focused and/or prevail?
I prevail because I learned early on to be resilient; to stay the course. By working hard, being methodical in planning and unwavering in execution, many great things can be accomplished. I have often encountered people who will look to discourage me or work to sow the seeds of doubt, but I do not allow myself to be distracted by critics and naysayers. I'm reminded of my favorite quote, from Theodore Roosevelt, who said, "It is not the critic who counts; not the man who points out how the strong man stumbles, or where the doer of deeds could have done them better. The credit belongs to the man who is actually in the arena … who at the worst, if he fails, at least fails while daring greatly, so that his place shall never be with those cold and timid souls who neither know victory nor defeat."  I will always choose to "be in the arena."
Being assertive is considered an asset in business.  As a woman, how do you balance the need to be your own champion with the stigma associated with the term, when it's applied to women?
I believe in presenting yourself with confidence and conviction and I will never object to being referred to as assertive. Many women have the inherent need to be liked, but I am much more focused on being respected, which for me is non-negotiable. Of course, respect is a two-way street: you need to show respect to get respect. Shedding the desire to be liked isn't an excuse to be abrasive and crude, however. There is a difference between being aggressive and assertive. I urge our entire team to be assertive.
Barrett-Jackson | The top seller of the Fall Auction was this 2018 Ford GT, which sold for $1.21 million – a new world record sale at auction
Someone who has never made a mistake has never tried anything new. What was your one BIG professional mistake, and what did you learn?
I'm happy that my biggest mistake happened at the start of my career. I was going through a training program to become licensed in the securities industry and was the only female in my class. Upon passing the challenging Series 7 exam, I was advised that being an assistant to a successful broker would be better than trying to build my own business. No male in my class was given that advice. I made the mistake of initially believing that advice; shame on me for buying into it. What did I learn from it? I learned to always be in the driver's seat. It's important not to let a pattern of disrespect take hold; put an immediate stop to it the minute it happens.
Career defining moment, to-date. 
Spearheading Barrett-Jackson's first-ever yearlong charity initiative, "Driven Hearts," to benefit the American Heart Association (AHA). The initiative not only raised millions, it reached millions – and marked the first time I was able to develop and execute an awareness campaign. The specific "moment," however, was receiving an award from AHA CEO Nancy Brown for Meritorious Achievement – the highest-level award given to a layperson. In my eyes, the award was for our entire Driven Hearts team, whose tremendous work dedication and generosity helped me bring the vision to life. 
Words of wisdom you received from a mentor; you'd like to pay forward?
The best words of wisdom that I ever received were that I should stop being grateful for crumbs that fall from the table and realize that I deserve a seat at the table. It was a "know-your-worth" moment that was life changing for me.  I share those words of wisdom often.
Tell us the most challenging question you were asked in an interview? And how did you reply?
Early on in my career, when I was interviewing for a job in the financial services industry, I was asked, "Why should we hire you when you'll just end up marrying one of the brokers and leaving?" I found this question challenging, as I had never encountered such ignorance. My response: "Your line of questioning tells me this is not an organization I want to be a part of," and I politely left.
If you switched career paths tomorrow, what would you do?  
My dream career would be to become a cardiologist or a cardiac surgeon. 
What piece of advice would you share with women keen to follow in your footsteps? 
If you want a career in a particular industry, know the industry. Walk into your interview and have enough knowledge to blow the doors off your competition.
Carolyn Jackson | The Driven Hearts campaign raised millions and reach millions for the American Heart Association
Carolyn Jackson | Barrett-Jackson's Yearlong Driven Hearts campaign was spearheaded by Carolyn Jackson
Where do you see yourself in 5, 10 years from now? 
I see myself at Barrett-Jackson, taking the Barrett-Jackson experience to new levels; always moving the brand forward.
Famous last words or motto you live by:
If you want to go fast, go alone.  If you want to go far, go together.
Complete the phrase:
I came. I saw. I cared!
Me Unfiltered
Morning person, or night owl?
Morning. Pre-dawn hours are the most peaceful and productive hours of my day.
Favorite workout, or best way to blow off steam?
Best way for me to blow off steam is with an early morning drive on a wide-open road watching the sun come up.
What's on your music playlist at the moment? 
I have an extremely diverse playlist.
Netflix & chill or a good book?
A good book.
Hobbies outside of work?
When I have a break in my work schedule, I love to travel and explore new places and cultures. 
Best motorsport documentary or movie of all time. Days of Thunder. Rush. Ford vs Ferrari. Other?
I would have to put Rush at the top of my list, followed very closely by Senna, 1 and Ford v Ferrari.
Name a hidden talent? 
Photography.
If you won the lottery, what's the first extravagant gift you'd purchase yourself? 
I would buy a home for my parents, as that would be giving myself the gift of peace of mind.
Most embarrassing moment? 
"Do not be embarrassed by your failures, learn from them and start again." ― Richard Branson
Name a pet peeve: 
Bad manners.
Name someone famous who would play you in a movie:
Nicole Kidman.
Charities or Causes you support: 
Foremost is the American Heart Association; heart disease is the #1 cause of death for both men and women in the United States. I'm also inspired by the tremendous work of organizations like Childhelp, TGen and the Stephen Siller Tunnel to Towers Foundation – all of which have been among the charities we've helped through the sale of vehicles on the Barrett-Jackson auction block.
How do we connect with you online?
Instagram: https://www.instagram.com/catjackson427/