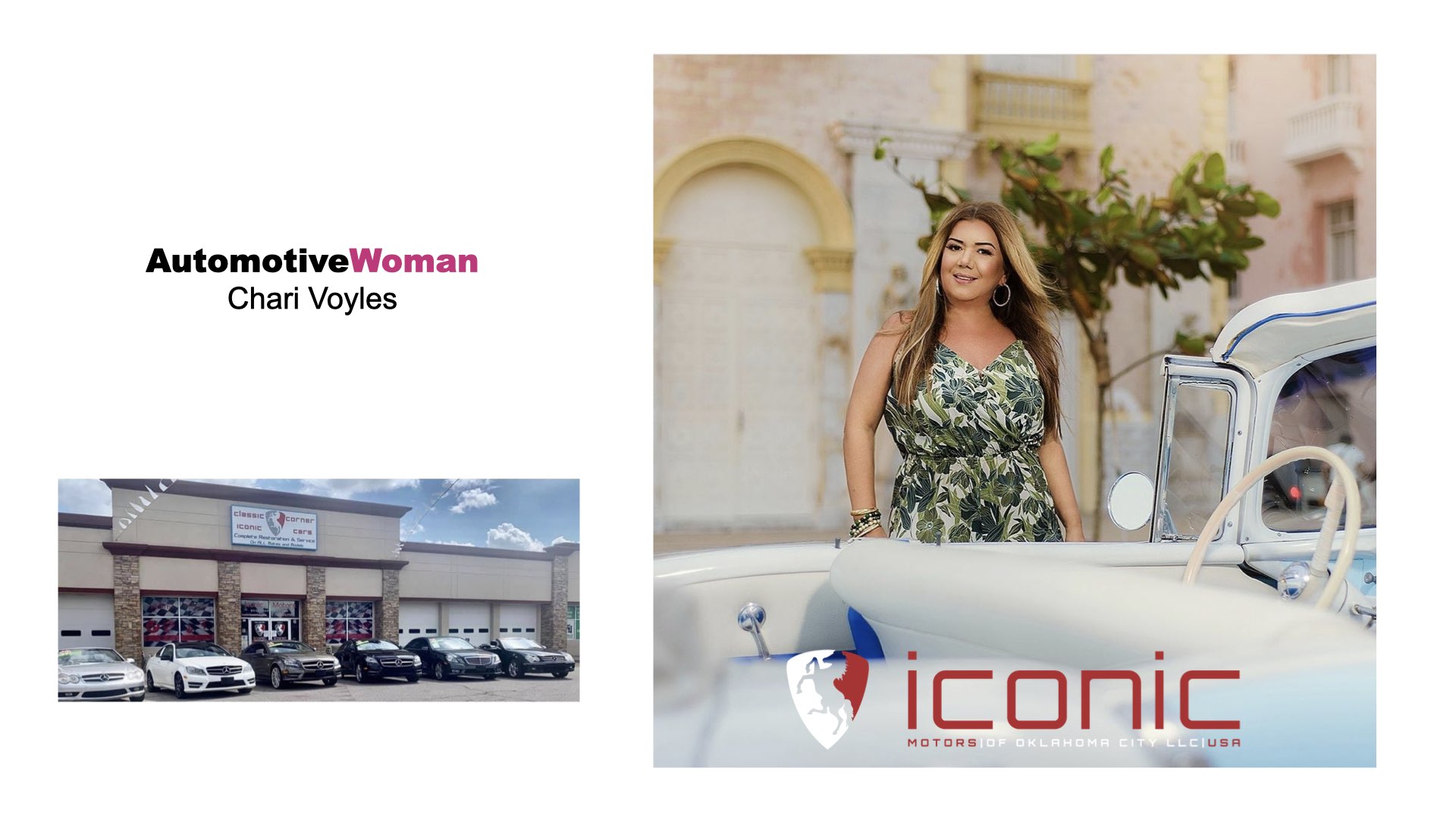 Automotive
Woman

Wednesday

We profile women who have achieved success in automotive and motorsports with integrity, passion and sheer determination. These women define the term AutomotiveWoman.

We are automotive leaders.
We are motorsport professionals.
We are women inspiring the next generation.

Who Am I: Chari Voyles
Company: Classic Corner Iconic Cars
Current Position: Owner
Years at Current Position: 7yrs.
Location: Oklahoma City, Oklahoma, USA
BIO
Born in Barranquilla, Colombia. Obtained Bachelor's Degrees in Journalism & Economics. Took a brave departure from Corporate America to follow my passion of traveling, and buying, selling, trading, restoring Iconic Cars with my husband James Voyles.  Learn more: www.iconicmotors.us 
CAREER
Describe a Typical day at Work?
I am a huge fan of making a list of priorities in order to maximize productivity. I know the specifics for my day to day operation. I start my work day with my morning walks around the shop at 8:30 am inspecting the progress of each project carefully.  I speak to my team about deadlines constantly while drinking a cup of our high performance "Iconic" Colombian coffee, which is one of our products! I carefully inspect the progress of each project. We have daily team huddles and expectations are set. Restoration is a very complex process and I provide customers with realistic completion dates. We believe in keeping our clients informed, so we are constantly taking photographs of ongoing projects and sending weekly updates. Once I am done with my team I move to my office and focus on my day which is often filled with email correspondence, customer interaction, and any other tasks where my assistance is needed. I pack my lunch daily!
Describe a current job-related responsibility which keeps you on your toes, daily?
Building strong relationships and listening to customers ideas. Involves paying close attention to their needs and understanding how my business can help them achieve their goal. We are located on Route66 and we get a lot of traffic. Classic Car Customers are turning to restoration as a way of owning the car of their dreams. Each restoration is different, and they all have a story to tell. For the most part, it's a sense of nostalgia. So many memories are attached to a particular vehicle.  My goal is to gain their trust with our interaction; to know that we have the expertise to get the job done. They can also sense that I love what I do. I am currently restoring a 1974 Chevrolet Cheyenne Pick-up Truck that has been in the family for 5 generations.  It is never easy to hand over your pride and joy unless they trust you.
As a woman, tell us the most challenging hurdle you've had to overcome while climbing the professional ladder.
Women face many obstacles on the ladder to leadership and success. I advocate gender equality. Traditionally, the car restoration industry is a male dominated business. I make sure I am knowledgeable about every aspect of my business by continuing to educate myself. I spend a lot of time with my technicians, mechanics and painters, and travel to as many car shows and auctions as possible.
When met with discouragement, how do you stay focus and/or prevail?
It's important to maintain an empowering mindset. Everyone deals with discouragement at one point. The key is to evaluate and learn from these experiences. I am very persistent. I am responsible for my inner drive. I believe and practice visualization in every aspect of my life. I focus on my own path, I see it and I feel it. I learned this practice by reading a lot of books. Journaling can also create amazing results for me.  Putting everything on paper, my feelings, my emotions, my goals. I see things more clearly this way. It gives me time to self-reflection to lead a fulfilling life.
Being assertive is considered an asset in business. As a woman, how do you balance the need to be your own champion with the stigma associated with the term, when it's applied to women?
While assertiveness in women may be considered an asset on one hand in the business world, yet a stigma for possessing and practicing such a quality. It is my personal belief that an even-tempered amount of assertiveness in women is a simple and natural exercise of self-confidence, which lends itself to placement of equal balance regardless of gender. 
Someone who has never made a mistake has never tried anything new. What was your one BIG professional mistake, and what did you learn?
Challenging my perfectionism. Learning to delegate. It is important because you can't-and you shouldn't- do everything yourself. I felt constantly overwhelmed as the company started to scale. I wanted to oversee everything! I had to shift gears. I changed my approach.  My workload became more manageable. Employees want to feel that they are trusted and respected. It is a win for all of us. I learned that delegating empowers your team and build trust. 
Career defining moment, to-date.
I would have to say that the most definitive of my career has been importing Classic Cars from South America to the United States… It's always a gamble! 
I imported a beautiful 1972 Land Rover from Colombia in the summer of 2016. They have always had a very special place in my heart. My family's favorite car. I bought this Land Rover Santana from an engineer who restores cars in Bogota, Colombia. I flew to Bogota, Colombia by myself! Upon arrival, I met with a driver that was sent by the Land Rover's owner to escort me to the warehouse. We drove several miles to this warehouse where the employees were utterly shocked to see a woman all by herself!!! After 4 hours of negotiating, we settled on a price, and struck a deal.
I then arranged for shipping my new investment to the United States. It was to shipped from Barranquilla, Colombia to the Houston Port of Texas. On this Voyage to the Houston Port, it encountered a near miss with Hurricane Mathew! It was very stressful not knowing if my precious investment of this Iconic Land Rover would make it to shore safely.
This bright Yellow Land Rover was featured in "I can Only Imagine" film in 2017. Seeing it on the big screen is always an emotional moment for me. I love automobiles of all sorts, and I love the journeys endured to get them…even if it means traveling across the world by myself.
Words of wisdom you receive from a mentor: you'd like to pay forward?
My mother raised me to be strong, she encourage me to work hard and be self-sufficient. "Believe in yourself and have faith in anything you want do" – Her favorite words!
If you switched career paths tomorrow, what would you do?
A motivational speaker. I love to motivate and encourage people. I am always finding ways to be helpful.
What Piece of advice would you share with women keen to follow in your footsteps?
I would like for women to know the amazing opportunities they have in the auto industry. It's exciting, diverse and always evolving. Many areas to explore. Education will always open doors. Manufacturing, technical, engineering, design etc.   Business is always developing. You must have an open mind. Social media is a great platform to raise awareness of successful women in the industry. We need to inspire and mentor young women. There are many so many programs available. We can have a network that is broader and richer. We need to stick together. 
Where do you see yourself 5, 10 years from now?
I see myself building brand awareness and growth. Expanding to other markets. 
Famous words or motto you live by?
"Be fearless in the pursuit of what sets your soul on fire"
Fill in the blank…..
I came. I saw. I conquered!
ME UNFILTERED 
Morning person, or night owl?
Night for sure!
Favorite work out, or best way to blow off steam?
Taking a spin down Route 66 in a beautiful, Classic Convertible with the top down.
What's on your music playlist at the moment?
Carlos Vives- He is Colombian Super Star! He sings Vallenato, a form of Colombian Folk music, played on accordion. Nothing fills my soul like a good old-vallenato.
Nexflix & Chill or a good book.
A good book. Love biographies!
Hobbies outside of work?
Kitchen Culture! I love learning styles and methods of foreign cooking and hosting dinner for my friends. Food and Cars always spark great conversation!
Best motorsport documentary or movie of all time. Days of Thunder, Rush, Ford vs Ferrari.
Rush.
Name a hidden talent.
I write poetry.
If won the lottery, what's the first extravagant gift you'd purchase yourself?
It can open up world of possibilities but I don't buy lottery tickets. Hypothetical, I will buy a huge farm to rescue all kinds of animals. We have a hippopotamus crisis in Colombia. 
Most embarrassing moment?
During my Journalism Internship, I approached a man for an interview that I believed to be an Olympic Medalist was in fact NOT the person I believed him to be. I was very embarrassed.
Name a pet peeve.
Seeing a beautiful Classic Convertible on a magazine cover without the top down!
Celebrity Crush?
Bradley Cooper and Ben Affleck.
Name someone famous who would play you in a movie?
Jennifer Lopez- I love everything about JLO!
If you invite only three people to dinner, who would they be and what topic would you discuss?
Pope Francis- I would ask him how he comes up with his simple messages that motivate so many people.
Oprah Winfrey- I would ask her how she has turned her wounds into wisdom.
Ingrid Betancour- I would ask her how she found the strength and courage to keep going during her 6 years of captivity. 
Charity or Causes you support.
American Veterans, Cancer Society and Catholic Charities Colombia
How to connect with you on line?
Instagram @Chari_Voyles
Facebook @charivoyles
www.iconicmotors.us