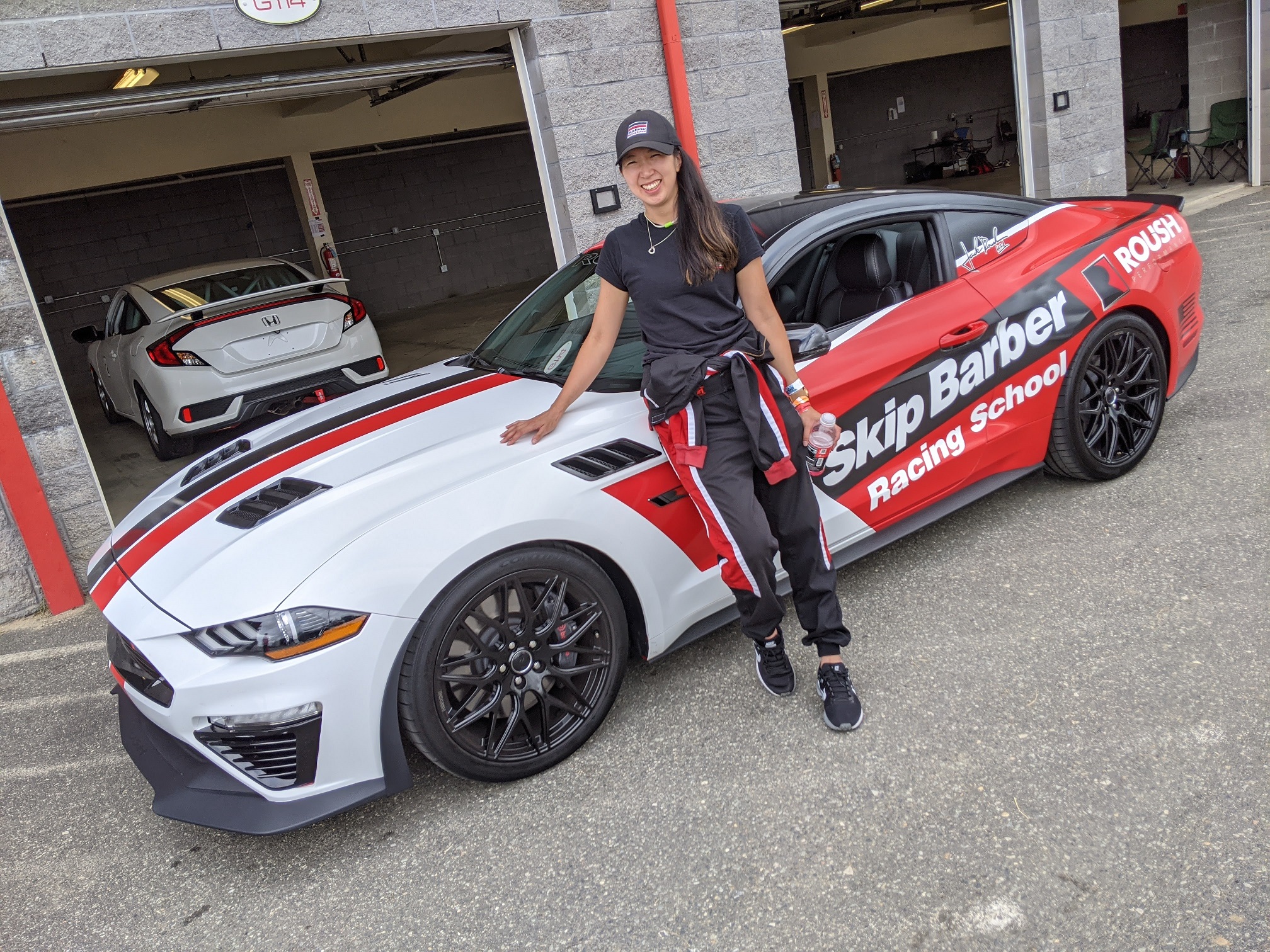 Automotive
Woman

Wednesday

We profile women who have achieved success in automotive and motorsports with integrity, passion and sheer determination. These women define the term AutomotiveWoman.

We are automotive leaders.
We are motorsport professionals.
We are women inspiring the next generation.

Who Am I: Christina Lam
Company: Skip Barber Racing School
Current Position: Instructor & Diversity Leader
Years at Current Position: 3
Location: Virginia, USA
Bio
Christina self taught herself how to build race cars after purchasing an E36 M3 and rapidly learned to maintain, upgrade, and build her new car. She began racing with National Auto Sport Association (NASA) in 2015 and SCCA Majors in 2019. She is a racer, precision driver, and business development lead for Hi-Speed Motorsports.  She currently competes in her Hi-Speed Motorsports built E46 M3 in the SCCA Majors and Hoosier Super Tour series. She successfully campaigns this car in Touring 1 with many podium finishes.
In 2018, Christina joined Skip Barber Racing, the premiere race car driving school for all racing and driving programs, as an instructor. She instructs the race school program and the Hagerty Driving Academy for Skip Barber. She has also driven for MotorTrend as a precision driver for commercials.
Christina not only races but also stays involved in the motorsports community by volunteering to officiate races. She officiated for several national level races. From 2017 to 2020, she headed the NASA Northeast region's Time Trial program as their director.
In 2020, Christina joined Skip Barber Racing's team of drivers headed to SRO TC America's professional race series. She competes one of the school's the HPD Civic Si TCA factory race car. Christina's goal is to work her way up the HPD ladder and eventually race the GT3 Acura NSX.
Career
Describe a typical day at work.
The start of the week with Skip Barber Racing School typically involves travel and hopping on a plane to the track we call home for the week. Our school travels to all the major tracks in the US. We could be at Laguna Seca, Sebring, Road Atlanta, Indy Motor Speedway, Lime Rock Park, and more! You can drive your bucket list track with us just about anywhere in one of our Roush Mustangs, Formula cars, or Honda HPD Civics. 
While some days are traveling, others begin with instruction. We meet and greet students over a catered breakfast and get them situated with classroom materials for the race school. Alternating between classroom and seat time, we coach Skip Barber students through skidpad, autocross, braking and shifting exercises before lunch. After a lunch break, we get on track to hit all those apexes and get lapping in. 
The most exciting days are race weekends. I'm a driver on the Skip Barber Race team. We have a team of four HPD Civics which we campaign in SRO TC America. These race weekends are filled with a ton of fun as we coach customers who have graduated our race school through their pro races. I get to race along side them in one of the turnkey race cars. 
Describe a current job-related responsibility which keeps you on your toes, daily.
Each day instructing with Skip Barber is an exciting adventure. We meet new students daily and I am kept on my toes by learning about our students. Everybody learns differently so it is my job to figure out a student's best learning style while teaching my specialty of driving, safety, and race craft. As instructors we coach students in a variety of vehicles teaching rear wheel drive in our Mustangs and front wheel drive in our HPD Honda Civics. We have to be able to change gears quick to teach our students how to be fast! 
As a woman, tell us the most challenging hurdle you've had to overcome while climbing the professional ladder? 
The most challenging hurdle I've had to overcome is the constant battle for equality is the stigma that women will always be second best when competing in a race car. It is a shame that in 2020 women are still faced with this type of discrimination. The only way to combat it is to educate people and get more women behind the wheel! 
When met with discouragement, how do stay focused and/or prevail?
It is frustrating to be met with discouragement but having an end goal will help keep you focused. A bad day at the track or a tough week at work are just hiccups in the bigger race that is life. Your goals will be the first thing you think about when you wake up in the morning and the last thing you think about before you fall asleep at night.  Keep those hustling towards your dreams and never stop working! 
Being assertive is considered an asset in business.  As a woman, how do you balance the need to be your own champion with the stigma associated with the term, when it's applied to women?
Being assertive is a critical skill that I learned when racing my car. When racing, you have to present yourself to the competition with confidence. There is a fine line of balancing assertive behavior and aggression on track to fight for the win without overstepping your bounds. Overstep and it could bite back hard. At Skip Barber we teach students how to demonstrate this same assertiveness in their racecraft so that they are armed with the skills to win. 
Someone who has never made a mistake has never tried anything new. What was your one BIG professional mistake, and what did you learn?
My biggest professional mistake was thinking that perfectionism was the goal. Perfectionism became an excuse and road block to completing tasks and trying new things. In order to succeed, you must first be willing to fail. Once I realized failure was temporary, I was willing to explore new paths to success.  
Career defining moment, to-date. 
Joining the Skip Barber Racing School as an instructor in 2018 was a career defining moment. Up until that point, I worked on my own as a racer, instructor, and engineer supporting individual drivers. Once I joined the Skip Barber Team, I immediately knew I made the right move. We are a team that has grown tremendously over the past few years. The owners Anthony and Dan DeMonte had a vision when they first bought the name, and quickly set to work making those dreams a reality. We expanded quickly from the driving schools with the Mustangs to include an open wheel Formula car racing school. Skip Barber runs their open wheel race series along side SRO TC America. In 2021 we are fielding our own touring car race team that will consist of four Honda HPD turnkey racecars. Two TCA Civic Si's and two TC Civic Type R's will be available in our 2 Day Advanced race school and for SRO TC America race weekends.
Words of wisdom you received from a mentor; you'd like to pay forward?
"Always have fun" Too often people get hung up in the competition or some drama at the race track. We race because we love it and because it is fun. The minute it becomes a drag, you have to take a step back and reevaluate what you are doing.  
Tell us the most challenging question you were asked in an interview? And how did you reply?
We've all faced interview questions for which we don't know the answer. I think the most challenging question I've gotten was simply "Teach me something." This was for a systems engineering position with a defense contractor. I chose to teach the interviewers the physics behind drifting a car. I had to take my knowledge in driving and translate it into math equations which is the universal engineering language. It ended up being a hit! 
If you switched career paths tomorrow, what would you do?  
If I switched career paths, I'd do a total 180 and pursue being a veterinarian.  I love animals and one of my dreams was to become a large animal vet working at a zoo. 
What piece of advice would you share with women keen to follow in your footsteps? And how do you recommend breaking into your industry, or field of expertise?
Build your tribe. Find your people who believe in you and keep them close. If you want to go fast, go alone, if you want to go far, go together. In order to succeed in motorsports, you need to be a part of a family where you back each other and together pursue a bigger vision. 
Where do you see yourself in 5, 10 years from now? 
Within the next 5 years, I'd like to go from the HPD TCA Civic Si into a TC Type R or TCR Type R. The eventual goal is to race the Acura Motorsports NSX GT3. 
Famous last words or motto you live by:
Life isn't a spectator sport. If you're going to spend your whole life in the grandstand just watching what goes on, in my opinion you're wasting your life.  * Jackie Robinson
Complete the phrase:
I came. I saw. I raced!
Me Unfiltered
Morning person, or night owl?
Night owl! I juggle a few different jobs outside of working with Skip Barber which means that when my day as an instructor and racer is over, I am still working on other things! 
Favorite workout, or best way to blow off steam?
P90x! These workout videos feel ancient but Tony Horton always brings the burn! 
What's on your music playlist at the moment? 
Music Playlist: David Guetta
Netflix & chill or a good book?
Books! I'm that "the book is better than the movie" person. I love getting lost in a thriller or mystery novel on my Kindle. It is always in my pack when I hop on to the plane to head to the next race track! 
Hobbies outside of work?
I recently got into cycling! Most racecar drivers stay fit with road bikes. I bought a Specialized Diverge gravel bike and have been hitting the trails a ton this year. It is fun to ride with other racers and push to always go further and faster.  
Best motorsport documentary or movie of all time. Days of Thunder. Rush. Ford vs Ferrari. Other?
Rush! I will rewatch this movie a few times a year. It is one of my favorites. 
Name a hidden talent? 
Singing… in the shower. It will remain a hidden talent. 
If you won the lottery, what's the first extravagant gift you'd purchase yourself? 
Acura NSX! I love the heritage of the NSX and want to also eventually race the GT3 NSX. 
Most embarrassing moment? 
There are at least a handful everyday! Despite being a refined driver behind the wheel, I lack coordination when it comes to other things. The sidewalk often comes up out of nowhere to trip me. 
Name a pet peeve: 
Tardiness. I appreciate punctuality and for others to respect my time as I do theirs. 
Celebrity Crush:
Hugh Jackman and Johnny Depp
Name someone famous who would play you in a movie:
Constance Wu. I love her smile, style, and confidence! 
If you could invite only three people to dinner, who would they be and what topic would you discuss?
Betty Klimenko, Simona de Silvestro, and Katherine Legge. We'd have a lavish seven course meal and watch racing! 
Charities or Causes you support: 
I volunteer to support STEM programs in middle school and high schools. 
How do we connect with you online?
www.instagram.com/christinaylam
www.linkedin.com/christinaylam
www.facebook.com/christinaylam