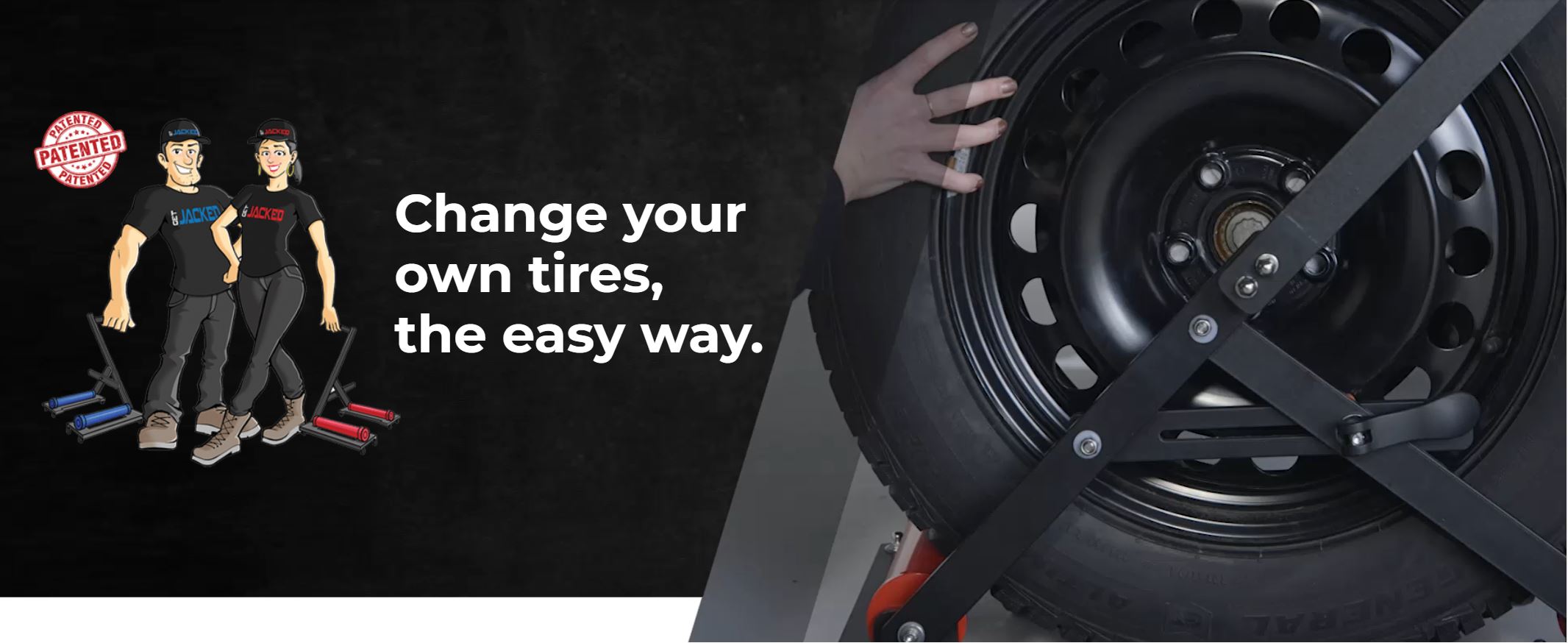 Automotive
Woman

Wednesday

We profile women who have achieved success in automotive and motorsports with integrity, passion and sheer determination. These women define the term AutomotiveWoman.

We are automotive leaders.
We are motorsport professionals.
We are women inspiring the next generation.

Who Am I: Devan Tommasini
Company: Jack and Jill of All Tires
Current Position: co-Owner
Years at Current Position: 3
Location: Toronto, ON. Canada
BIO
After seeing her husband struggle with changing tires over the years and wanting her eldest daughter to be confident in changing her own before leaving for school, Anna had an idea. What first started out as a drawing on a napkin became a product embraced by the press and car lovers alike. Anna's invention, The Jack and Jill of All Tires, debuted in 2018 at the Canadian International AutoShow as a tool to help make tire changing easy and painless. Once graduated from university Anna's daughter, Devan, joined the company to help grow the business. Tire changing can be a daunting task for some and a chore for others, which is why the idea of Jack and Jill encourages men and women to feel confident and safe when changing their tires. The Jack and Jill of All Tires continues to gain recognition as an essential tool for tire changing and strives for critical acclaim in innovation within the automotive industry. Learn More: https://jackandjillofalltires.com/our-story/
Career
Describe a typical day at work.
It starts with A LOT of coffee. Then I check my emails and plan my day according to what's come in. Customers always come first, so we get as many overnight orders ready as possible before the couriers come at 10 am. After that, I work in the backend preparing content for socials, administrative tasks and customer service. I typically end my day in the assembly room helping the team prepare and complete orders for the next day, then head home for a workout or yoga session.  
Describe a current job-related responsibility which keeps you on your toes, daily.
We're a small team, so most days are spent on our toes but it's really scheduling and preparing shipments that light a fire. We like to provide our customers a variety of shipping couriers and rates, so arranging shipments with the 3-5 couriers we offer can get a bit hectic. 
As a woman, tell us the most challenging hurdle you've had to overcome while climbing the professional ladder? 
I have to say I do feel fortunate for beginning my career at a time where women are found in leadership roles, however, being a young woman in automotive has proved challenging at times.
When we attend events to showcase the Jack and Jill, a majority of the people we interact with are positive, curious and supportive but there are times when individuals approach us and assume the young lady in the booth doesn't actually know what she's talking about. I would sometimes have people quizzing me on the process of changing a tire and even had one gentleman ask if I knew the difference between a nut and bolt! I won't be that young lady forever, but I find that the best way to deal with these types of interactions is to be respectful and confident in my responses and to remember that some people are just set in their ways. 
When met with discouragement, how do stay focused and/or prevail?
As an entrepreneur, it's extremely important to understand and accept that success doesn't happen overnight. It's the consistent attention to your goals and dreams that will keep you focused on the bigger picture. On average, it takes a company roughly 3-5 years to be recognized in the market place, so it really comes down to believing in your business and a passion to make it grow that will ultimately help you stay focused and prevail. 
Being assertive is considered an asset in business.  As a woman, how do you balance the need to be your own champion with the stigma associated with the term, when it's applied to women?
I've learned that you can't control the reactions of others so you shouldn't let a pre-existing prejudice get to you! Of course, that's easier said than done, but being 'assertive' goes hand-in-hand with being confident. So as long as you believe in yourself and know your stuff, being assertive isn't such a bad thing. It's also best to work with people that are in the same mindset and that can appreciate a strong personality and leader.  
Someone who has never made a mistake has never tried anything new. What was your one BIG professional mistake, and what did you learn?
When it was time for Jack and Jill's debut, we knew we were going to need the help of a professional marketing team to introduce our product and drive sales online. Our biggest professional mistake was staying too long with a marketing agency that did not believe in our product and went as far as to discourage us from pursuing it further. Through this, we learned how important it really is to surround yourself with people that want you to succeed and that will help work towards achieving your goals.  
Career defining moment, to-date. 
It's hard to pick just one! But the most exciting moment that made this whole experience become real for us was receiving both the Canadian and U.S. patents for the Jack and Jill of All Tires.
In addition, our first overseas customer was definitely a big moment for us. We are ecstatic at how well our business is growing across North America and to see Jack and Jill travel to Australia, New Zealand, Spain and the Netherlands, to name a few, is just crazy.  Being recognized by the Toronto Star and included in Driving.ca's article 'The 10 tools to make your tire switch easier' were also amazing moments for us.  
Words of wisdom you received from a mentor; you'd like to pay forward?
Don't take negative criticism personally! 
Tell us the most challenging question you were asked in an interview? And how did you reply?
Luckily, I haven't experienced too many challenging questions when being interviewed since our product is pretty straight forward. However, I think the most challenging assumption I've come across is that even with our tool women shouldn't be or can't change their own tires. I simply reply with "Jack AND Jill can do it!"
If you switched career paths tomorrow, what would you do?  
I would definitely work towards becoming a dietitian or do something that involves the nutrition and fitness fields. 
What piece of advice would you share with women keen to follow in your footsteps? And how do you recommend breaking into your industry, or field of expertise?
Have a passion for what you want to do and don't let anyone discourage you. By keeping your ideas alive, you will attract opportunities that will help you reach your goals. 
Where do you see yourself in 5, 10 years from now? 
Expanding the Jack and Jill family! We have a new innovative product in the works that we will hopefully debut in the near future. 
Famous last words or motto you live by:
"Success is not the key to happiness. Happiness is the key to success. If you love what you are doing, you will be successful." – Albert Schweitzer
Complete the phrase:
I came. I saw. I invented!
Me Unfiltered
Morning person, or night owl?
Morning person by far.
Favorite workout, or best way to blow off steam?
Definitely getting outside and going for a hike. 
What's on your music playlist at the moment? 
Folklore – Taylor Swift
Netflix & chill or a good book?
I love to binge watch a good series, but I prefer to spend my spare time reading a good thriller or non-fiction. 
Hobbies outside of work?
Anything active! When the weather's nice I try and hike, bike and spend time on the water as much as I can. But when it gets chilly out, I'll stick to the gym and yoga 😊 
Best motorsport documentary or movie of all time. Days of Thunder. Rush. Ford vs Ferrari. Other?
Ford vs. Ferrari, hands down. 
Name a hidden talent? 
It's still hidden! 
If you won the lottery, what's the first extravagant gift you'd purchase yourself? 
My impulse decision would be a Porsche, but I would definitely want to take the Jack and Jill team and everyone that's helped along the way on a vacation!
Most embarrassing moment? 
Probably the time I thought an outfit looked good to later find out it's see-through in the daylight. Always check the material, ladies! 
Name a pet peeve: 
When people are late. 
Celebrity Crush:
J.Lo – she can do it all! 
Name someone famous who would play you in a movie:
Probably Julia Roberts or Hilary Swank – both crazy talented! 
If you could invite only three people to dinner, who would they be and what topic would you discuss?
What's a good dinner if there aren't any laughs? I think having Sebastian Maniscalco, Post Malone and Kathleen Madigan together would be a night to remember. 
Charities or Causes you support: 
The Griffin House
How do we connect with you online?
Instagram: @JackandJillofAllTires
Facebook: Jack and Jill of All Tires
Twitter: @JandJofAllTires
Youtube: https://www.youtube.com/channel/UCRrZs8rNub-tpFV9YtkTrQw