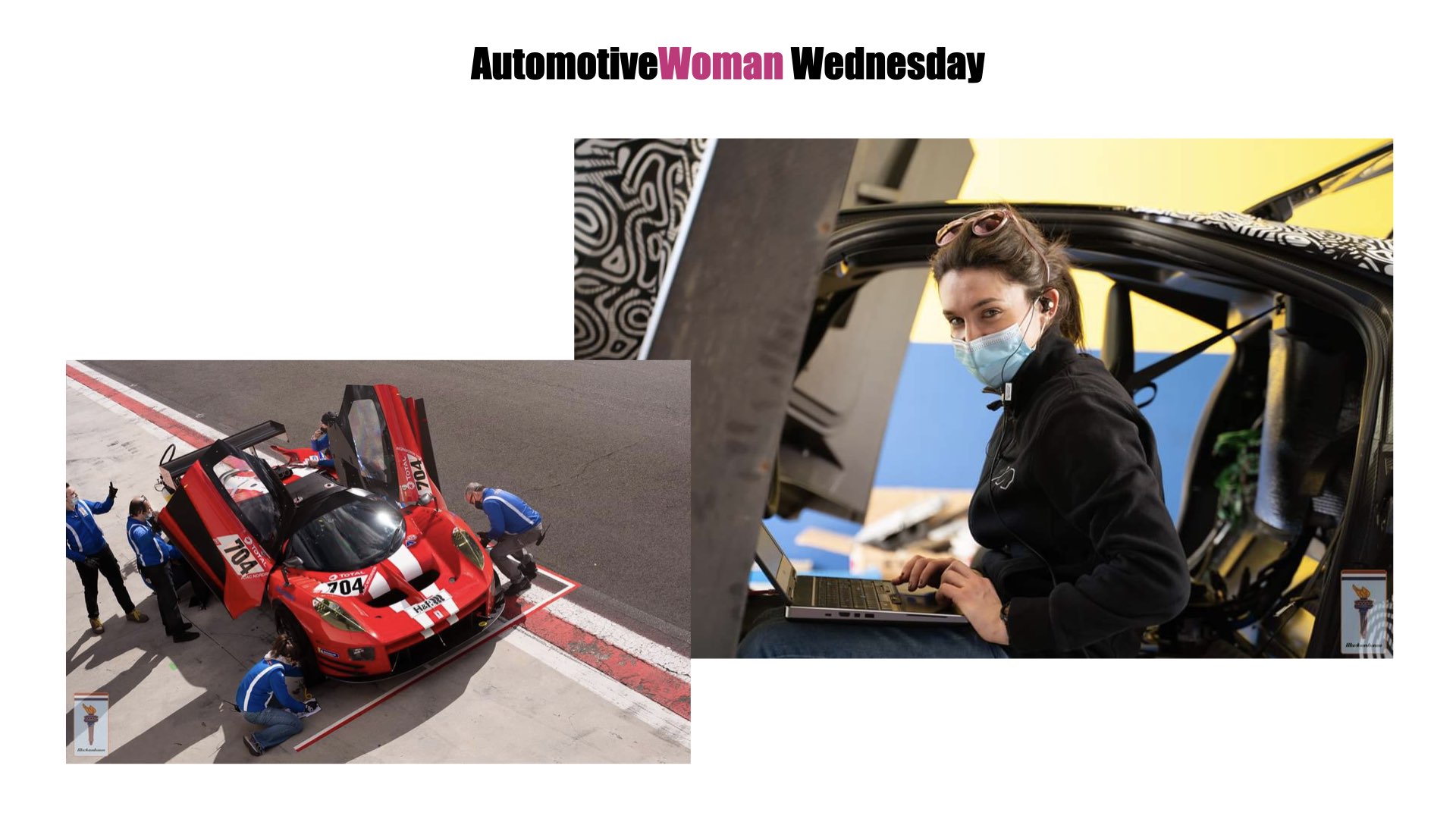 Automotive
Woman

Wednesday

We profile women who have achieved success in automotive and motorsports with integrity, passion and sheer determination. These women define the term AutomotiveWoman.

We are automotive leaders.
We are motorsport professionals.
We are women inspiring the next generation.

Who Am I: Francesca Jourdan
Company: Podium Advanced Technologies
Current Position: Project Technical Coordinator
Years at Current Position: 1yrs.
Location: Pont-Saint-Martin, Italy
Career
Describe a typical day at work.
I wake up early in the morning for a run alone or with some sporty colleagues.  Then after a quick shower I'm ready to start. My days at work are really different depending on the period of the project. In general, I have a lot of meetings: with the internal team, the project chief, the supplier and also with customers. In the middle of the morning I go to the coffee room to have a short break with colleagues, always hoping that is someone's birthday since in our company we have some kind of tradition to bring sweeties to celebrate all together. Then back to work to finish the morning. I often have my lunch break at home since during the week I live in Pont-Saint-Martin, where the company is located. .
Sometimes I visit the suppliers to define open points or check the status of the works. 
During the prototype assembly periods I spend a lot of time in the workshop, in close contact with the mechanics to manage or supervise the assembly of them. I really like these dynamic periods.
Describe a current job-related responsibility which keeps you on your toes, daily.  
It is very difficult to be responsible of a big project and a large group of people but I really like this role. I happen to deal with some issues deriving from works of others that are not easy to supervise or, at worst, due to unshared choices. In these cases it is more difficult to feel responsible, but it is necessary.
As a woman, tell us the most challenging hurdle you've had to overcome while climbing the professional ladder? 
I don't want to believe that there is machismo in 2021, but sometimes I have had a hard time dealing with men being a woman engineer with kind of big responsibilities. What heartens me is that it only happened with men of a different generation from mine, I'm sure that things are different now.
When met with discouragement, how do stay focused and/or prevail?
As said before, I don't want to believe that there are prejudices.  So, I don't matter about that, I go on trying to improve myself and learn as much as I can. For what concerns non-professional issues , I try not to give way to anyone.
Being assertive is considered an asset in business.  As a woman, how do you balance the need to be your own champion with the stigma associated with the term, when it's applied to women?
At work they call me "Capo", my boss too. They joke about my way of being very determined and sometimes impulsive, perhaps too much. Even if they do it because women are more commanders, I wouldn't be offended. Anyway, I behave as I am, nothing different. 
Someone who has never made a mistake has never tried anything new. What was your one BIG professional mistake, and what did you learn?
Honestly, I don't know what is my biggest mistake. I make mistake all days, the important thing is always trying to solve them, doing the best, and not bring the bad mood home. The latter is more difficult for me…
Career defining moment, to-date. 
I want to mention one moment related to my university career, when I was one of the monocoque designer of SC19's monocoque.
I was part of the formula student team of my university, Politecnico di Torino, and I was selected to present to the judges the chassis of our car during the static events of the competitions around Europe. In 2 of 3 competitions we participated, we were in the design finals and mainly during the event in Most (Czech Republic), I really felt good, up to it, moreover when I received the compliments of the judges.
I think that the Formula Student experience really helped me both for practical experience and for my self-confidence,.
Words of wisdom you received from a mentor; you'd like to pay forward? 
During the last Christmas Dinner in the company, my boss told me "any good motorsport engineer must read "The Unfair Advantage"  and he gave it to me.
If you switched career paths tomorrow, what would you do?  
Something related to sport. Swimming coach or physiotherapist probably.
What piece of advice would you share with women keen to follow in your footsteps?  
Do not fear the fact that automotive is predominantly men's world, do not start biased on that, because it is the first admission of inequality.
Where do you see yourself in 5, 10 years from now? 
In these 2 years of experience, I have dealt with different worlds. Motorsport is what I was hoping after university, and following the 004C during the last 2 racing seasons led me to be even more convinced that I love race.   
On the other hand, to work on a road project, on a small series production program, has increased my interest on the automotive world. 
I thought I knew what I wanted to do but now, that I have broadened my views into the world of work and I felt very good in other clothes as well, I don't have a clear idea about my near future. 
Certainly, I see myself very much towards a management role of technical team. 
Famous words or motto you live by:
In reality I don't have a motto, I use several in different situations. 
During these last months, I'm learning from my boss that always says " we will manage it" when we have an issue.. I think that is a good way to deal with problems.
Fill in the blank:
I came. I saw. I learned!
Me Unfiltered
Morning person, or night owl?
Both. During the week mainly morning person but sometimes work asks to be owl. Yes, I love party too.
Favorite workout, or best way to blow off steam?
Best way to feel better is having a walk with my dog Zagor.
What's on your music playlist at the moment? 
Hot Hits Italy.
Netflix & chill or a good book?
Netflix and a cocktail with my flat mates.
Hobbies outside of work?
All outside activities, mainly mountain and skiing.
Best motorsport documentary or movie of all time.
Days of Thunder. Rush. Ford vs Ferrari. Other?
I really like " Veloce come il vento" ( "Italian Race" in english), an Italian sport-drama film based on the true story of rally racing driver Carlo Capone.
Name a hidden talent? 
I'm in trouble, only stupid things come to mind, I don't hide my other talents 😉
If you won the lottery, what's the first extravagant gift you'd purchase yourself? 
I can't think of any immediate gift, I would take a trip, many trips!
Most embarrassing moment? 
I don't think I'm very clumsy, and I don't remember a very awkward moment right now. I certainly remember some situations in which my excessive sincerity and transparency put me in an uncomfortable position. I am embarrassed when compliments are made to me. I will never learn to accept and gloat for them.
Name a pet peeve: 
People who make noise while eating. 
Celebrity Crush:
I really don't know. Probably Alvaro Morata when he was a Juventus player for the first time.
Name someone famous who would play you in a movie: 
Matilda De Angelis.
If you could invite only three people to dinner, who would they be and what topic would you discuss?
Toto Wolff, I need some suggestion to become his successor 😉
Friedrich Nietzsche and talking with him about current events, it would result in a crazy conversation!
My "Mimi", just to see her again.
Charities or Causes you support:  
I am a blood donor and I am registered in the list of bone marrow donors, I believe it is appropriate, a small gesture to do so much for someone, maybe save their life.
How do we connect with you online?
Facebook, Instagram, LinkedIn!