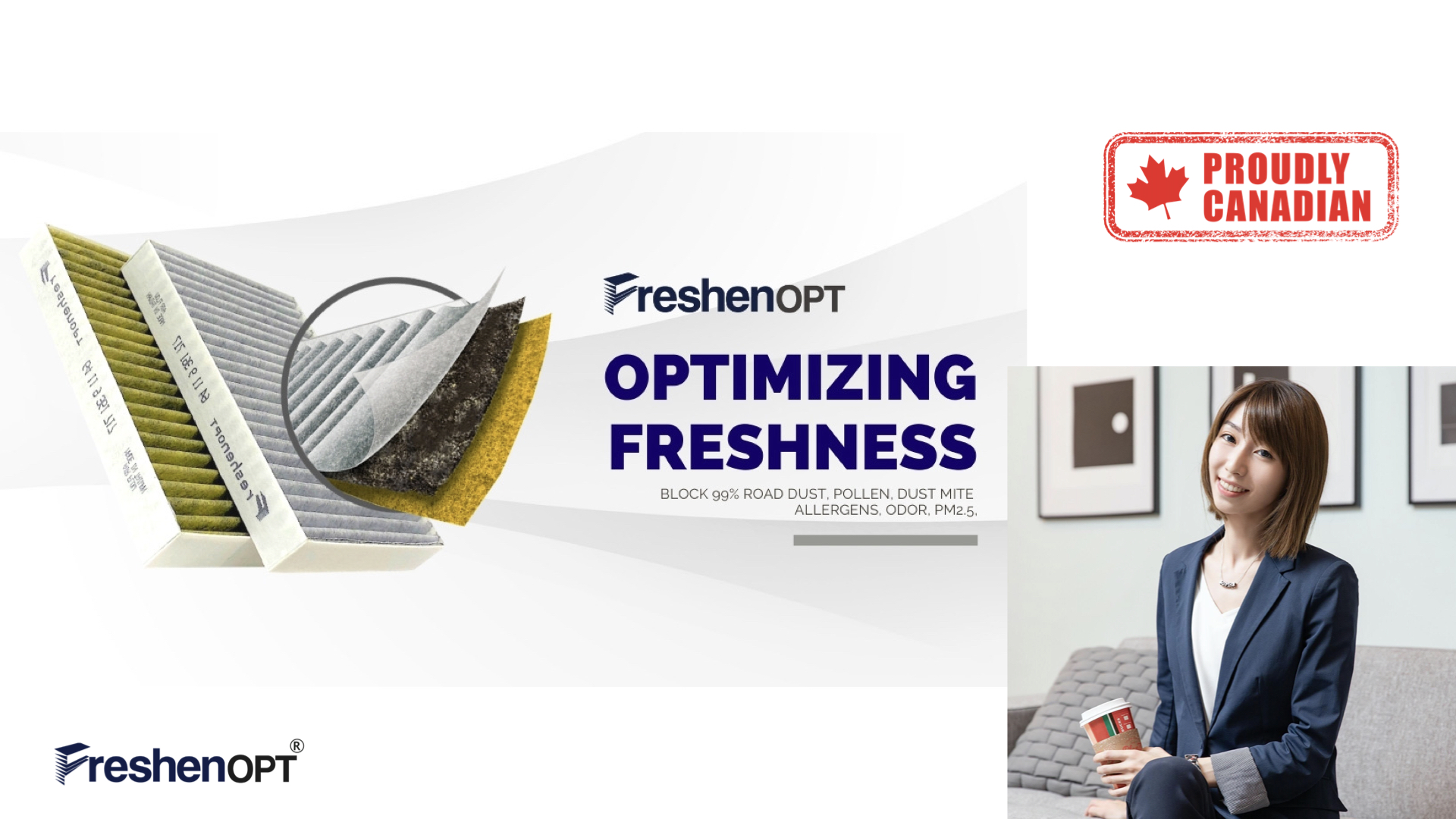 Automotive
Woman

Wednesday

We profile women who have achieved success in automotive and motorsports with integrity, passion and sheer determination. These women define the term AutomotiveWoman.

We are automotive leaders.
We are motorsport professionals.
We are women inspiring the next generation.

Who Am I: FreshenOpt by Sandy H.
Company: FreshenOpt Inc. 
Current Position: co-Founder
Years at Current Position: 2
Location: Markham, ON., Canada
Career
Describe a typical day at work.
Most of my schedule revolves around my appointment with clients. As a developing company, we are currently at the stage of client acquisitions and new sale channels development, so I'm usually outside the company meeting people. Around 4:00 to 5:00 p.m., before I head home, I go back to the company to check-in with my employees. After dinner, I'll review the day's work, look over reports, meet with manufacturers and set up tomorrow's tasks, and that hold me until 2:00 a.m.
Describe a current job-related responsibility which keeps you on your toes, daily.
Right now, I'd love to increase our brand awareness because I am I truly believe in our product quality, function and company's dedication to providing the best. I would really love to share that with more and more people. So in turn, we are doing our best to find new sales channels in acquire more customers and building brand awareness.
As a woman, tell us the most challenging hurdle you've had to overcome while climbing the professional ladder? 
I look younger than my age and I am a woman, so unfortunately most people do not take me seriously when we first meet. They don't seem to believe that I understand my products and the industry.  That's usually their first impression; however I always prove myself by showing my professional knowledge of my product line, from its material to its market. When developing our products, I put myself at the frontline in the factory, learning and practicing every procedure of filters production. At the beginning, I even personally inspected and replaced cabin air filters for my customers as an auto-mechanic.  I believe if you want others to believe you and your products, you need to completely understand what you are doing and believe in yourself. 
When met with discouragement, how do stay focused and/or prevail?
When facing discouragement, what I look for within myself is the confidence in my capabilities and the will to persevere. Time reveals all things. And, every time I feel discouraged, I just ask myself "Do I love what I am doing?" and the answer is always "YES."
Being assertive is considered an asset in business.  As a woman, how do you balance the need to be your own champion with the stigma associated with the term, when it's applied to women?
I think "assertive" is not a bad term even when it's applied to women. Nowadays, many people find assertive women are also attractive, because being assertive also means being confident. The most important thing in being an entrepreneur is having confidence, through good times and the bad. Plus, being assertive in my career doesn't take away from my loving nature in my personal life. 
Someone who has never made a mistake has never tried anything new. What was your one BIG professional mistake, and what did you learn?
Finding a business partner sometimes is like finding a life partner. If you find that they are not good for you, you should not waste your time on them. In one instance while looking for a business partner, I came across a man who showed me his interest in our product and expressed his satisfaction with our prices. However, he never gave me an answer and I needed to put a lot of my time and dedication in our relationship that felt one-directional. So I thought about it and realized that this man would never place an order, that he is not good for our business and after that, I never contact him again, and put efforts into my relationship with other clients.
Career defining moment, to-date. 
It has to be when we start having online orders coming on continuously. We are still a relatively new brand that hasn't been launched for too long. There are a lot of orders coming from customer's referrals and we are happy to see customers being satisfied with our quality to the point where they refer us to their friends and family. 
Words of wisdom you received from a mentor; you'd like to pay forward?
Don't be afraid of rejection.
Tell us the most challenging question you were asked in an interview? And how did you reply?
The most challenging question I've come across in an interview is "why have you chosen the automotive industry as it's not the best career for women?" and I reply with "The reason I joined this industry is because I love my friends and family and I want to partake in creating products that are fit to protect them and other people."
If you switched career paths tomorrow, what would you do?  
I never thought about it and I don't want to think about it. I love what I am doing and I will keep doing it.
What piece of advice would you share with women keen to follow in your footsteps? And how do you recommend breaking into your industry, or field of expertise?
Find what you love to do. Put your dream into action and believe in yourself. To break into the industry, first of all, you need to understand your product and do some market and industry research. 
Where do you see yourself in 5, 10 years from now? 
Increase the market share of FreshenOPT. In 5 to 10 years, we hope to have a wider variety of products like home and other filters.
Famous last words or motto you live by:
"Work hard, play harder." – Theodore Roosevelt
Complete the phrase:
I came. I saw. I did!
Me Unfiltered
Morning person, or night owl?
Night owl as always.
Favorite workout, or best way to blow off steam?
Badminton, basketball or just hiking. 
What's on your music playlist at the moment? 
Havana – Camila Cabello
Netflix & chill or a good book?
Netflix. But I usually don't have enough time to watch the whole series.
Hobbies outside of work?
Shopping. I really love shopping. Even grocery shopping relieves any pressure from work. 
Best motorsport documentary or movie of all time. Days of Thunder. Rush. Ford vs Ferrari. Other?
Ford vs Ferrari. Love Christian Bale 
Name a hidden talent? 
I can make three-point shot. I was a basketball player when I was in high school. 
If you won the lottery, what's the first extravagant gift you'd purchase yourself? 
Maybe a family trip. 
Most embarrassing moment? 
Can't remember. I am not afraid to be embarrassed so I can't really remember a moment I was. 
Name a pet peeve: 
When people don't answer my phone or reply my message at all.
Celebrity Crush:
Vin Diesel.
Name someone famous who would play you in a movie:
Can't decide. 
If you could invite only three people to dinner, who would they be and what topic would you discuss?
James Corden, Vin Diesel and Christian Bale.
Charities or Causes you support: 
The Lung Association.
How do we connect with you online?
Instagram: @freshenopt_official
Facebook: Freshenopt Air Filter
Twitter: @FreshenOpt
Official Website: www.freshenopt.ca