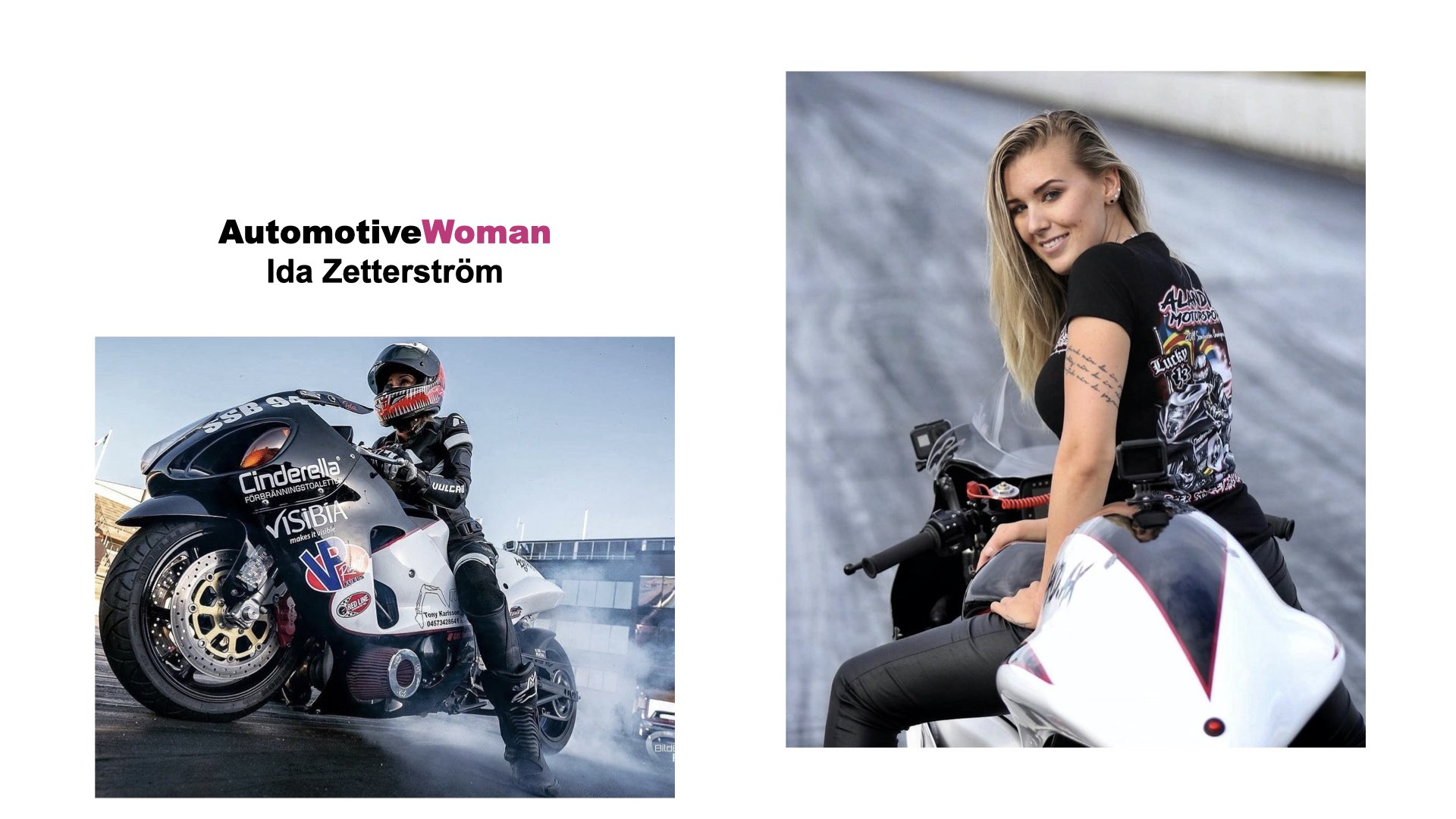 Automotive
Woman

Wednesday

We profile women who have achieved success in automotive and motorsports with integrity, passion and sheer determination. These women define the term AutomotiveWoman.

We are automotive leaders.
We are motorsport professionals.
We are women inspiring the next generation.

Who Am I: Ida Zetterström
Company: Alandia Motorsport
Current Position: Owner, & Professional Rider
Years at Current Position: 8yrs.
Location: Åland Islands, Finland
BIO
In July 2020 Ida became the first female to ever clock a 6-second run in the Super Street Bike class, and in all classes driven on street tires without wheelie bars.  Read her full BIO here and impressive motorsport achievements here: https://www.alandiamotorsport.com/bio
Career
Describe a typical day at work.
Alandia Motorsport, a typical race day usually starts with me forcing myself to eat breakfast although I´m not hungry right before a race, braiding my hair to keep it in place under the helmet, discussing track/weather conditions of the day with the team and discussing possible changes that have to be done to tune the bike before the race, warming up the bike and then I suit up while our tuner finishes with final prep and Kim fueling up the bike and putting ice in the ice tank, dad checking the weather station one last time and taking notes. If I can have my favorite spotify playlist on while suiting up it gets me really pumped up, preferably Rammstein! 
Then as soon as they call our class we go to the lineup and from there it´s race mode all the way and if we get the job done the day ends with a trophy raised in the air and celebrations with the best team! 
Describe a current job-related responsibility which keeps you on your toes, daily.
I would say my social media keeps me busy every day and there is always something going on, to post, to answer Alla Motorsport comments and messages and keep up with changes are very time consuming and will definitely keep you on your toes. 
As a woman, tell us the most challenging hurdle you've had to overcome while climbing the professional ladder? 
On the drag racing scene I feel accepted as a racer, women or not I have achieved some big things and I feel that we as a team get respected for that. Although I can sometimes feel that some riders take it harder when they get beaten by me as opposed to beaten by a man, but I can live with that 😉 
There have been a few people that have not liked the fact that I'm a girl wanting to race with the boys on a higher level, but I try not to let that kind of stuff get to me, I usually think that there would probably be some people that would not like me if I was a dude either. You just can't please everyone 🙂 
When met with discouragement, how do you stay focused and/or prevail?
In my racing life I try to not let negativity get to me too much, which is easier said than done sometimes but I want to let it fuel me instead of making me doubt myself. If someone tells me I can't do something I think "watch me" and I do my thing. 
Being assertive is considered an asset in business.  As a woman, how do you balance the need to be your own champion with the stigma associated with the term, when it's applied to women?
Oh, this is a hard one to answer!  I feel at times, it's a bit challenging to be proud and open about my accomplishments without having that feeling "does this sound like I'm bragging right now?". 
I want to show the world all of our accomplishments, wins and records.
First of all I want to do it since I'm super proud of the work me and my team have done and I want to shout it from the roof tops. But also I want to write about it to provide value for the amazing sponsors and partners I have around me, and this is so important.  BUT, sometimes I'm afraid that this will look like I'm cocky or bragging and I do not want it to look like that, because I'm definitely not. 
Would I feel the same about this if I was a guy sharing my accomplishments instead? I'm not sure…
Someone who has never made a mistake has never tried anything new. What was your one BIG professional mistake, and what did you learn?
Fortunately, I haven't made many BIG mistakes (knock on wood) yet, but I tend to learn everyday from smaller mistakes whether through personal experiences or through work.  The most important thing to remember is to learn from the smaller mistakes daily, so they never turn into BIG makes tomorrow. 
Career defining moment, to-date. 
I have many defining moments in the last decade, but to summarize the last 2-years:
2019- First race win in Super Street Bike, being the first women to ever win in the class 
2019- Winning the Super Street Bike Scandinavian series and being the first women to do so too. 
2020- Setting the second quickest ET ever in Super Street Bike and being the second team and rider to ever be in the 6.8x second zone. For me this felt the most out of all 3 and I would say that this earned us more respect than the race wins even did. 
Words of wisdom you received from a mentor; you'd like to pay forward?
I have several, and I have at least 5 of them tattooed on me as daily reminders:
One quote that I feel is very fitting in these corona times is this one:
"Focus on the goal, if the plan doesn't work, you change the plan, you never change the goal"
I have had to change my plan more than once this year, but the goal remains the same.
Tell us the most challenging question you were asked in an interview? And how did you reply?
This isn't usually something that I get asked in interviews, but when I'm doing publicity to expose the bike or participating in sponsor events, I get soooo many people asking me if I have ever crashed, when I answer "yes" they wanna know everything about it and after a long weekend it can start to get a little mentally tough to repeat that crash over and over again. Now that I'm used to it, I'm better prepared, and my answer is simple, YES I have crashed. I ran almost 200 mph before I crashed, that says a lot about the great safety of the sport doesn't it!  And I keep a smile on my face on, which usually takes the conversation into a more positive direction. 
If you switched career paths tomorrow, what would you do?  
My day job consists of being a Sales Manager, but if I could turn my Drag Racing into a full-time job, I'd love to dive deeper into the marketing and promotions side of the business.  In addition, I'd use my status to speak at more public events, and mentor/teach young racers who are the future of tomorrow. 
What piece of advice would you share with women keen to follow in your footsteps?
Go for it! There is nothing you can't do, just because it hasn't been done before doesn't mean it can't be done. If you got passion for it then never stop working for it. Nn And try to not be to hard on yourself, there is a learning curve to everything and if you don't know it all or you don't get it right the first time that's okay. Be eager to learn and believe in yourself and you are gonna do great things! 
Where do you see yourself in 5, 10 years from now? 
Full time racer, "marketing expert", working with great companies that I believe in and making an impact in the industry. That's the goal. 
Famous last words or motto you live by:
When in doubt, throttle it out! 
Complete the phrase:
I came. I saw. I learned from it and kept going. 
Me Unfiltered
Morning person, or night owl?
 100% Night owl.
Favorite workout, or best way to blow off steam?
Jet ski riding or at the motocross track.
What's on your music playlist at the moment? 
Rammstein, Linkin Park, Eminem, Mötley Crue, Motörhead and more.
Netflix & chill or a good book?
Netflix & chill.
Hobbies outside of work?
I live and breath drag racing but love everything motorsport.
Best motorsport documentary or movie of all time. Days of Thunder. Rush. Ford vs Ferrari. Other?
I love the series Drive to Survive on Netflix, and enjoy seeing the industry from that angle.  And as a movie, Gone in 60 Seconds has been a favorite since I was a kid, not sure it goes under the motorsport genre though but it has the cars and the action!
Name a hidden talent? 
Can't think of anything, it has to be so hidden I haven't even found it yet… Lol. 
If you won the lottery, what's the first extravagant gift you'd purchase yourself? 
If I won the lottery I would try to invest so that the money can grow and help fund my racing, not so extravagant but having money to secure my racing for years to come would definitely feel exciting for me!
Most embarrassing moment? 
Oh I'm the queen of embarrassing moments!! Hmm, spinning the rear tire and almost taking down the Christmas tree at a local drag strip party.
Celebrity Crush:
Cam Gigandet! 
Name someone famous who would play you in a movie:
Megan Fox.  
If you could invite only three people to dinner, who would they be and what topic would you discuss?
Easy, my team after a successful weekend! We would discuss the weekends progress and how to be even faster next time out! 
Charities or Causes you support: 
Breast Cancer Research is something close to my heart after loosing my grandmother to the disease a few years back.
How do we connect with you online?
Instagram: https://www.instagram.com/dragsterfia/
Facebook & YouTube: Ida Zetterström