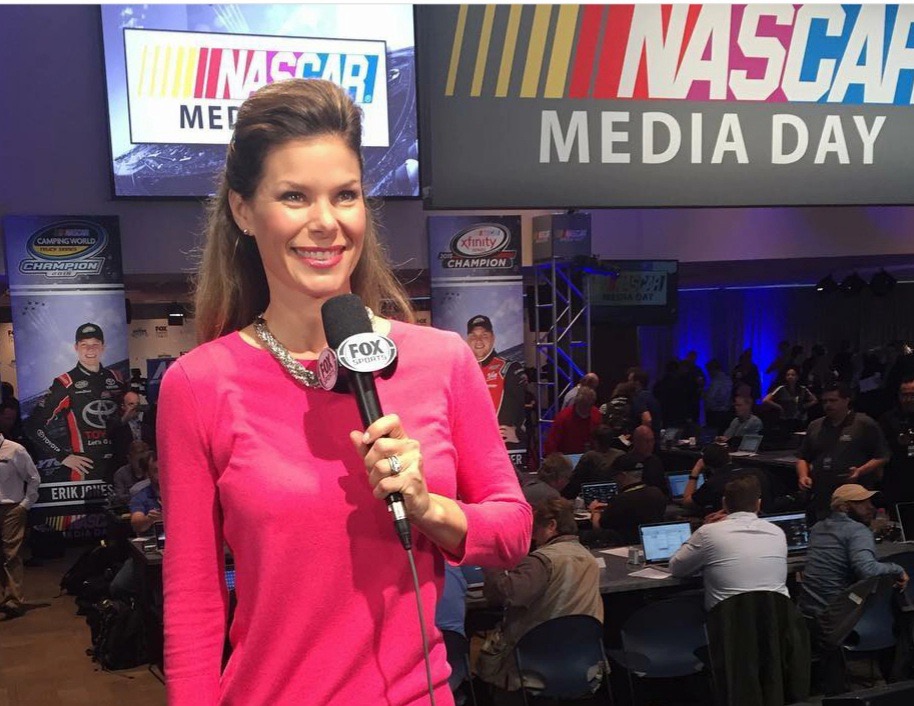 Automotive
Woman

Wednesday

We profile women who have achieved success in automotive and motorsports with integrity, passion and sheer determination. These women define the term AutomotiveWoman.

We are automotive leaders.
We are motorsport professionals.
We are women inspiring the next generation.

Who Am I: Jamie Little
Company: Broadcaster for FOX
Current Position: Pit Reporter for NASCAR
Years at Current Position: 13 years
Location: Live in Indianapolis, cover racing all over the US Host & Reporter for NASCAR on Fox Sports
BIO
Veteran motor sports reporter Jamie Little joined FOX NASCAR in 2015 to cover pit road for the NASCAR CUP SERIES and NASCAR XFINITY SERIES. Little, in her 19th year as a broadcaster, also serves as a reporter for NASCAR RACEDAY, FOX Sports' prerace show for the Cup Series. Her additional FOX NASCAR assignments over the years also have included select races and special events, including her pit reporting debut for the 2017 Rolex 24 at Daytona, hosting duties for FOX Sports' coverage of Supercross and periodic guest hosting roles on FS1's NASCAR RACE HUB.  Read More: https://www.foxsports.com/presspass/bios/on-air/jamie-little
Career
Describe a typical day at work.
Race Day: Arrive at the track by 8 am. Get in to the garage and talk to my crew chiefs (of the cars I will cover in the race that day) and get the stories for the day and storylines from the weekend with practice and qualifying, etc.  Then, I'll have a production meeting with the broadcast team at FOX.  Eat lunch, write my interviews for the pre race show and then get my headset and microphone and get to driver introductions.  From there I begin doing interviews for our pre race show and that leads straight into the 3-4 hour race where I cover pit stops, wrecks, and update all things happening with my cars.  I interview drivers post race and usually get out of the track around 6 or 7 (on a typical afternoon race time slot).
Describe a current job-related responsibility which keeps you on your toes, daily.
My entire job.  It's LIVE TV so you're always on your toes, thinking on your feet and staying ahead of the action. What comes out of my mouth is heard by millions of people.  You must get it right.
As a woman, tell us the most challenging hurdle you've had to overcome while climbing the professional ladder? 
I would say any time I started reporting on a new sport (Supercross then IndyCar then NASCAR).  I had to pay my dues a little longer than a typical new "guy."  People look at women in a male dominated sport with a magnifying glass.  They listen a little more closely to your words and are quicker to cut you down or discredit you.  I personally am driven by that challenge and I love proving myself.  So, it's a challenge being a woman at times but usually just when you're trying to establish yourself as a reporter of the series.
When met with discouragement, how do stay focused and/or prevail?
I love overcoming the odds and proving myself.  Early on in my career I just followed my gut instinct in all different situations including ones that were discouraging.  Over the last several years, when I have a discouraging time, moment or comment I dig down deep to my confidence and quickly remind myself of the reason I'm here and how long I've been doing this.  I am just as capable as any person out here and that's why I'm in this position. That confidence gives me courage to go after things I typically wouldn't like TV or movie or commercial roles (usually with a racing element).
Being assertive is considered an asset in business.  As a woman, how do you balance the need to be your own champion with the stigma associated with the term, when it's applied to women?
So true about that word.  Being assertive is important, but when you're a woman in a male dominated landscape it's definitely frowned upon.  You're looked at as a bitch, honestly.  I am a people pleaser so I usually become a chameleon and say and do the things that allow me to fit in easily with the men yet mark my territory at the same time.  I don't want to offend anyone.  I want to kill them with kindness, while getting what I want in the job.
Someone who has never made a mistake has never tried anything new. What was your one BIG professional mistake, and what did you learn?
I don't know if I'd call it a mistake, but the one thing I wonder about is if I would have been more open to covering other sports as I was coming up in my career, where would I be today? I have no doubt I would have made it to the NFL.  Maybe I'd have my own studio show? But the one thing that sets my mind at ease is knowing that I always followed my instinct and I always wanted to be where I was happy and passionate.  That was racing.  I realize now I've built a brand being me and if I had switched to NFL or another sport, I'd be a dime a dozen.
Career defining moment, to-date. 
I would say becoming the first female pit reporter on the television broadcast team for the 2004 Indy 500.  I went where no woman had been before, and I believe the way I handled that role, allowed more doors to open for me.
Words of wisdom you received from a mentor; you'd like to pay forward?
"When one door closes, another opens" is one my mom told me after I didn't get the first big gig I went for, at 21.  It's so true in this business.  Just because you didn't get the gig or "deal" you wanted doesn't mean there isn't something the same or better right around the corner.  You have to keep digging and doing your thing, putting the energy out into the atmosphere while always letting the right people know your intentions and desires.  "A squeaky wheel gets the grease" is another one former NASCAR champion Rusty Wallace told me.  He was so right on. 
Tell us the most challenging question you were asked in an interview? And how did you reply?
How is it being a woman in a male dominated sport? That one is always hard for me.  I don't ever feel different from the men. I look different and that's it.  
If you switched career paths tomorrow, what would you do?  
That's so hard…. I'd own a rescue ranch and take in and rescue all types of animals.  It would be my mission to find funding and spread the awareness thru media about rescue and adoption.  Maybe I'd be a dog trainer too cause I'd need to find a way to make money, not just spend it on animals. 😊 Ha ha
What piece of advice would you share with women keen to follow in your footsteps? And how do you recommend breaking into your industry, or field of expertise?
Find something you are passionate about and go for it.  Don't settle for covering another sport just because of the fame or money or because you don't think you're good enough You'll regret it. 
Where do you see yourself in 5, 10 years from now? 
I see myself still doing TV in some capacity.  Owning more franchises with my husband, owning land to begin our rescue ranch project and spending a lot of time with my family. 
Famous last words or motto you live by:
When it comes to work, always say "yes" and figure it out later!  Also "outwork the person next to you if you want to stand out. Be the first person in and the last out." 
Complete the phrase:
I came. I saw. I DID!
Me Unfiltered
Morning person, or night owl?
Morning.
Favorite workout, or best way to blow off steam?
Sandbag/odd object training.  I workout with my sandbag in my garage multiple times a week and sometimes I bring the bag with me on the road and buy sand to fill it once I'm on location.  Incredible workout, for muscles, cardio and mind. 
What's on your music playlist at the moment? 
Everything from Machine Gun Kelly to Christopher Cross to Florida Georgia Line.
Netflix & chill or a good book?
A little of both.  I don't sit still well, so I spend about the same amount of focus on each of these. 
Hobbies outside of work?
Rescuing dogs and spreading the word.
Best motorsport documentary or movie of all time. Days of Thunder. Rush. Ford vs Ferrari. Other?
That's hard.  Senna.
Name a hidden talent? 
Organizing.
If you won the lottery, what's the first extravagant gift you'd purchase yourself? 
A huge property with acreage of lush land to grow into our own for animals and kids to play.
Most embarrassing moment? 
Sitting on a driver's "pee towel" post race during an interview….  But nobody knew it but me and him. 
Name a pet peeve: 
Entitled people.  Those who expect life to come to them and aren't willing to earn it. 
Celebrity Crush:
Chris Hemsworth.
Name someone famous who would play you in a movie:
Probably Sandra Bullock because she looks like me.  
If you could invite only three people to dinner, who would they be and what topic would you discuss?
Mark Zuckerberg, a police chief from Oregon or NY & Oprah.  Let's figure it out!  How do we end anti-police sentiment and end the riots & anarchy and spread it to America, young America in particular. 
Charities or Causes you support: 
Any shelter that saves animals.  Best Friends, Hamilton Humane Society in Indy, Animal Foundation in Las Vegas & Helen Woodward Animal Center in San Diego. 
How do we connect with you online?
Social media Twitter & Instagram https://www.instagram.com/jamielittletv/ @JamieLittleTV
Photo's courtesy of Jamie Little & Fox Sports