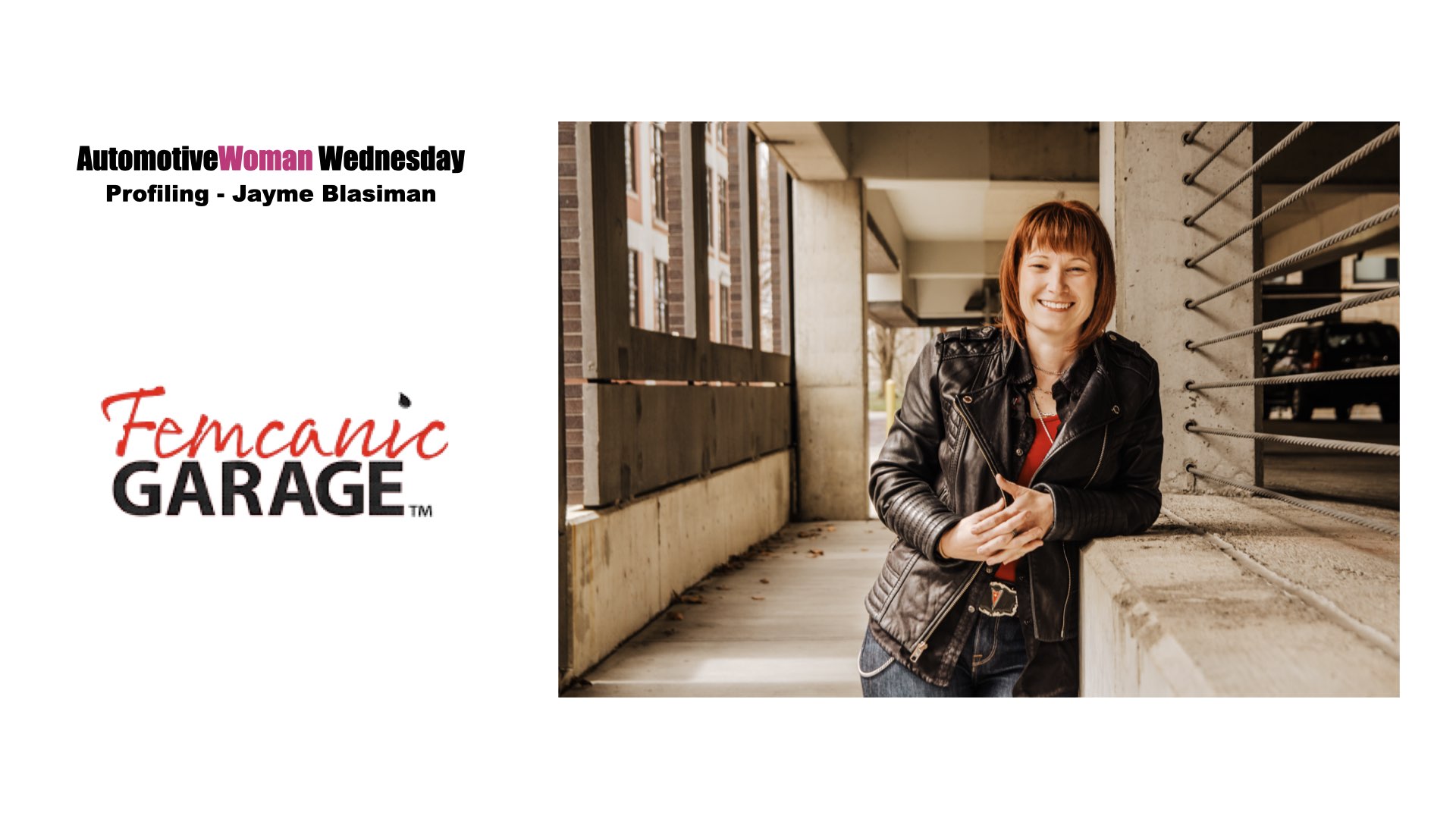 Automotive
Woman

Wednesday

We profile women who have achieved success in automotive and motorsports with integrity, passion and sheer determination. These women define the term AutomotiveWoman.

We are automotive leaders.
We are motorsport professionals.
We are women inspiring the next generation.

Who Am I: Jayme Blasiman
Company: Femcanic Garage
Current Position: Founder/Owner
Years at Current Position: 2yrs
Location: Columbus, Ohio, USA
BIO
My interest and passion for cars started when I was about six years old with my mom's restoration project. She had a 1973 Pontiac GTO that still lives in her garage. My step dad rebuilt the engine for it and my job was to clean parts in a gasoline-filled porcelain bin while he worked on it. It was a blast climbing about and exploring all the cars he had lined up in his goat-barn-turned-garage. There were so many cars to explore and so many different and strange parts to wonder about, I could not get enough! My mom tells many stories about my ruining perfectly pink dresses with grease stains. Dresses are still not my preferred outfit and I still think pink clothing looks better stained with grease.  Learn more: https://femcanic.com/about-us/
CAREER
Describe a typical day at work.
As a small business owner, my time is spent focusing on all aspects of the business.  Finding women on social media that I would like to feature as a guest on the Femcanic Garage podcast, developing social media posts, collaborating on projects with other women in the industry.  As with many women entrepreneurs, I am wearing multiple hats.
Describe a current job-related responsibility which keeps you on your toes, daily.  
Trying to keep up with all the administrative tasks and social media posts.  
As a woman, tell us the most challenging hurdle you've had to overcome while climbing the professional ladder? 
Myself!  Sure, there are external societal pressures for women. What industry we should or should not work in, how "loud" our voice should or should not be… I feel like I didn't challenge those limits enough as a young woman to really understand what the real hurdles would have been.  I had to work through the limits I placed on myself.  My internal work has been the most challenging to overcome.  That voice in my head saying, "You are not enough."  That feeling of impostor syndrome every time I am surrounded by amazing people I love and respect.  It is the continual work of reminding myself that I belong here and I provide value.
When met with discouragement, how do stay focused and/or prevail?
When I feel really discouraged, I take a break and walk away from what I am working on.  Sometimes this is easier said than done.  I have found it helpful collaborating on projects with other women in the industry has helped me stay focused.  It is almost like having an accountability partner or workout partner.
Being assertive is considered an asset in business.  As a woman, how do you balance the need to be your own champion with the stigma associated with the term, when it's applied to women?
I am often referred to as a bulldog. For the most part, I have been blessed to work with men and women that have encouraged my assertiveness.  I have run across some people that tried to quiet or mute my voice, but I refuse to back down.  I learned that it is their problems and insecurities they are projecting on me.  I refuse to carry the burden of their insecurities.  To be honest, I do not want to balance my assertiveness.  As long as I am not being an asshole there is no need to "tone it down."  
Someone who has never made a mistake has never tried anything new. What was your one BIG professional mistake, and what did you learn?
Not following my gut and my woman's intuition.  Not starting Femcanic Garage sooner.  Not believing in myself…not owning my crown.  
Career defining moment, to-date. 
Attending the Women in Automotive conference in 2019 and meeting so many amazing women in the industry.  I attended a dinner with about 14 prominent women in the industry and remember looking around the table and thinking to myself, "Is this really happening?"  I felt like I belonged and found my tribe in this industry.  
Words of wisdom you received from a mentor; you'd like to pay forward?
From Petra Schroeder: "Don't be a second-class man.  Be a first-class lady!"  She shared this during our interview, and it blew me away.  She received that advice from a gentleman that was her mentor.  What he was saying is that we do not need to act and by like men in this industry.  We need to own all the beauty and softness we have to offer as women and know with certainty it belongs in this industry.  Not only does it belong but it exactly what it has been missing for years.
If you switched career paths tomorrow, what would you do?  
I cannot imagine seeing myself doing anything else.  I am home!
What piece of advice would you share with women keen to follow in your footsteps?  
Keep showing up!  This takes time…this takes years. This is all about the journey not the destination.  Reach out to other women.  We want to help.
Where do you see yourself in 5, 10 years from now? 
Buying an RV, driving all over North America and meeting the women I have interviewed in person for the first time.  While on my journey continue meeting new women and interviewing them along the way.  I would also build my YouTube channel with the content I am capturing during my travels.
Famous words or motto you live by:
We have a choice in life…we can focus on what makes us different or we can focus on how we are the same.  One choice brings an abundance of love and new exciting life experiences and the other brings us fear and hate. I choose love.
Fill in the blank:
I came. I saw. I loved!
ME UNFILTERED  
Morning person, or night owl?
Night owl
Favorite workout, or best way to blow off steam?

Cross-fit type of exercise & Yoga
What's on your music playlist at the moment? 
Loving Lizzo's female empowerment songs
Netflix & chill or a good book?
Netflix
Hobbies outside of work?
Building/home improvement projects, treasure hunting at flea markets, and working on classic cars
Best motorsport documentary or movie of all time. Days of Thunder. Rush. Ford vs Ferrari. Other?
Ford vs Ferrari
Name a hidden talent? 
Drawing 
If you won the lottery, what's the first extravagant gift you'd purchase yourself? 
Brand new RV
Most embarrassing moment? 
When my mother-in-law was trying to pick a bra out for me…LOL…I have no idea why.
Name a pet peeve: 
When people act like they did not have help along the way of their journey.  As women when we are asked "how do you do it…. balance it all."  When women say, "I just work hard."  Social media sucks at this!  The most successful women had and still have help. We all get help.  It is okay to admit to each other that we need and have help.
Name someone famous who would play you in a movie: 
A younger Meryl Streep or Kate Blanchett because of physical features
If you could invite only three people to dinner, who would they be and what topic would you discuss?
My Grandma Blasiman (my children's great grandma), Jadyn (my 13-year-old daughter), Jordyn (my 10-year-old son).  My grandmother was alive when my children were little, but she was already in the final stages of Alzheimer's and passed away.  They never got to hear her voice or how she was an amazing piano player.  They had the chance to experience meeting my grandpa but not my grandmother.  She was an amazing lady!  To give my children a chance to meet her over dinner and get to know her and for her to get to know her great grandchildren…now that is life changing!
Charities or Causes you support: 
Brakes for Breasts and The Jessi Combs Foundation
How do we connect with you online?