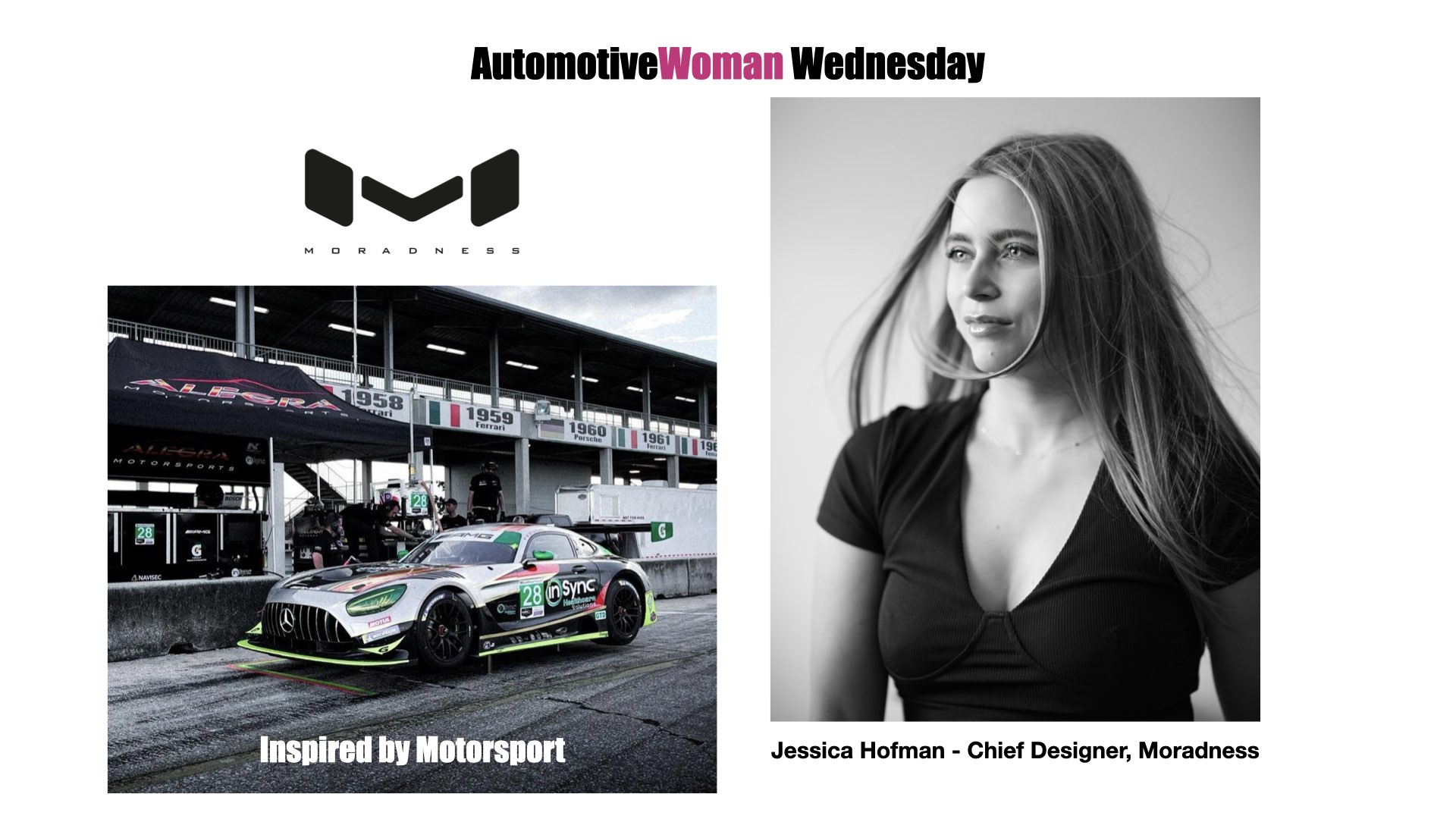 Automotive
Woman

Wednesday

We profile women who have achieved success in automotive and motorsports with integrity, passion and sheer determination. These women define the term AutomotiveWoman.

We are automotive leaders.
We are motorsport professionals.
We are women inspiring the next generation.

Who Am I: Jessica Hofman
Company: Moradness
Current Position: Founder, and Chief Designer
Years at Current Position: 4yrs and counting
Location: Toronto, Montreal, Canada
BIO
I am Jessica Hofman, Co-Founder of Moradness, a lifestyle brand motivated by motorsport. I graduated from a fashion marketing program in Paris, France in 2010, specialized in PR / media relations during 7 years and worked for different agencies in Montreal and Toronto. In 2017, alongside my partner and fiancé Daniel Morad, we launched Moradness. We now create racing inspired designs for our clothing and headwear collections and we recently started offering karting and sim racing gloves.  Shop: https://moradness.com
Career
Describe a typical day at work.
Running an e-commerce business, I wouldn't say there is a typical day. Every day is different, but it will always start with planning our social media and email campaign calendars. We shoot new campaign videos, take product photos, make sure the site is updated and running well. Answering emails and of course packing all the orders of the day. 
Describe a current job-related responsibility which keeps you on your toes, daily.  
Answering customer emails and making sure each customer is happy. Customer Service is definitely a harder job than it looks. 
As a woman, tell us the most challenging hurdle you've had to overcome while climbing the professional ladder? 
I would say making friends in the workplace. Too many women are still competing against each other instead of becoming allies and helping one another get better. As women, we should be supportive and focus on having a positive work experience. 
When met with discouragement, how do stay focused and/or prevail?
Even if it's hard, I try to take some time off to clear my mind. Letting go really helps me but it's not easy to do. When met with discouragement, I tend to try and work even harder and fill up my to do list to the max to make up for the negative feeling. The problem is I am not in a good headspace, so nothing really gets done correctly. For me, taking a few hours away from my work helps so I can start fresh and find a new perspective. 
Being assertive is considered an asset in business.  As a woman, how do you balance the need to be your own champion with the stigma associated with the term, when it's applied to women?
I am a very assertive woman (maybe it's the French in me!) ;). We are all work in progress and at the end of the day it's important for me to be able to express myself while staying professional and grounded. As a woman, it's also important to never feel bad about being assertive. As long as there is respect, being assertive is an amazing asset in business!
Someone who has never made a mistake has never tried anything new. What was your one BIG professional mistake, and what did you learn?
Not keeping an open mind and wanting something to succeed so bad that I did not see the red flags. I learned that it's important to take a step back and observe the situation. Take time to reflect and even if a project fails, it's such a great learning experience. Being ok with moving on and starting again is super important. 
Career defining moment, to-date. 
When professional race car drivers and motorsport industry people started wearing Moradness. The recognition of Moradness within the industry is making me so proud of what we're building and creating every day. 
Words of wisdom you received from a mentor; you'd like to pay forward?
"Your 20s are for learning and your 30s are for doing". That really helped me take my time and actually learn as much as I could. In the social media era, we compare ourselves too much and we want to succeed and get to the top so quickly but the truth is it will take time, and there will be failures and moments of doubt. Being ok with it and knowing it's part of the job helps put things into perspective and it helps me enjoy the journey a lot more. 
If you switched career paths tomorrow, what would you do?  
Probably go back to doing public relations. I am good at it. I just don't enjoy it as much as having my own brand. 
What piece of advice would you share with women keen to follow in your footsteps?  
Get yourself a support system. It can be very small. One family member or a friend will do. But it's important to not feel alone and to have someone you can brainstorm ideas with, especially at the beginning.  
Where do you see yourself in 5, 10 years from now? 
I definitely see myself still running Moradness with Daniel and hopefully at a larger scale in a beautiful office space with an awesome team and a proper showroom! 
Famous words or motto you live by:
I read this somewhere and it stuck with me. "No matter what your current circumstances are, if you can imagine something better for yourself, you can create it". 
Fill in the blank:
I came. I saw. I made it!
Me Unfiltered
Morning person, or night owl?
Morning person.
Favorite workout, or best way to blow off steam?

Dancing or going on a walk.
What's on your music playlist at the moment? 
I listen to The Beatles a lot. 
Netflix & chill or a good book?
Both! 
Hobbies outside of work?
Sewing, scrapbooking, journaling or anything creative and artistic.
Best motorsport documentary or movie of all time. Days of Thunder. Rush. Ford vs Ferrari. Other?
Cars 😉 
Name a hidden talent? 
Singing.
If you won the lottery, what's the first extravagant gift you'd purchase yourself? 
I would get Daniel a Maybach so he can drive me around in it.  
Most embarrassing moment? 
Every time I am on a plane and there is turbulence. I suddenly lose all my common sense and get very scared. If it lasts too long I could start crying… Bottom line is only people really close to me can travel with me. 
Name a pet peeve: 
When Daniel is late. All the time. 
Celebrity Crush:
American actor Miles Teller. haha
Name someone famous who would play you in a movie: 
Mary Kate or Ashley Olsen.
If you could invite only three people to dinner, who would they be and what topic would you discuss?
Celine Dion and Paul McCartney to share an amazing moment, talk about music and what Celine has learned in the show business throughout the years. Paul McCartney so I can ask about his life as part of The Beatles. 
How do we connect with you online?
Through the Moradness Instagram account. I am always in there posting, answering comments and messages. ( @moradness )