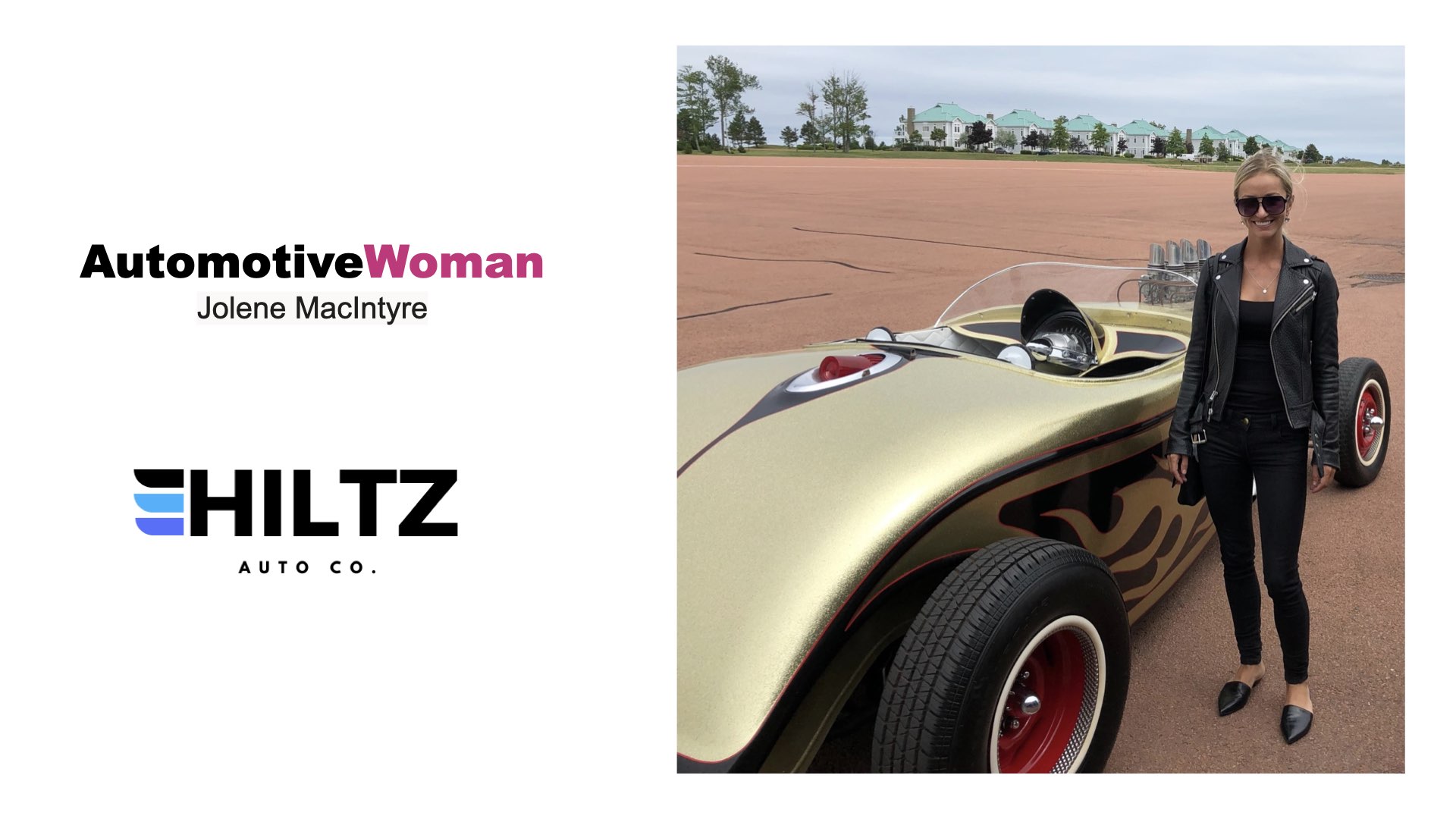 Automotive
Woman

Wednesday

We profile women who have achieved success in automotive and motorsports with integrity, passion and sheer determination. These women define the term AutomotiveWoman.

We are automotive leaders.
We are motorsport professionals.
We are women inspiring the next generation.

Who Am I: Jolene MacIntyre
Company: Hiltz Auto Co.
Current Position: Co-Founder
Years at Current Position: 3yrs.
Location: Canning, Nova Scotia, Canada
BIO
Jolene is the co-founder of Hiltz Auto Co. What started out as a small business restoring classic cars has turned into a world-renowned business of automotive design and engineering. While her fiancé's vision is to create one of a kind automobiles, Jolene's vision is to create an international business and brand that generates multiple six-figure income streams. She is a fearless up and coming automotive business mogul with no plans of slowing down. The online momentum Jolene has created recently caught the attention of Discovery channel and now Jolene, her fiancé Bad Chad and their business Hiltz Auto Co. are being showcased internationally in a new hit reality docu-series "Bad Chad Customs"
CAREER
Describe a typical day at work.
I start every morning with coffee and emails. When we're in peak production, I work 12 hours a day, 7 days a week. And if there were 8 days in a week I would work the 8th day. The only way to accomplish what we do is by working hard. We have a meeting with the team every morning to set out the goals and agenda for the day. No two days ever have the same tasks. Building a car from the ground up is quite the process and each day presents itself with different set of tasks and hurdles.
Describe a current job-related responsibility which keeps you on your toes, daily.  
It's my job to keep us on schedule and on budget. In baseball terms, I would be considered the team 'rover' which means I move wherever the focus is. If we're short handed and need something welded, I'll jump in a weld. If we're doing body work, I'll jump in and sand. If we need parts, I'll jump and run to go get them. I'm honesty kept on my toes everyday. Another daily task of mine is creating content for YouTube and social media. I produce daily automotive content which has turned into a full time job in itself.
As a woman, tell us the most challenging hurdle you've had to overcome while climbing the professional ladder? 
Proving my worth has been the most challenging hurdle but it's also been my biggest motivation.
When met with discouragement, how do stay focused and/or prevail?
It was a real game changer for me once I changed my mindset from saying "why is this happening to me" to "what is this trying to teach me?" Instead of going through discouraging times, I try to grow through them. I have a win or learn mentality.
Being assertive is considered an asset in business.  As a woman, how do you balance the need to be your own champion with the stigma associated with the term, when it's applied to women?
To be honest, I don't feel any stigmas as a woman. A champion is not based on gender but on effort. I have confidence in my abilities and know that I'm an asset to our team.
Someone who has never made a mistake has never tried anything new. What was your one BIG professional mistake, and what did you learn?
I always try to embrace my mistakes by learning from them. And if I've learned something from the mistake then we can technically call it a lesson…right? I would have to say my biggest professional lesson to date would be not developing our YouTube channel sooner. Initially my focus was on growing our social media following and YouTube was always on the back burner. During the pandemic, I switched my focus to growing our Youtube channel and we're now in the top 100 channels for subscriber growth.
Career defining moment, to-date. 
Receiving a TV contract with Discovery, Inc.
Words of wisdom you received from a mentor; you'd like to pay forward?
My fiancé Chad is my biggest mentor. He taught me that the only thing stopping me from achieving success is the will and want. That piece of wisdom has opened my eyes to realize that anything is possible, you just have to want it bad enough. And when you want something bad enough, you become focused on it and you're able to say no to anything that prevents you from getting it.
If you switched career paths tomorrow, what would you do?  
I would most likely get into designing and creating interior furniture. This past year, we purchased our first investment property and did an interior renovation on it. It's something that I can see myself doing more of. I was always a numbers and formula girl in school, but now I enjoy being creative.
What piece of advice would you share with women keen to follow in your footsteps?  
My advice is simple, work hard. The only thing stopping you from turning your dream into reality is how hard you are willing to work at it. I've always had a strong work ethic when it came to sports and I've since learned how to redirect my competitiveness into business. Working hard at something you're passionate about is a fulfilling journey.
Where do you see yourself in 5, 10 years from now? 
I see nothing but big things for Hiltz Auto Co. I see us being the #1 automotive show on TV. I see us being the #1 automotive channel on Youtube. I see us being an international household name. I see us partnering with big companies. And the reason I can confidently say all of that is because we are willing to work day and night at it.
Famous words or motto you live by:
Life is a matter of making choices. The better choices you make, the better life you will lead.
Fill in the blank:
I came. I saw. I inspired people to work hard.
ME UNFILTERED  
Morning person, or night owl?
I am most productive in the morning and most creative at night.
Favorite workout, or best way to blow off steam?
A good game of ping pong. We have a ping pong table in the living room.
What's on your music playlist at the moment? 
I fall asleep to 50's jukebox classics every night but during the day it's mostly Billie Eilish, Miley Cyrus, The Weeknd, and CeeLo Green.
Netflix & chill or a good book?
A good book. I'm currently reading "Think and Grow Rich" by Napoleon Hill
Hobbies outside of work?
A couple years ago we started investing in vintage motorcycles. I lost count but I think we have close to 30 now. I consider them our RRSPs. We recently acquired a 1974 Kawasaki Z1 900 which is one of the most sought after collector bikes. It's a good feeling to spend your money on something that you think is going to be worth more in time.
Best motorsport documentary or movie of all time. Days of Thunder. Rush. Ford vs Ferrari. Other?
Anything with Carroll Shelby. I really enjoyed Ford vs Ferrari and "Shelby American"
Name a hidden talent? 
I would have to say videography.
If you won the lottery, what's the first extravagant gift you'd purchase yourself? 
I'm sure this sounds odd but it's my dream to someday develop an automotive themed cruise ship. I would decorate it with all the art cars that we've built at Hiltz Auto Co. and then travel throughout the Mediterranean sea and dock at all the ports that are closest to automotive car museums.
Most embarrassing moment? 
Watching myself on TV stress about deadlines.
Name a pet peeve: 
Negative people.
Celebrity Crush:
Kate Moss in the 90's
Name someone famous who would play you in a movie: 
Rachel McAdams
If you could invite only three people to dinner, who would they be and what topic would you discuss?
I would invite Jim Carey, Elon Musk, and Ralph Lauren and discuss life, cars, fashion and the future.
Charities or Causes you support: 
Jake's House Charity for Children with Autism and CNIB Wheels for Wishes
How do we connect with you online?
You can subscribe to our daily automotive journey on www.youtube.com/badchad