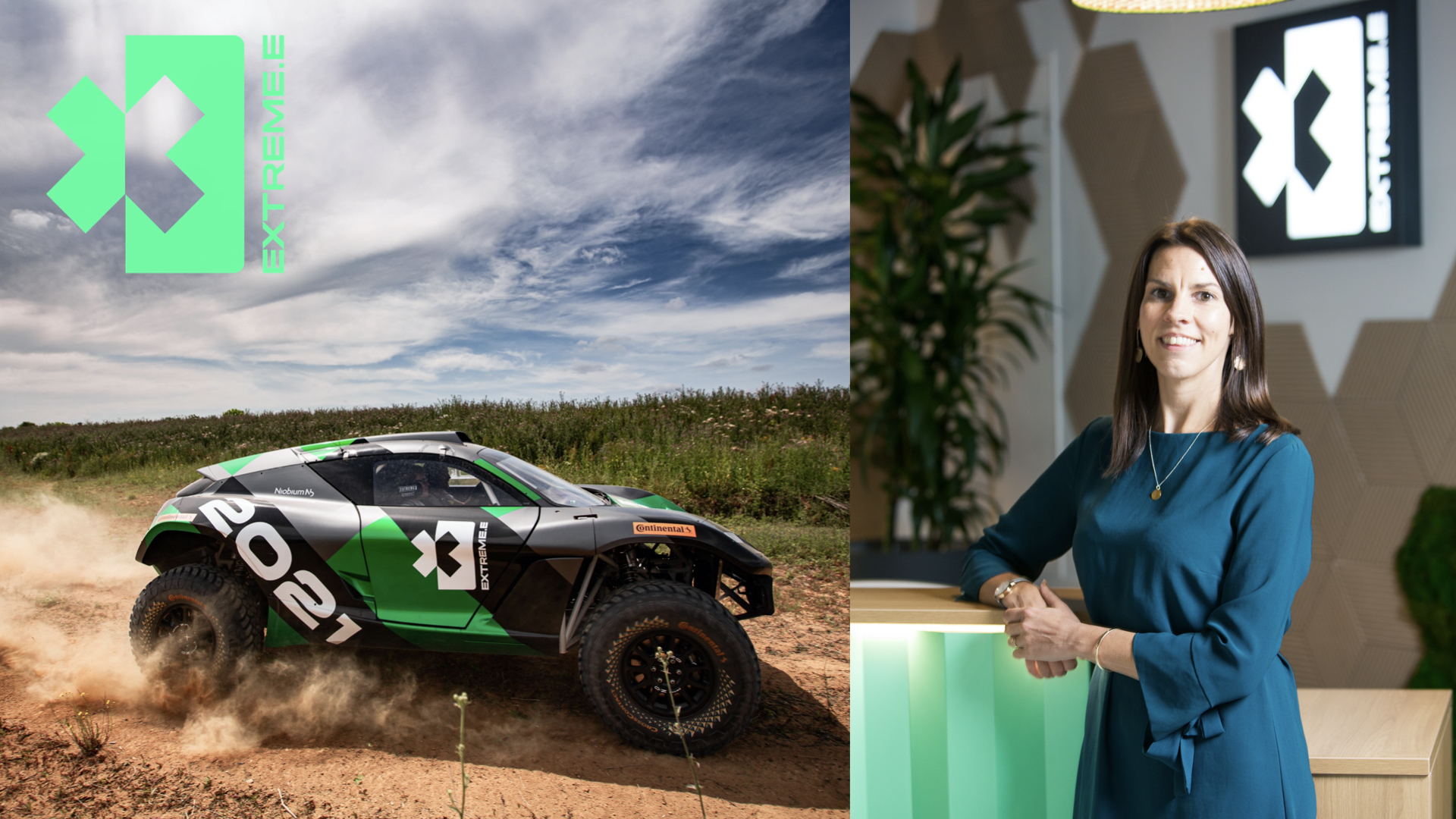 Automotive
Woman

Wednesday

We profile women who have achieved success in automotive and motorsports with integrity, passion and sheer determination. These women define the term AutomotiveWoman.

We are automotive leaders.
We are motorsport professionals.
We are women inspiring the next generation.

Who Am I: Julia Fry
Company: Extreme E
Current Position: Head of Communication
Years at Current Position: 1.5 years
Location: London, UK
Career
Describe a typical day at work.
A double espresso to start, usually before my eyes are properly open. My days used to start with a long commute as I live out of the city. I used to leave home by 0700, but now like the rest of the world, we are more home office based. This means I can now build a decent exercise regime into my mornings at least – so I try to get in a dog walk or a personal training session to get the brain moving.
Every day is different when you are building a new championship, and especially true with Extreme E which is not your average motorsport. One morning we might be confirming a new team or driver to the series, or a new sponsor or broadcast partner.
Then later that morning or afternoon we may be planning a Legacy Project in one of our locations. For example; planting a million mangroves in Senegal; working with Unicef on climate education programmes for school children in Greenland; or coral reef restoration programmes in the Red Sea.
Basically, every day is really diverse. I love the varied scope of sporting action and sustainability.
Describe a current job-related responsibility which keeps you on your toes, daily.
The constant daily challenge right now is to build the awareness and profile of Extreme E. As a start-up series which is still yet to go racing in its first Season, its crucial to be bringing on teams and sponsors, and building a fan base. We need to let the world know we exist, keep our existing followers excited, and also build our credibility as newcomers to the sport. 
We are still a very small team so we work long hours, but we are all super passionate about the mission of the series and all feel very lucky to be working on such an exciting new project.
As a woman, tell us the most challenging hurdle you've had to overcome while climbing the professional ladder? 
I do feel like I've been very fortunate with my career. I've had plenty of satisfaction and career growth and I've worked for and with a lot of inspirational women who have become positive role models for me.
I also feel especially proud to work in a motorsport which leads the way in gender equality. Not only do we have a pretty even ratio of males to females at our HQ, but Extreme E recently became the first motorsport to announce a gender equal sporting format.
All our teams must have one male and one female driver. Both will compete a lap apiece of the race track, with a driver changeover half way. It's causing a lot of excitement in the industry. Teams are still early in their selection process but already we have an American, Sara Price, signed up to compete for the Chip Ganassi Racing team. It's the first time in 30 years they have had a professional female driver on their books so we are already creating new opportunities in the sport and this is just the start. 
I do recognize that this isn't the norm in a lot of motorsport, so I can only speak for my experience, but I do see a lot more opportunities and I hope projects like ours can only add to those. 
When met with discouragement, how do stay focused and/or prevail?
A definite weakness of mine is that I have an empathic nature which means I can be thin skinned and take things to heart too much, but time and reflection always helps. 
The key is trying not to take it too personally, not to get overly defensive, and to always learn a lesson from it. There is often a really good reason someone doesn't agree with you and you have to be ready to listen to and accept feedback.
I'm told thick skin does come with experience, and I'm getting better with that, but really you just need to believe in yourself and be confident that you do know what you are doing.  
Being assertive is considered an asset in business.  As a woman, how do you balance the need to be your own champion with the stigma associated with the term, when it's applied to women?
I've had many brilliantly assertive female leaders to look up to, but I do agree that women generally face more judgement. You have to know you can't always please everyone and there will be those that try to bring you down, but that speaks more about their failings and personalities, and it is often rooted in jealousy. 
Being assertive is one thing of course, but there is a fine line between being assertive and being bossy and arrogant, regardless of your gender. Getting results are one thing, getting respect can be tougher. For me, a genuine, personable, work-hard approach seems to work. 
Someone who has never made a mistake has never tried anything new. What was your one BIG professional mistake, and what did you learn?
We are all human so we all make plenty of mistakes, and we shouldn't be too afraid of them as long as you take each one as a chance to learn and don't repeat it. I can't remember any one BIG serious eff up moments – perhaps I've blanked it from memory already, or perhaps it means it is still to come!
In communications a lapse of attention and process which results in spelling a key person's name or a location wrongly, or the ultimate sin of making an embarrassing typo in a press release headline can haunt you forever. We've all been there, and whenever I see someone else do it I really feel for them. Spending the time to proofread and always get a second opinion. If it goes out under your department's name and you didn't write it, but you also didn't spot it, it is still your responsibility. 
Career defining moment, to-date. 
At Extreme E, it was project managing our car launch at Goodwood Festival of Speed just five weeks after I started. It got brilliant, global reaction and set the tone for building our credibility in the motorsport world as it was our first major event since we launched.
18 months on and we've developed huge amounts since then and last month we scored a huge coup when Lewis Hamilton and Nico Rosberg decided to enter their own teams in Extreme E.  Two of the biggest names in motorsport are now involved which really brings global attention to our new series – and is already making for some great storytelling.
Ultimately it was our CEO and senior team who did the deal but we are a small team and the communications has to be spot on to get the biggest global name in motorsport to decide it's the right project. It was a total game changer for our series, and we all took a great deal of satisfaction in that. Just the start though and really excited about the ways we can help him support his love for the planet and diversity in sport.  
Words of wisdom you received from a mentor; you'd like to pay forward?
You can't eat a whole elephant at once, but you can eat it one burger at a time.
Some tasks can feel impossible and they might be overwhelming but if you break it down and just concentrate on taking it one section at a time, it is much easier to visualize and stay motivated. 
I've used that for work challenges, but was also super helpful when I decided to run a marathon.
Tell us the most challenging question you were asked in an interview? And how did you reply?
Tell us what you think our biggest challenges will be as a series. 
We ended up having a detailed talk about it all, but I also went into detail about how I'd recommend approaching the challenges. It was very honest on both sides, which I appreciated, and it worked out! 
If you switched career paths tomorrow, what would you do?  
I've always worked in sports and I think I would feel really empty if I didn't.
Would have to be something totally unrelated, I'd either run an animal rescue centre, or a café. I do joke with my friend about opening a trendy little place called Pie Lattes. My friend, Kelly, will run pilates classes, and I'll keep the caffeine going and feed everyone home-made stuff. I can't really even bake but it just sounds like fun.
What piece of advice would you share with women keen to follow in your footsteps? And how do you recommend breaking into your industry, or field of expertise?
Believe in yourself. Don't set any limits, and don't wait for the opportunity to come to you. 
Make a hit list of your dream companies to work for and then make contact and make sure they know who you are. If it is your real passion and you can, offer to volunteer. I started off volunteering on events. The money wasn't my main motivator and I knew it would come if I just got the right start and experience.
Also work hard. Working in sports will involve long hours and it definitely won't always be glamorous. Chip in, say yes to everything, apply yourself and be proactive, and you'll be rewarded. 
Where do you see yourself in 5, 10 years from now? 
I like to work on things I believe in and I really believe in the journey we've started at Extreme E. We are still at the very start of it though so I would really hope I am still there in five years. 10? I've never planned that far in advance. I'm a typical Pisces and like to flow where the journey takes me. So far it's worked out well.
Famous last words or motto you live by:
It's nice to be important but it is more important to be nice.
I know some people see niceness as a weakness, and it is impossible to be nice all the time, but I see it as an aspiration. I think you attract what you project. 
Complete the phrase:
I came. I saw. I questioned everything. 
Me Unfiltered
Morning person, or night owl?
Morning person, usually.  
Favorite workout, or best way to blow off steam?
A Park Run or a team sport with friends. Or a good brisk dog walk in a forest or a hike by the coast. I'm trying yoga and meditation, but my mind is always too busy to focus properly. That's an aspiration at the moment.   
What's on your music playlist at the moment? 
I listen to a really diverse range of music. Depends on the mood but a good beat always helps. 
Netflix & chill or a good book?
Do love getting lost in a page-turner. Found A Thousand Splendid Suns by Khaled Hosseini (same author as The Kite Runner) to be a very eye-opening insight into a totally different culture for females. 
But I also enjoy a good Netflix binge. Dead To Me and The Fall were two of my most recent favourites. 
Hobbies outside of work?
Getting outside in nature, improving my cooking skills, which is not hard at all, and expanding my red wine education.  
Best motorsport documentary or movie of all time. Days of Thunder. Rush. Ford vs Ferrari. Other?
For movies it is Rush for sure. Watched it in the cinema and was one of the best sport films I'd seen. The casting was spot on and the filming style made you feel as if you were right in the action. 
For documentary – has to be Senna. Super sad and very personally told sporting story – still a huge loss for the sport.
Name a hidden talent? 
Being able to rap all the words to Coolio Gangster's Paradise, and playing the drums. 
If you won the lottery, what's the first extravagant gift you'd purchase yourself? 
The latest Tesla Model S. Quickly followed by a full-time personal stylist and hairdresser.
Most embarrassing moment? 
Too embarrassing to say…..
Name a pet peeve: 
Not saying please and thank you. No need for it. 
Celebrity Crush:
Michelle Obama. There is a totally strong woman who has achieved so much in her own right, and who also manages to be incredibly warm, genuine and inspiring. 
Name someone famous who would play you in a movie:
Hilary Swank. 
If you could invite only three people to dinner, who would they be and what topic would you discuss?
Tina Fey, Kristen Wiig and Amy Poehler. Not entirely sure what we would talk about, but it would be the funniest night of my life. Like a real-life SNL sketch. 
Charities or Causes you support: 
Globally, I think Unicef does incredible work all over the world. I worked with them in my previous job and got to see some of their projects in Cape Town, Vietnam and Panama, which were all really diverse. It was them I ran my marathon for and raised over £2.5k which certainly helped get me through the training.  
We're also working with Unicef for Extreme E as we'll be supporting climate education programmes for school kids in Greenland.
But overall I like to support a real range of things, and often it's related to personal experiences with friends and family.
How do we connect with you online?
Twitter – Julia Fry
LinkedIn – Julia Fry
To follow Extreme E you can find us here:
Instagram – Extreme E
Twitter – Extreme E
LinkedIn – Extreme E 
Photo Credit: Julia Fry + Extreme E