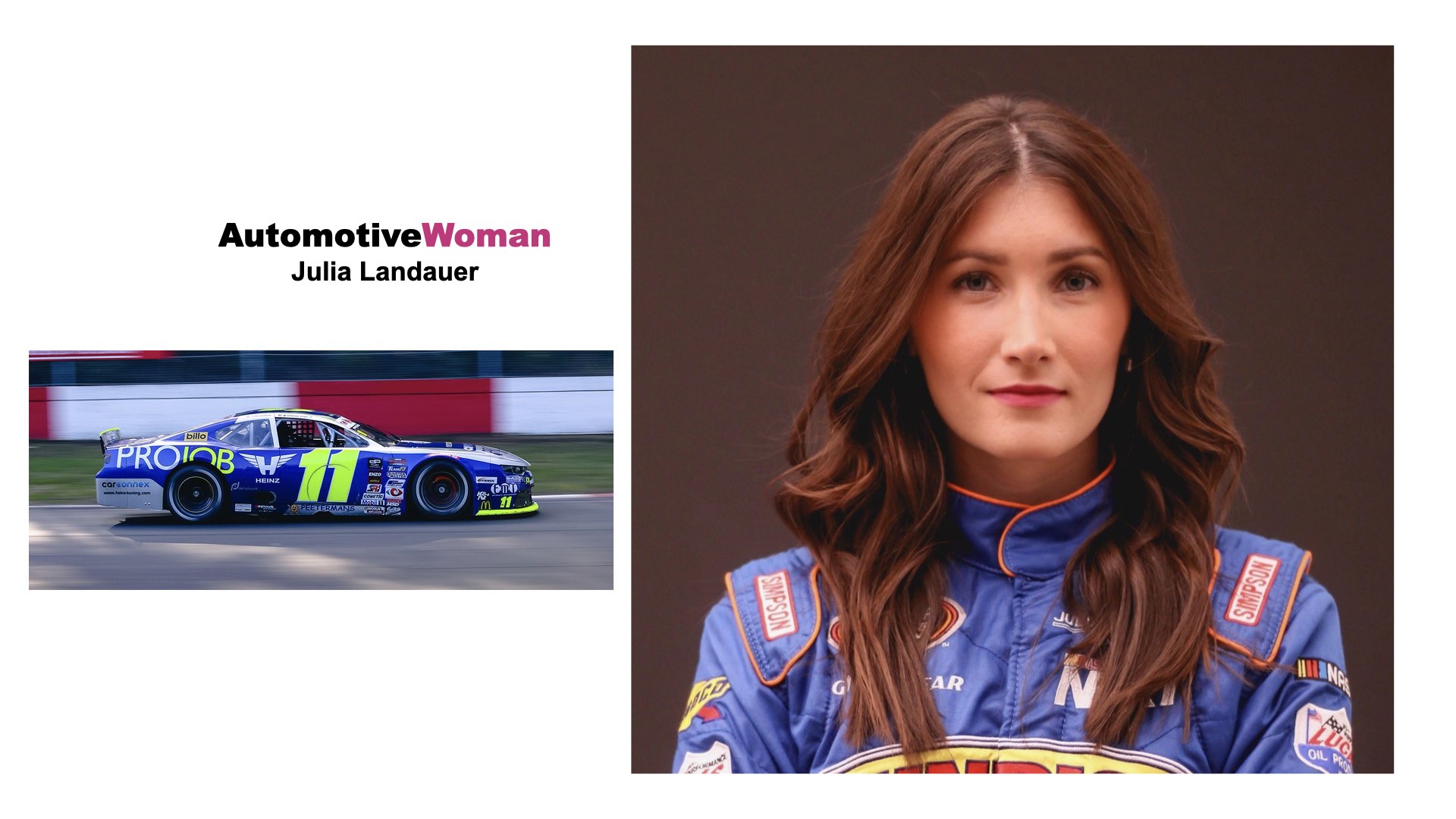 Automotive
Woman

Wednesday

We profile women who have achieved success in automotive and motorsports with integrity, passion and sheer determination. These women define the term AutomotiveWoman.

We are automotive leaders.
We are motorsport professionals.
We are women inspiring the next generation.

Who Am I: Julia Landauer
Company: Julia Landauer Racing, LLC
Current Position: Racer, Motivational Speaker
Years at Current Position: 15yrs+
Location: Charlotte, North Carolina, USA
BIO
Julia Landauer is a champion NASCAR driver from New York City, currently racing in the NASCAR Euro Series. She finished 5th in the championship in 2020, making her the highest finishing American in series history. Julia graduated from Stanford University in 2014, was on CBS' SURVIVOR, and is a Forbes 30Under30 honoree. Julia is also a motivational speaker and corporate advisor, and advocates for STEM education and women's empowerment. https://www.julialandauer.com
Career
Describe a typical day at work.
No day is the same! If it's race weekend, my days include a good breakfast, getting to the track pretty early, hanging out and discussing strategy with the team, getting on track, racing, then heading back to the hotel for dinner and an early bedtime.
If I'm at home, I tend to anything that I'm working on at the time. Sometimes that's developing and practicing a personalized keynote for a speaking client, sometimes it's preparing for an upcoming race by watching video and looking at data, sometimes it's brainstorming with my agent for partner ideas, sometimes it's strategizing for and developing social media content.
And I workout 5-6 days a week!
Describe a current job-related responsibility which keeps you on your toes, daily.
Creating attractive and engaging social media content. I'm feeling pretty good about Twitter, Instagram, and Facebook, but I just joined TikTok and it's a whole other animal. I want my fans and followers to get a good sense of who I am and what my personality is, but I also want to leverage the platforms for what they are. It's a challenge!
As a woman, tell us the most challenging hurdle you've had to overcome while climbing the professional ladder? 
I've experienced both ease and difficulty with this, but I'd say the thing that has required the most activation energy is gaining the respect from the team I'm racing for. Some teams and owners know they have great equipment and expect me to be competitive and treat me with the most respect, and that's great. But plenty of teams in the past didn't expect me to win, which meant that they didn't quite give it their all, and I could tell. 
It's frustrating because at the end of the day, we all want to win, and just because there aren't a lot of examples of women winning in racing, don't cut us out before we have an opportunity to show what we've got.
When met with discouragement, how do you stay focused and/or prevail?
When I'm down or have been dealt a rejection, I focus on being my own cheerleader…and by that I mean having positive self-talk, remembering my accomplishments, remembering why I'm pursuing this career, etc. I also do an assessment of my behavior or performance, and figure out if there was something I could've done differently or better to potentially have had a different outcome.
Being assertive is considered an asset in business.  As a woman, how do you balance the need to be your own champion with the stigma associated with the term, when it's applied to women?
 This is a great question. A technique that I've found to work well, that works with my personality, is to incorporate humor. Whether with my team, with speaking clients, or in business meetings, I use dynamic and engaging language and tone, self-deprecating humor, and a fun, no-BS attitude that is relatable. 
Someone who has never made a mistake has never tried anything new. What was your one BIG professional mistake, and what did you learn?
When I was on the TV show SURVIVOR, I decided to hide the fact that I was a student at Stanford, and just focus on the racecar driving part of me. My thinking was that it would increase my chances of appealing to the other castaways. But in hiding such a big part of who I was, I had a hard time being relatable, and I ended up being kind of quiet and getting the boring edit. And the eventual winner gave a now-infamous monologue about how boring I was. The big lesson here was to own who I was and to be ok being open with people with my personality. 
Career defining moment, to-date. 
I've had a few great moments, but one of them is when I won my second championship, in 2015. It was my first full season out of college, first time I didn't have to balance school and racing, it was my first full season in a NASCAR stock car, and I won half the races and the championship. It was a huge boost of confidence and proved I deserved to be there.
Words of wisdom you received from a mentor; you'd like to pay forward?
I'm going to share my favorite quote, which is so important and is from a now-friend who I discovered on Instagram, @erada. She said, "if it's both terrifying and amazing, then you should definitely pursue it." YES. We as humans tend to shy away from things that scare us, but we should instead dive into it and try. This not only can lead to great things, but also ups our thresholds for what's scary, allowing us to try and do more and more.
If you switched career paths tomorrow, what would you do?  
That's a really hard one. If I had to stop racing, I'd still want to continue motivational speaking, and maybe do some consulting work to help companies increase efficiency through employee satisfaction. So much of our work is about the people we're with. 
What piece of advice would you share with women keen to follow in your footsteps? 
Be diligent, be aggressive, have a clear and concise vision and ask, and network, network, network. It only takes one person to change your world, either now, or down the road.
Where do you see yourself in 5, 10 years from now? 
This is a tough question, because things constantly change. I hope to continue doing motivational speaking and racing for the near future. I'd eventually (still many years away) like to start a family, and I expect that 10 years from now will be a "next phase" of my career. I'd expect it to still be tied to what I'm doing now, but I honestly can't tell you what that looks like. 
Famous last words or motto you live by:
"Success consists of going from failure to failure without loss of enthusiasm." – Winston Churchill
Complete the phrase:
I came. I saw. I gave it my all and made myself proud.
Me Unfiltered
Morning person, or night owl?
Neither, I like a lot of sleep ☺
Favorite workout, or best way to blow off steam?
Running. I find it very therapeutic and also very satisfying.
What's on your music playlist at the moment? 
 I have a Taylor Swift & Maren Morris playlist going strong right now. 
Netflix & chill or a good book?
Music and chill right now ☺
Hobbies outside of work?
Painting, puzzles, cooking and drinking wine!
Best motorsport documentary or movie of all time. Days of Thunder. Rush. Ford vs Ferrari. Other?
Senna was sooooo good, but I also really loved Ford vs Ferrari!
Name a hidden talent? 
Juggling.
If you won the lottery, what's the first extravagant gift you'd purchase yourself? 
A home.
Most embarrassing moment? 
Being lapped twice at Lime Rock Park in my first car race ever, at age 13, in the Skip Barber Racing Series…But I won the championship the next year, so I redeemed myself.
Name a pet peeve: 
Tardiness.
Name someone famous who would play you in a movie: 
I would ADORE it if Jennifer Connelly played an older version of me!
Celebrity Crush:
Ryan Gosling.
If you could invite only three people to dinner, who would they be and what topic would you discuss?
Paul Newman, Serena Williams, and Taylor Swift. We'd discuss the specifics of times that were extremely hard, and what we did to successfully make it to the other side.
Charities or Causes you support: 
The One Love Foundation (helping teens and adults have healthy relationships) and The TechForce Foundation (supporting students and parents of students pursuing a technical vocation). 
How do we connect with you online?
@julialandauer on Instagram and Twitter