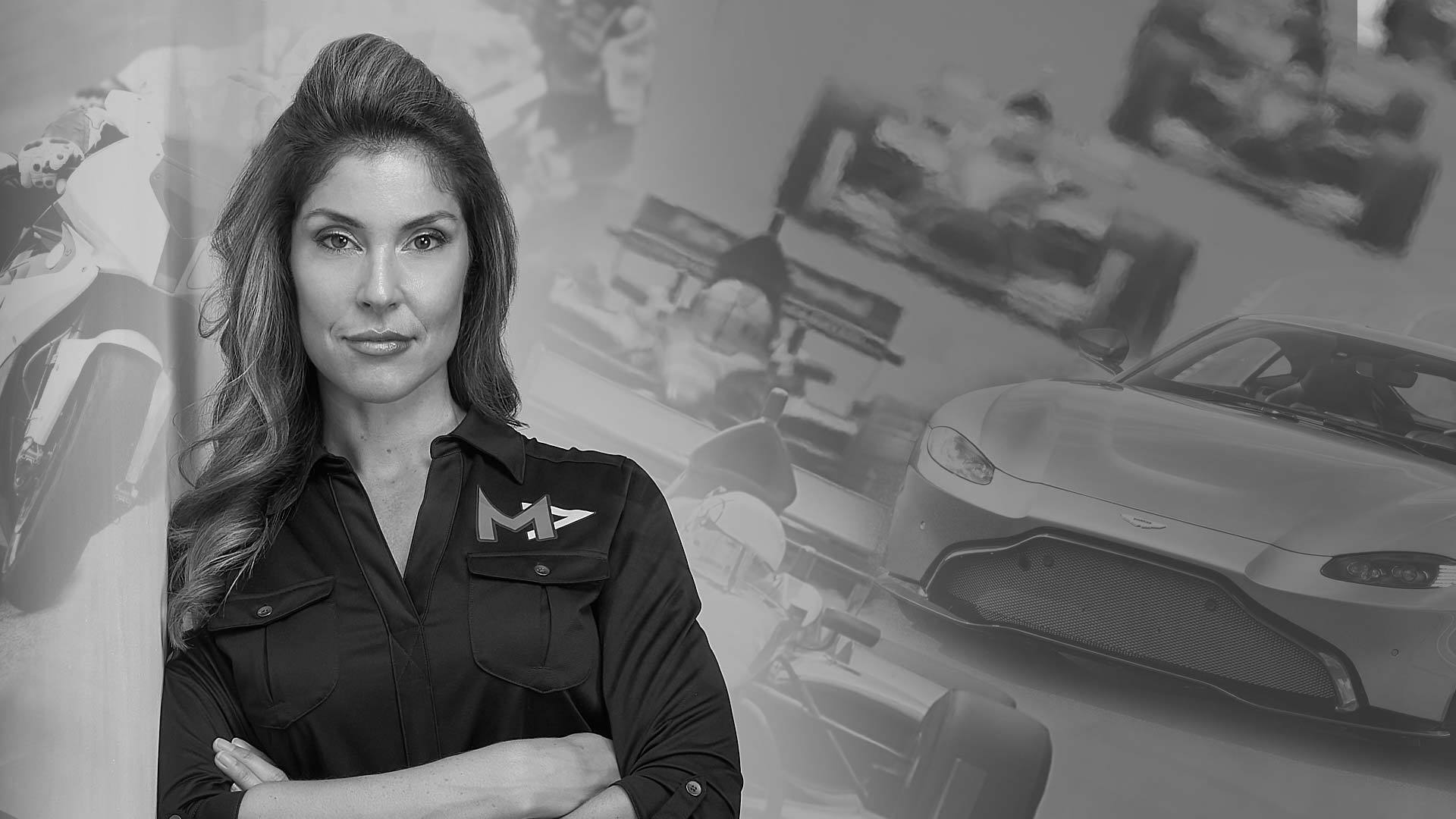 Automotive
Woman

Wednesday

We profile women who have achieved success in automotive and motorsports with integrity, passion and sheer determination. These women define the term AutomotiveWoman.

We are automotive leaders.
We are motorsport professionals.
We are women inspiring the next generation.

Who Am I: Juliana V. Chiovitti
Company: The Motorsport Agency, Inc.
Current Position: Owner, President
Years at Current Position: 10
Location: Toronto & Montreal, Canada.
BIO
Juliana grew up on a go-kart track in Sutton, Ontario, Canada where she quickly became immersed in motorsports. Following in her older siblings foot-steps, she won her first karting race at the age of 5. This victory ignited the spark which would fuel Juliana across the globe as she represented her country for the next two-decades.​
At a time when worldwide female racers were limited to less than a handful, Juliana's fearlessness, ambition and unwavering determination through her professional motorsport career helped pave the way for future female drivers. ​
To this day she's still one of the most accomplished (male & female) kart racers in North America.
Learn more about Juliana V. Chiovitti by clicking here.
Career
Describe a typical day at work.
Every day begins at 4am. I start with emails from the previous day, and then organize my priorities based on the day of the week. For example, if I'm filming for my YouTube channel that day, I do a last read through of scripts and apply edits if necessary. Every day I work for about 2hrs, in the AM before hitting the gym for an hour. Then it's back to work until 6pm where my focus is always related to the evolution of The Motorsport Agency, and AutomotiveWoman brands. Learn more: www.TheMotorsportAgency.com
Describe a current job-related responsibility which keeps you on your toes, daily.
Managing a client's expectations through sponsored content. I'm obsessed with delivering value added content for my partners. "LIKES" through social channels does not impress me, but being able to sell a brand and have consumers trust you with a product you're recommending / reviewing on behalf of a client is a great feeling. And, I've learned to appreciate the term, "Influencer of Sales, not likes." Because when I can sell more product on behalf of a client; convincing them to invest in the long term in you, is easy.
As a woman, tell us the most challenging hurdle you've had to overcome while climbing the professional ladder? 
To my knowledge, I'm the only woman investing in, producing, hosting and executing track day high-performance lapping experiences for men (and launching women only days in 2021) within North America. Over the years, I've had to convince not only men, but women in the position of authority to trust me with automotive driving events at race circuits. Track day lapping (essentially this is where luxury car owners or automotive dealers provide driving experiences on closed course circuits for clients) require a high-level of attention to detail. I believe growing up on a race track (3-S Go-Karts Ltd., in Sutton, Ontario, Canada) has uniquely positioned me to better understand the degree of professionalism it takes to execute these types of events. That said, even with my knowledge and years of experience, I still find I need to work harder than my male counterparts to secure contracts. This has been my most challenging hurdle to overcome, and I hope to pave an easier path for the next generation of female automotive event producers in the years that follow.
When met with discouragement, how do you stay focused and/or prevail?
I'm persistent to say the least.  When someone tells me no, I pursue my objective until they give me what I want.  Simply put, I'm never discouraged or swayed away from achieving what I want, because what is best for me, is best for my client, partner or colleague.
Being assertive is considered an asset in business.  As a woman, how do you balance the need to be your own champion with the stigma associated with the term, when it's applied to women?
Yeah, really good question.  Listen, I grew up with boys in a tough motorsport environment, so I never pretend to be someone I'm not.  I'm opinionated, I'm stubborn, tough as nails and can spit lyrics all day using a famous four letter "F" word against the best of them.  If a man can't deal with someone like me, who will challenge him to be better, faster, smarter; then respectfully I wouldn't put myself in an environment to be around individuals like him.  My mother always said, look at people better than you.  And then, beat them.  If a man can't handle someone like me with this type of attitude and drive, then I wouldn't associate myself with him or that particular crowd.  I'm the furthest thing away from being a "yes woman." So back to the original question of how I deal with being assertive, when my drive can be misconstrued as bossy (aka "assertive"); I ensure I'm well informed on topics related to my field, speak when spoken to and remain confident in my replies.
Someone who has never made a mistake has never tried anything new. What was your one BIG professional mistake, and what did you learn?
The saying goes, never put all of your eggs into one basket. When applied in a business context, this means to never rely on one client to pay the bills. Luckily, I was raised in a family oriented business environment, and was taught this lesson early. When you land your first big corporate contract, hustle to secure the second, third, forth and so on. Because trust me when I say, you'll gain some and lose some (clients) along the way.
Career defining moment, to-date. 
Some would say, the time I punched out a fellow "male" competitor because he was ignorant enough to mix words with an Italian woman raised with two older brothers. But I would say, having the courage to walk away from a high six figure income to pursue my entrepreneur spirit. That took real courage, and still today remains my proudest moment! Money never made me happy or impressed me, but controlling my happiness through professional achievements on my own terms, is as they say, priceless.
Words of wisdom you received from a mentor; you'd like to pay forward?
Second place is the first loser.  But to settle for second knowing you tried your hardest is ok.  But if you don't bother to try for the WIN, don't bother getting up in the morning….. Said, every Mom and Dad motorsport parent to their child.
Tell us the most challenging question you were asked in an interview? And how did you reply?
Question – "Admit to one flaw within your character which might negatively impact a colleague?"
My reply –  "I'm never wrong.  So a colleague might feel discouraged from challenging me, because naturally they'd have to get used to always being wrong." Lol – True Story!
If you switched career paths tomorrow, what would you do?  
Something involving athletics or fitness.
What piece of advice would you share with women keen to follow in your footsteps? And how do you recommend breaking into your industry, or field of expertise?
It's a well-known fact the automotive and motorsport industries are a tough business, especially for women.  But I would recommend to develop a thick skin, don't back down, and learn to speak louder than your male counterparts. If you read my BIO you'd already know I was born into motorsports, so I'm incredibly privileged to say to some extent, my destiny was chosen for me. But to remain relevant and gain the highest-level of respect from my male associates after two+ decades in the industry, took more than determination, and at no point was anything handed to me. That said, if you want to be an entrepreneur within the automotive and motorsports realm I'd say, become educated, surround yourself with the best people who will challenge you and frustrate the hell out of you. Because these are the individuals who will teach you to have the thick skin you require to survive in business or in life when situations get tough.
Where do you see yourself in 5, 10 years from now? 
Owning my families go-kart track in Sutton, Ontario, Canada and transforming it into a Car + Karting Entertainment venue.
Famous last words or motto you live by:
Drive it like you stole it.  And then, never look back!

Complete the phrase:
I came. I saw. I hustled my a** off!
Me Unfiltered
Morning person, or night owl?
Morning person for sure.
Favorite workout, or best way to blow off steam?
A great boot-camp or CrossFit class.
What's on your music playlist at the moment? 
Hip-Hop and R&B only.
Netflix & chill or a good book?
A great autobiography always wins.
Hobbies outside of work?
Naturally I would say karting, but my fiancé would argue, nothing.  I always work. 😊
Best motorsport documentary or movie of all time. Days of Thunder. Rush. Ford vs Ferrari. Other?
Truthfully, I love them all…  even Days of Thunder! Which was one of the first favorite movies when I was growing up.
Name a hidden talent? 
I can touch my tongue to my nose.
If you won the lottery, what's the first extravagant gift you'd purchase yourself? 
I'd purchase my families go-kart track. 
Most embarrassing moment? 
Definitely the time I walked out of a public washroom with toilet paper stuck to my foot.  OMG!  So, gross and very embarrassing, especially when the cute boy looking at me had the guts to let me know.  
Name a pet peeve: 
Slow drivers in the fast lane, has to be my number one annoyance.  
Celebrity Crush:
Mercedes AMG F1 Boss, Toto Wolff, but only until Fernando Alonso comes back (to Formula 1) next year (2021). 
Name someone famous who would play you in a movie:
My ego says Angelina Jolie or Charlize Theron because they are both incredibly attractive and can throw-down in movies.  But Michelle Rodriguez from the Fast & Furious franchise is probably a better fit. 
If you could invite only three people to dinner, who would they be and what topic would you discuss?
Jean Todt.  Ross Brawn.  Michael Schumacher.  And we'd only discuss, how the hell we'd fix Ferrari!
Charities or Causes you support: 
Breakfast Club of Canada. Ronald McDonald House. Make-a-Wish Foundation. 
How do we connect with you online?
@AutomotiveWoman across social channels. 
YouTube: www.youtube.com/c/AutomotiveWoman