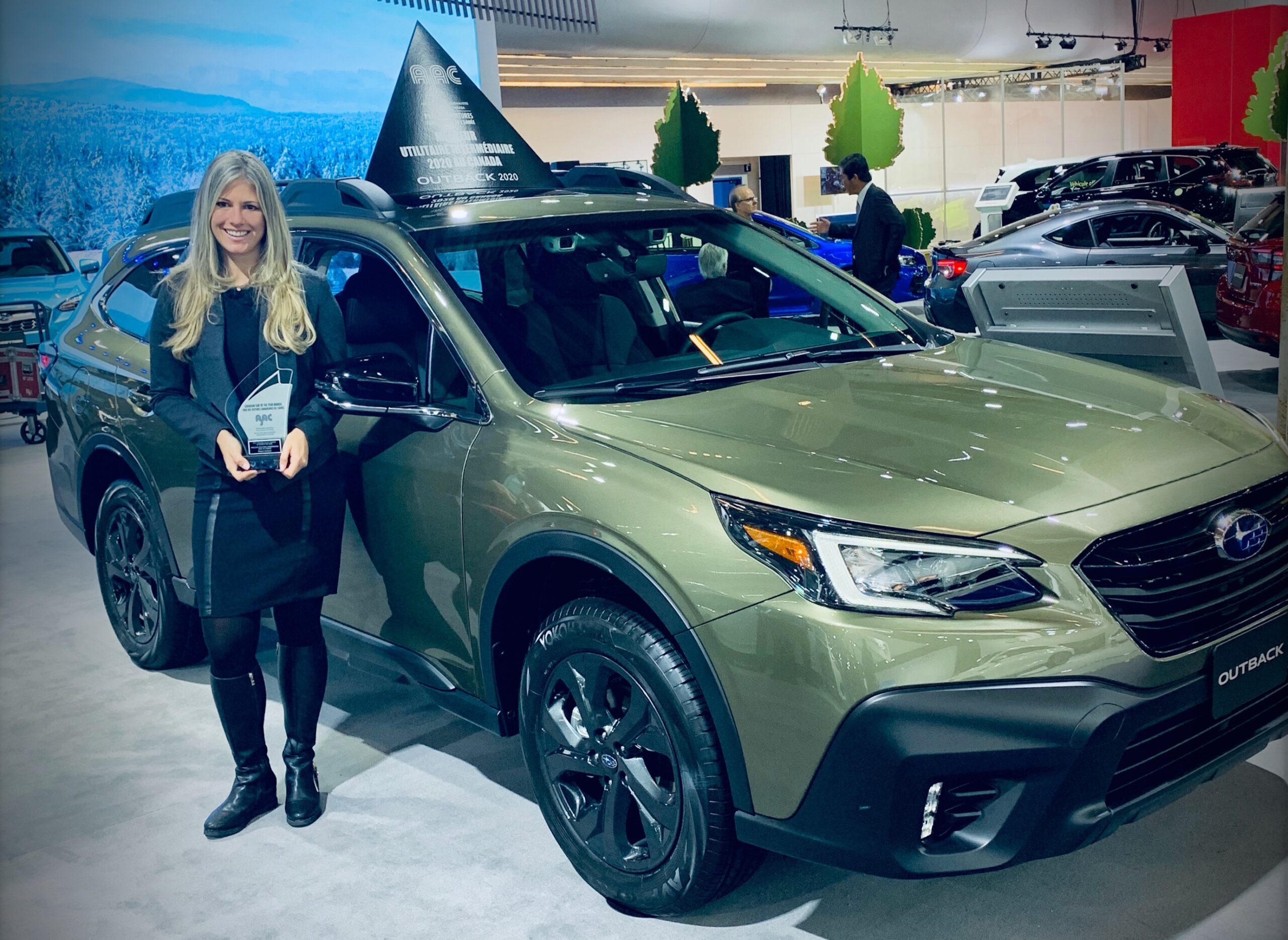 Automotive
Woman

Wednesday

We profile women who have achieved success in automotive and motorsports with integrity, passion and sheer determination. These women define the term AutomotiveWoman.

We are automotive leaders.
We are motorsport professionals.
We are women inspiring the next generation.

Who Am I: Julie Lychak
Company: Subaru Canada, Inc.
Current Position: Manager, Public Relations
Years at Current Position: 5 (and 12 years in total at Subaru Canada)
Location: Mississauga, ON., Canada 
Career
Describe a typical day at work.
The best part of my work is that there is not a typical day. Before COVID, I divided my time between time at the office, press events and large consumer event set-ups such as our Canadian auto show circuit.  In the new normal of COVID, my time is mostly divided between the Subaru Canada office and my home office on a rotational basis. I oversee external communications such as press releases, but also internal communications such as newsletters to keep our Subaru Canada team connected and informed. While event gatherings look different right now, each day is an opportunity to tell a brand story and find new ways to connect and share information in a changing world. 
Describe a current job-related responsibility which keeps you on your toes, daily.
The devil is in the details, which is why I'd say the largest of errors begins with overlooking the small stuff. Proofreading keeps me on my toes daily. I began my career copywriting and copyediting and this ability – delivering accuracy – is a skill I've transferred to all projects. In my current role, my responsibilities are varied, ranging from the budget management of large events, developing a communications strategy for speeches/media presentations/news, and executing internal/external communications. Attention to detail in all things keeps me on my toes.
As a woman, tell us the most challenging hurdle you've had to overcome while climbing the professional ladder? 
Striking a balance between my personal and professional life continues to be a hurdle I face every day. Recent Canadian national surveys have suggested that up to one-third of working mothers in Canada have considered quitting the workforce during the pandemic. I cite this as one general example, but I believe the work/life struggle is an issue affecting us all – whether or not we have kids. We need to respect and support each other. 
 In my case, I'm thankful that with the support of my network of family, I'm able to continue to work full-time. Being well-rounded means loving my job, but also having other loves in my life. 
Look at the c-suite in your organization: do you see leaders leaving early on occasion to pick up a sick child? Or leaving work on time to take a guitar lesson or train for a marathon? Recognize that not every corporate culture is a healthy one. Even if it is, there are still times you may need to chart your own course to create your own balance. 
Determining that crucial balance of time is a personal and professional challenge that I navigate every day. Sometimes I'm the one that leaves early for family emergency and other times I'm the one missing the first day of kindergarten because I'm at a work event across the country. Guilt is unproductive. Don't sweat the setbacks. Everything is a work in progress. 
When met with discouragement, how do stay focused and/or prevail?
I plan for success to the best of my abilities, but I stay ready to adapt to changing circumstances. Sometimes you have to problem solve on the fly when working in automotive events. What is planned in advance on paper can look very different with boots on the ground looking up at an auto show display or looking at an off-road course at a press event.  Afterwards, I reflect on what went well and where I can continuously improve.  I try to remember that if there is no room for improvement there is no room for growth. I'm going to take whatever I can to learn from an experience and it's going to make me better for it. 
Being assertive is considered an asset in business.  As a woman, how do you balance the need to be your own champion with the stigma associated with the term, when it's applied to women?
I can control how I present my ideas – with poise and professionalism – but I cannot control what others think. I'm respectful of others and I request the same in return. When you demonstrate and expect consideration when communicating the task, everyone wins. 
Someone who has never made a mistake has never tried anything new. What was your one BIG professional mistake, and what did you learn?
My biggest professional mistake was letting fear influence a decision. Years into a career at a health and wellness company, I was not feeling challenged professionally any longer but it was a good organization with great people. Once I made the decision to leave for a new opportunity, I realized my mistake of not challenging complacency in order to find growth. 
Career defining moment, to-date. 
My career-defining moment to date was running to pick up lunch for the celebrity talent hired to represent a brand at a trade show. It was during my first year of full-time employment and it could have been perceived as a meaningless task. This moment was career defining because you have to believe in the value of your contributions at every level. You also have to be willing to do the work – even if it feels trivial – in order to get the job done. This sentiment of rolling up my sleeves and finding the value in every task is what defines my career. 
Words of wisdom you received from a mentor; you'd like to pay forward?
The best advice I've received was that demonstrating confidence in others is a reflection of the confidence you have in yourself. The best teams are made up of different perspectives. Early in my career, I felt threatened or challenged by a difference in opinion because I was afraid I was not showing my value. 
Working in marketing communications and corporate automotive over the past 16 years, I have learned to trust my experience. Through experience, you learn that you do not have to be an expert in everything or know it all – you just have to understand your strengths and weaknesses and have enough confidence in your own abilities that you can be open to learning from others. 
Tell us the most challenging question you were asked in an interview? And how did you reply?
The most challenging question I can think of as a marketer is some form of the question, "would YOU buy this?" It's been an easy question for me to answer because I've chosen to work with brands I'm proud to support. In automotive, I work for a brand I'm proud to park in my driveway. I'm brand loyal and I still buy supplements from the health and wellness company I used to work for. It's an easy question to answer with honesty and becomes a very tough question if the answer isn't authentic. 
If you switched career paths tomorrow, what would you do?  
Now that's the most challenging question! Every career jump lands with transferrable skills. I would say I'd love to learn how to cut and style hair, but I'd still be in communications in my mind. It's just a new outlet and a new audience. 
What piece of advice would you share with women keen to follow in your footsteps? And how do you recommend breaking into your industry, or field of expertise?
My advice is not to discredit the knowledge you bring to the table. When I was in high school, I took Auto as an elective, but at that time I just thought it would be useful to have some basic knowledge. I did not consider myself a "car person." In my mind, being into cars was narrowly defined as being able to cite vehicle specs like stats off a baseball card. 
Now I'd certainly define myself as a car person and an automotive woman! I'm passionate about the reasons Canadians consider a vehicle. Sometimes it's an auto enthusiast reading my press release, but other times it's someone that might find an ever-changing category confusing and intimidating. I can help simplify complex information to make other Canadians car people like me. Almost everyone cares about what they choose to drive, but it's not always articulated in conventional ways – you might not get excited about a feature like a seatbelt reminder, but I do because it means it's a measure of safety and I'm very passionate about keeping my family safe. 
Where do you see yourself in 5, 10 years from now? 
I see myself finding something new to learn. Growth has a broader definition than just climbing the corporate ladder – sure, that's one way, but that's only looking at one direction and that's linear. Life and success does not always follow a straight line. I see lateral growth – learning something new or taking on a new challenge personally or professionally – as just as rewarding. In 5 or 10 years, I will be satisfied looking around and not feeling stagnant as I find new milestones both in and outside of work. 
Famous last words or motto you live by:
"Anyone who stops learning is old, whether at twenty or eighty. Anyone who keeps learning stays young. The greatest thing in life is to keep your mind young." – Henry Ford
As I have developed in my career in marketing communications, I have been given opportunities to share my knowledge as a volunteer advisor to students at the Automotive Business School of Canada at Georgian College, and as a part-time professor in public relations and journalism programs at Mohawk College. While I'm sharing my professional experiences, I'm continually learning. Teaching others is a chance to take those discouraging experiences we talked about earlier and turn it into something positive. Once I have reflected on a negative experience, I continue to learn and grow by sharing my life's lessons with others. Working with enthusiastic students renews my passion for my field. I find education is a two-way street of information and energy exchange. I'm taking away just as much as I'm giving in the process of educating. 
Complete the phrase:
I came. I saw. I bought the keychain… it is important to commemorate your milestones, and crossing off new places to travel used to be high on my bucket list! 
Me Unfiltered
Morning person, or night owl?
Morning person. I am not a coffee drinker so once I am out of bed, I'm ready to solve the world's problems with lots of conversation. I'm guilty of loving the snooze button though! 
Favorite workout, or best way to blow off steam?
I love a brisk walk outside or on the treadmill to start my workout. It's the best way to clear my head and probably does more for my mental well-being than physical conditioning, but it's the part I most look forward to.
What's on your music playlist at the moment? 
Dolly Parton and Cardi B – now there's a duet I would love to hear!
Netflix & chill or a good book?
A bit of both, but I love to read and always have a book on my nightstand. I aim to complete at least one book a month – sometimes I exceed that goal with summer beach reads while I watch more Netflix under a cozy blanket in the colder months. 
Hobbies outside of work?
Netflix & chill or a good book. 😊
Best motorsport documentary or movie of all time. Days of Thunder. Rush. Ford vs Ferrari. Other?
The Art of Racing in the Rain. The same methods used for success on the track help in life too.
Name a hidden talent? 
Listening – not just to reply, but helping friends and family feel heard.
If you won the lottery, what's the first extravagant gift you'd purchase yourself? 
Properties – a lakefront cottage, a downtown condo, a cabin in the woods, and an RV to find even more great backdrops for adventure. There's no better feeling than packing a bag and disappearing for the weekend. I love when you travel and find hidden gems that make a new spot feel like home. I'd love to have home feel like a different neighbourhood on a rotating basis.  
Most embarrassing moment? 
Never ending – just wait five minutes for something new. This week my partner told me, I had ground beef in my hair after lunch. 
Name a pet peeve: 
In traffic, people who neglect that polite little hand wave gesture after you let them in. It just exudes entitlement. 
Celebrity Crush:
My girl crush is Juliana Chiovitti – brilliant, beautiful and an inspiration for motivating other women! 
Name someone famous who would play you in a movie:
Jessica Simpson – though I'm a lot taller. She always wears great heels so my shoe game will be on point! 
If you could invite only three people to dinner, who would they be and what topic would you discuss?
My partner and I already keep busy entertaining our three kids. If we could only invite three people to dinner, I'd be happy to plan a meal and let each child choose a guest to entertain them – I sense we'd be serving prime rib to Taylor Swift, Adam Sandler and the Rock. 
Charities or Causes you support: 
Ronald McDonald House Charities, Heart and Stroke Foundation of Ontario
How do we connect with you online?
Instagram: @juliemarie.lychak
LinkedIn: Julie Lychak