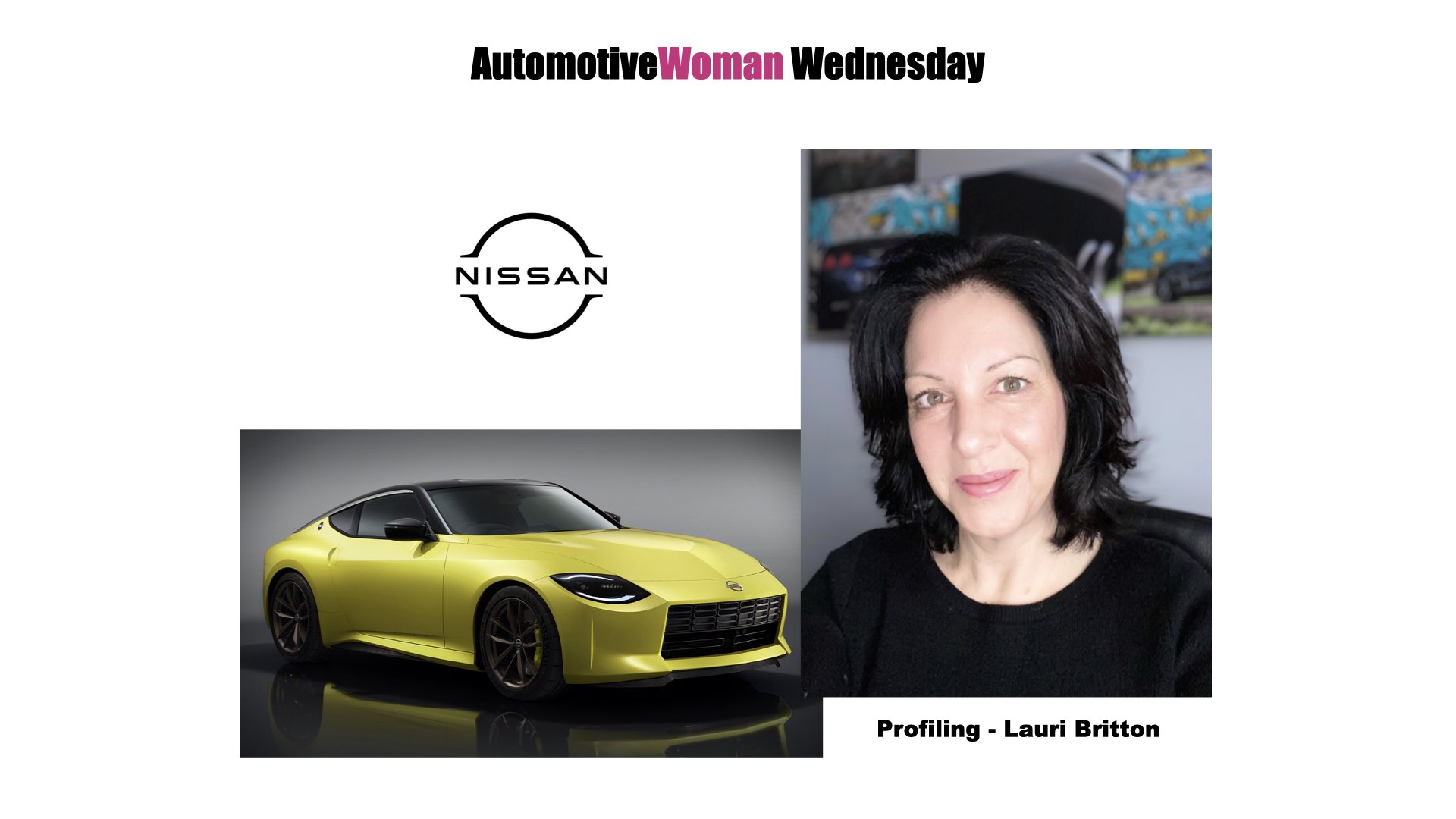 Automotive
Woman

Wednesday

We profile women who have achieved success in automotive and motorsports with integrity, passion and sheer determination. These women define the term AutomotiveWoman.

We are automotive leaders.
We are motorsport professionals.
We are women inspiring the next generation.

Who Am I: Lauri L. Britton
Company: Nissan Canada Inc.
Current Position: Assistant Regional General Manager, Ontario
Years at Current Position: 16yrs total, with 2+ years in current role
Location: Mississauga, Ontario, Canada
BIO
A passion for the automobile personally and professionally has led to a perfect match in the automotive sector, developing a broad knowledge of both Corporate & Dealer business operations.  Currently managing Aftersales Operations for Ontario, responsible for a direct team of 5 Fixed Operations Manager, indirect team of 5 of District Operations Managers (Sales) in a region of 70 dealers. 
Career
Describe a typical day at work.
While I can plan for meetings, typically weekly reoccurring ones, managing a team of 5 directly, 5 indirectly and ultimately 70 Nissan dealers in Ontario, every day can bring a different challenge, from products, technical, customer relations, dealer relations, business operations for both new vehicle and aftersales (parts & service).  I spend time both in the office and on the road traveling with my team visiting our dealer network operations.  It's because every day is different, I love what I do.  
Describe a current job-related responsibility which keeps you on your toes, daily.  
Leading a team and supporting a dealer network in unprecedented times, with a constantly changing playbook.  It's having to be flexible, firm in decisions, yet conscious of individual comfort levels for risk.  
As a woman, tell us the most challenging hurdle you've had to overcome while climbing the professional ladder? 
Building credibility that you belong at "the table" and your voice matters, regardless of the pitch or if you're a subject matter expert.  In the past, it was a tough hill to climb and there was always the glass ceiling that seem impenetrable.  Women had to work harder and longer, being shifted from one role to another, typically laterally with the rationale of needing more exposure or experience before going to that next, more senior level.  And the "C" suite, well, pipe dream.  I will say that although still work to be done, Nissan, in Canada and globally has made great strides since I joined officially in 2005 to promote based on experience, results and leadership abilities, not gender.  In fact we have key BSTs (Business Synergy Teams) that focus on specific workforce groups to ensure equity at all levels of the company.  One best piece of advice I give to all those I mentor is find and leverage opportunities to get in front of the leadership team, a simple social conversation to a formal presentation. A wall flower is seen only, make yourself heard.
When met with discouragement, how do stay focused and/or prevail?
I am competitive, no doubt about that, however losing out or having outcomes not meet expectations is inevitable, whether it be a role you want, or objectives to attain.  Its how you overcome from is important and I've learned to self-reflect on what happened, tending to go logical, reviewing to determine root cause for the situation and when the opportunity presents itself again, what changes would I make to achieve the outcome I expect.  There is truth to creating a self-fulfilling prophesy – if you think failure, you're going fail as you didn't put your best effort forward.  I truly am a glass is overflowing individual.  
Being assertive is considered an asset in business.  As a woman, how do you balance the need to be your own champion with the stigma associated with the term, when it's applied to women?
I truly believe its how you deliver the message you're sending.  Regardless of gender, tone, language (both body and verbal) play key roles in how you are viewed.  I'm not shy to self-promote when the time is appropriate, whether selling an idea, taking credit for results of an action, always with respect of the other parties in the room.  Using action phrases vs passive is very important.  I make a point of not using "I just", "I hope", "I'm trying" as these are not considered confidence or assertive enough to back up whatever message you're conveying.  Also, it really is true that you catch more flies with honey than vinegar.  
Someone who has never made a mistake has never tried anything new. What was your one BIG professional mistake, and what did you learn?
I've made two really big ones years ago. The first was an email sent, vehemently disagreeing with a decision made that had an impact much broader than realized.  The logic was rational, the language was too strong.  The second, standing up for a co-worker at the time that had been disrespected publically. While the action came from the heart, the reaction of losing my temper was definitely not appropriate.  I've learned that I can be passionate about my ideology, simply frame and convey my message in a more productive manner.  This further feeds into your brand of credibility and trust.
Career defining moment, to-date. 
Being asked to present key findings and action plans derived from a Global Employee Survey to the Nissan North American Chairman (at the time).  It was scary, exciting and an honour when I was still rather junior in the hierarchy.  
Words of wisdom you received from a mentor; you'd like to pay forward?
My first mentor was my father.  His advice, as the father of 3 daughters was that you can be anything you want to be, there was no gender stereotyping in our home.  He also started my passion for cars at a very young age.  Subsequent mentors, and I've had a few and while the point in time was at different levels of my career stage, the one consistent message was: be authentic, structure your message to capture the audience, and most importantly trust in yourself. If you believe in you, others will come along for the ride. 
If you switched career paths tomorrow, what would you do?  
This path is number 3, however not done yet.  The plan I have next is to return to consulting, focusing on dealer retail performance – leverage both my HR and Automotive experience to focus on team & process development with ultimate goal of profitability. 
What piece of advice would you share with women keen to follow in your footsteps?  
Forget that careers or roles are gender specific.  If you have a passion for something, anything, explore the rewards and risks – will it make me happy, will it sustain my wants and needs fiscally? Another tip is flexibility.  While we have come a long way in terms of gender equality, still hurdles to scale.  The best way in my mind is prove with actions, demonstrating value.  Also, do you homework if you decide to go the corporate route.  What are their values – people, community & environment?  I have chosen wisely in the sense that my current employer, Nissan has set a bar for that should I change companies, will have to meet.  They hold each and every one of us accountable for our actions, recognizing with all our differences, we are #OneTeam.
Where do you see yourself in 5, 10 years from now? 
Partially retired in 5 years, fully retired in 10 with adventures planned….stay tuned.
Famous words or motto you live by:
If I'm not having fun, I'm taking my toys and leaving the sandbox.
Fill in the blank:
I came. I saw. I broke the rules!
Me Unfiltered 
Morning person, or night owl?
Morning.
Favorite workout, or best way to blow off steam?

Weights, treadmill and dancing like everyone is watching.
What's on your music playlist at the moment? 
Metallica, Rob Zombie, Cage the Elephant, P!NK, Live, Meatloaf, Nirvana, Pink Floyd, The Weeknd, Dua Lipa, Frank Sinatra, Journey and Pitbull, Alabina & Los Ninos.
Netflix & chill or a good book?
Book.
Hobbies outside of work?
Performance Driving Track days. 
Best motorsport documentary or movie of all time. Days of Thunder. Rush. Ford vs Ferrari. Other?
Senna.
Name a hidden talent? 
Whistling, like my Dad.
If you won the lottery, what's the first extravagant gift you'd purchase yourself? 
Barrett Jackson event, full pop access and buy a bucket list ride.
Most embarrassing moment? 
Not realizing the back centre slit on my skirt had split open a little higher than office appropriate until after I walked up the stairs, with a visiting Corporate Senior Executive following.  A coworker caught and thankfully had a needle and thread for me to sew up.  Needless to say, I was embarrassed sitting in a meeting with for the balance of the day.  
Name a pet peeve: 
A typical car girl answer, slow drivers in the passing lane.
Celebrity Crush:
Fernando Alonso.
Name someone famous who would play you in a movie: 
Kate Beckinsale.
If you could invite only three people to dinner, who would they be and what topic would you discuss?
Mother Theresa, Janet Guthrie, Alex Zanardi.  And while on the surface, very diverse, yet a deeper look, all three faced and overcame what most of us would think to be insurmountable hurdles.
Charities or Causes you support: 
Habitat for Humanity – local, Canada and International Builds – Jimmy & Roslyn Carter Build Projects; Starlight Children's Foundation.
How do we connect with you online?
LinkedIn www.linkedin.com/in/lauribritton
Instagram @AutomotiveGirlBoss