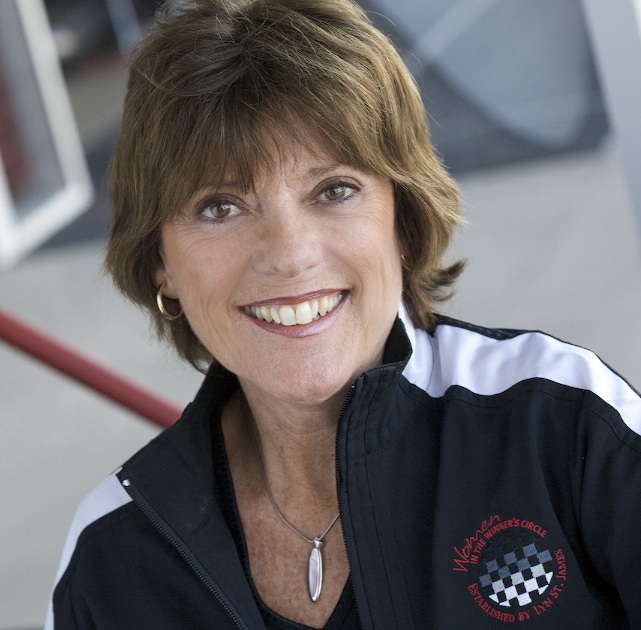 Automotive
Woman

Wednesday

We profile women who have achieved success in automotive and motorsports with integrity, passion and sheer determination. These women define the term AutomotiveWoman.

We are automotive leaders.
We are motorsport professionals.
We are women changing the game behind-the-scenes.

Who Am I: Lyn St. James
Company: Lyn St. James Enterprise LLC
Current Position: President
Years at Current Position: 46yrs.
Location: Phoenix, AZ. USA
Lyn St. James – The first woman to WIN Rookie of the Year Honors at the Indianapolis 500.
Career
Describe a typical day at work.
There is no such thing as a "typical day". It's mostly about responding to emails, phone calls, working on my "to do" list. And doing research on women in racing, women in the automotive space, and continuing to challenge myself in looking for new ways to help others and stay relevant. Learn More: https://lynstjames.com
Describe a current job-related responsibility which keeps you on your toes, daily.
Technology continues to move quickly, so just trying to have the ability to be "tech current" to enable me to do the research and communication required is a daily challenge. 
As a woman, tell us the most challenging hurdle you've had to overcome while climbing the professional ladder? 
Carving out a career in racing was a constant challenge. It's extremely important to know as much as possible about what the sanctioning bodies are doing, about the different forms of motorsports, the schedules, the rules, the types of cars, the technology, everything is constantly changing so it's important to be aware and current. Plus it's about relationships, so I always made an effort to know who the key people were in the sport (media, automotive manufacturers, sponsors, team owners, sanctioning bodies, etc.) and try to establish communication with them. This requires constant reading and networking. Then the most difficult thing is defining what's possible and figure out how to get seat time to better prepare for being competitive
When met with discouragement, how do stay focused and/or prevail?
There are more lows/disappointments in racing than highs/success, so it helps to quickly learn to not allow the lows/disappointments discourage me. In fact I used it as fuel to charge ahead. Every "no" is only "no" at that moment, so I would often go back again to try to turn a "no" into a "yes". Persistence pays off. 
Being assertive is considered an asset in business.  As a woman, how do you balance the need to be your own champion with the stigma associated with the term, when it's applied to women?
I ignore that assumption. If you are clear in your communication, if you can deliver what you say you can/are going to do, and in fact over deliver, then people begin to take you seriously. I always try to focus on "them", meaning what I can do for them, and not on "me". Confidence enables success, and success validates confidence. 
Someone who has never made a mistake has never tried anything new. What was your one BIG professional mistake, and what did you learn?
Let me see, which one should I share. One that comes to mind is when I heard that a car owner, Preston Henn, was looking for a woman driver to partner with his daughter, Bonnie Henn, to co-drive at the 1978 12 Hours of Sebring. I contacted Preston to confirm the rumor, and then set out to try to get that seat. One of the ways I thought would help was to challenge Bonnie at the local karting track to try to generate some media interest, which I was hoping would generate some sponsor support. This all took place in South Florida where I lived and where Preston Henn/Bonnie also lived, and Sebring is only a couple of hours away, so having media there made sense. We created this little "challenge race" and after she kicked my butt I learned that she not only went to the kart track weekly but also tipped the workers heavily. As we were getting started they announced a few new rules, like if either of us ran over the curbs (which is how you go fast) we would be docked time. Overall, I was not prepared. I learned to never put myself in a position to fail. It wasn't that much of a disaster because I did get to race that year at the 12 Hours of Sebring in Preston Henn's Ferrari, along with co-drivers Bonnie Henn and Janet Guthrie. But it was a good lesson to learn early in my career.
Career defining moment, to-date. 
That would have to be racing in the 1992 Indianapolis 500 and winning Rookie of the Year Honors. The Indianapolis 500 that year was my first oval track race and only my second open wheel race.
Words of wisdom you received from a mentor; you'd like to pay forward?
"The difference between a professional and a participant is Preparation"  from Dr. Jacques Dallaire, a wonderful human being who has helped many champion level racing drivers, athletes, and other high performance individuals. 
Tell us the most challenging question you were asked in an interview? And how did you reply?
What would be doing if you weren't racing cars? I just don't have an answer for that. I'm passionate about racing, love racing, and cannot imagine doing anything else. Now that I'm no longer racing professionally I obviously love the business of the sport and I love helping others, so that's why I created the Women in the Winner's Circle Driver Development Program in 1994, even when I was still racing professionally.
If you switched career paths tomorrow, what would you do?  
Based on my response above, I am not interested in switching career paths. 
What piece of advice would you share with women keen to follow in your footsteps? And how do you recommend breaking into your industry, or field of expertise?
Be prepared to work harder than you can imagine. Do everything in your power to be prepared physically, mentally, emotionally, technically, and learn/learn/learn. And remember to thank those who have helped you along the way.  
Where do you see yourself in 5, 10 years from now? 
I love vintage racing, and want to set a record at the Bonneville Salt Flats. I'm a race fan, and I just became a grandmother, so my world is in a good place.  
Famous last words or motto you live by:
"Champions Adjust" "Pressure is a Privilege" Tennis Champion Billie Jean King
Complete the phrase:
I came. I saw. I DID!
Me Unfiltered
Morning person, or night owl?
Neither – when racing "morning person" when not racing, "night owl" I guess.
Favorite workout, or best way to blow off steam?
Weight training.
What's on your music playlist at the moment? 
Always everything Chris Rea
Netflix & chill or a good book?
Definitely a good book.
Hobbies outside of work?
Challenging my Creative – trying to paint.
Best motorsport documentary or movie of all time. Days of Thunder. Rush. Ford vs Ferrari. Other?
Grand Prix.
Name a hidden talent? 
Not sure I'd call it a talent, but I enjoy writing. Have even been writing some poetry lately. 
If you won the lottery, what's the first extravagant gift you'd purchase yourself? 
A home where I could have a place to display my racing memorabilia, photos, etc. 
Most embarrassing moment? 
Having to walk the runway in the annual Fashion Show during the Indianapolis 500 festivities. 
Name a pet peeve: 
Being late.
Celebrity Crush:
George Clooney.
Name someone famous who would play you in a movie:
Sandra Bullock.
If you could invite only three people to dinner, who would they be and what topic would you discuss?
Amelia Earhart, what was it like flying in those early airplanes.
Billie Jean King, how do you keep your energy level so high all the time.
Gloria Steinem, why are women still fighting for equality.
Charities or Causes you support: 
Women's Sports Foundation, RPM Foundation.
How do we connect with you online?
www.lynstjames.com has a "contact" section, or email me: lsjracing@aol.com 
Photo Credits: Lyn St. James, Road & Track, Alan Rosenberg