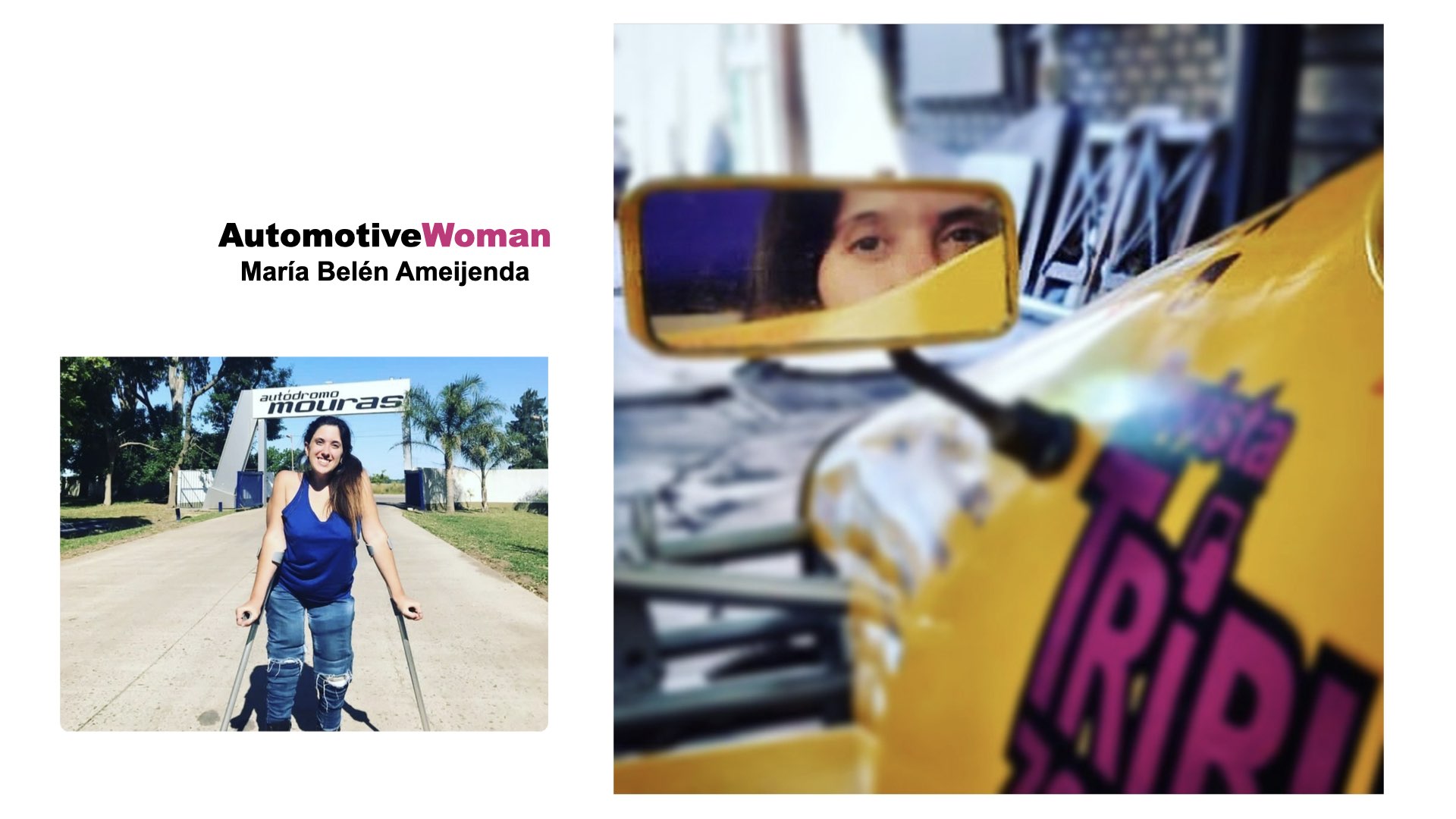 Automotive
Woman

Wednesday

We profile women who have achieved success in automotive and motorsports with integrity, passion and sheer determination. These women define the term AutomotiveWoman.

We are automotive leaders.
We are motorsport professionals.
We are women inspiring the next generation.

Who Am I: María Belén Ameijenda
Current Position: Determined to be the first disabled woman driver in Argentina to compete in motor racing
Location: Buenos Aires, Argentina.
BIO
My name is Belen Ameijenda, I am from Buenos Aires, Argentina. I currently have a project underway to become the first disabled woman driver in my country to compete in sports car racing, more precisely in the Formula 1100 Buenos Aires category.
Career
Describe a typical day at work.
Although I am not competing yet, the process to be able to be on the tracks soon I consider to be very important, that is why I dedicate several hours a day to looking for media that want to spread my project (which is unique in Argentina) and its time, look for brands that want to help me by being sponsors.
In turn, I am about to confirm the team in which I will be running, so we are also working on that issue.
Describe a current job-related responsibility which keeps you on your toes, daily.
One of the biggest responsibilities that I currently have, is not only the mandatory medical check-ups that are required to be able to run, but also that when different people with disabilities contact me, I feel with the responsibility to answer them about what they want to know, and encourage them to follow their dreams.
Many people, from the media, have been able to contact me to learn more and find out about the project, which makes me very happy.  Another responsibility that I also find, is to take all the advice of professionals in the automotive sector in order to gain experience in the field.
As a woman, tell us the most challenging hurdle you've had to overcome while climbing the professional ladder? 
Unfortunately we live in a society that discriminates a lot, although I have not had obstacles to enter motoring, I have received very bad comments from people who do not belong to the automobile environment, telling me that because I have a motor disability I should not even drive a car of street, or that I am an unconscious woman for wanting to compete in race cars having a motor disability, or what is even worse, that in case of an accident, I will not be able to get out of the car, having to die inside the vehicle.  However, I try not to attach importance to those people, as they are unpleasant comments.
When met with discouragement, how do you stay focused and/or prevail?
The support of family and friends is essential in these cases. We are all human beings and we have our days in which we find ourselves unmotivated or unwilling to continue, but it is in those moments, where these people play a fundamental role since they are the ones who constantly motivate us to continue and realize that we are doing what we really like it and that is why no matter how difficult the situation gets, we must continue.
Being assertive is considered an asset in business.  As a woman, how do you balance the need to be your own champion with the stigma associated with the term, when it's applied to women?
I believe that we are all equal, and we should all have the same opportunities, male or female.
I think that in my case, showing strength of will, is something that characterizes me since it is something that is not seen in many women, and that it is very good that it is beginning to be seen, since that gives us the opportunity to undertake and demonstrate ourselves strengthened to achieve everything we want.
Someone who has never made a mistake has never tried anything new. What was your one BIG professional mistake, and what did you learn?
I do not consider that I have yet had a serious error, but if it happened to me that I wanted everything to be quickly, that is, I wanted everything to be now.  As time went by, I began to realize that setting deadlines to achieve things (in my case racing) can lead to great frustration if that deadline is not met, so now, I take everything more calmly, enjoying the small (but big) steps that I am taking to get closer and closer to the goal of competing, without thinking so much about deadlines. 
Career defining moment, to-date. 
So far, the most important day for me was when the racetrack doctor gave me the authorization so that I can continue projecting and start this route that aims to be able to run. It is until today that I always remember his words telling me: "I do not see anything that prevents you from running", that for me was very important since it authorized me to continue dreaming and projecting despite my disability. Another very important moment was when I was able to try getting in and out of a Formula 1100 Buenos Aires car, since for me it was something impossible to achieve alone, and I realized that I was wrong, since I could do it alone without the help of anyone. 
Words of wisdom you received from a mentor; you'd like to pay forward?
I think it is positive to be able to rescue any comment from someone who has more experience than one in what they are doing.  Obviously, you have to know how to differentiate between those who want to help positively from those who seek to discourage without reason.  Personally, I have received words of encouragement from many pilots, and at the same time, who was my inspiration to be able to do all this, which is Juan Nimo, a highly recognized pilot with disabilities in my country, something that for me is a huge pride.
If you switched career paths tomorrow, what would you do?  
I don't see myself changing sports, but if I had to (by force majeure) I think I would apply my knowledge as a journalist, to be able to interview drivers and follow all the races daily, that is, I would still be in motorsport, but this time , from another side that would be the information and not as a pilot. 
What piece of advice would you share with women keen to follow in your footsteps? 
My advice is to never give up and always look for what makes you happy. That they never let themselves be guided by bad comments, and above all that they dare to do it, since the limits are set by oneself, and that there is no disability that can turn off someone's sleep, since when you want something, it is what whatever, it can be done.
Where do you see yourself in 5, 10 years from now? 
I hope that I can be racing in motorsport, and continue to grow day by day to be able to reach high and show that things can always be achieved.  Today I have to be in a zonal category, something very important for me, and I hope that in a few years other categories can also open the doors for me as did the Formula 1100 Buenos Aires, so that motor racing is more and more inclusive and in that way, encourage other people who perhaps have the same dream to do so.
Famous last words or motto you live by:
A phrase that describes me perfectly is "The only impossible thing is what you don't try," and I think it describes me since since I was born I always liked to go for more even though people told me that I could not achieve it.
I think that life is about that, of always trying what one wants, as my grandmother says, "the no is there, you have to go for the yes", and that's how I have been for 24 years.
Complete the phrase:
I came. I saw. I believe in myself.
Me Unfiltered
Morning person, or night owl?
I am a night owl, although I like to take advantage of the day to do things, although I fall asleep late, I get up early, either to study, or to work on my racing ambitions.
Favorite workout, or best way to blow off steam?
Doing physical exercise is the best way to let off steam, although when I have a very bad day, the best (for me) is to enjoy the outdoors, since it relaxes me and gives me peace that I may not be finding at that time and it restarts me.
What's on your music playlist at the moment? 
I like to keep my list of songs updated, and that is why you find music from 2020 and 2021. I don't like slow ones, I prefer pop and reggaeton.
Netflix & chill or a good book?
I am not into getting hooked on a series, but I do enjoy documentaries, I love everything that has to do with real stories, or documentaries that educate us about nature, the planet and the great outdoors.  I am also passionate about books, especially those that have to do with the mind and psychology.
Hobbies outside of work?
I love spending time with family and friends, since they disconnect me a bit from my daily life.
Best motorsport documentary or movie of all time. Days of Thunder. Rush. Ford vs Ferrari. Other?
"Senna". Ayrton's documentary, I think is one of the best today.
The life of one of the best drivers of all time is without a doubt unforgettable.
Name a hidden talent? 
My hidden talent is singing.  I'm passionate about it even if I'm not dedicated to it.
If you won the lottery, what's the first extravagant gift you'd purchase yourself? 
As a gift to someone else, I would take a trip to the place they like best, possibly my parents.
If it was a gift for myself, I would not hesitate for a second to purchase a Lamborghini Aventador.
Most embarrassing moment? 
I wasn't embarrassed, but more so felt awkward the first time I was interviewed.  Although, I studied  journalism in school and I was prepared, I think the first time I was ever personally interviewed, could have went better.  But looking back at the experience now, I think I was just being tough on myself, but the interview went well.
Name a pet peeve: 
One reason for concern for me is that society does not accept people as they are, and that they continue to look at a body rather than a personality, and that people are criticized for how they are physically.
Celebrity Crush:
Mick Schumacher.  I look forward to watching him continue the Schumacher legacy.
Name someone famous who would play you in a movie:
Many believe that I look like an Argentine actress named Cande Molfese, perhaps she could play me. 
If you could invite only three people to dinner, who would they be and what topic would you discuss?
Without a doubt, I would invite Agustín Canapino, Lewis Hamilton and Orly Terranova, to tell me about their experiences in motorsport from different perspectives.
Charities or Causes you support: 
I like to collaborate with causes that have to do with health and environment issues, I think they go hand in hand and are very important.  I had the opportunity to do an event for the benefit of a child with a very advanced disability, who should have a very expensive treatment, and thanks to the contribution of all who came, Santino managed to undergo the treatment, and that gave me great satisfaction.
How do we connect with you online?
I invite you all to follow my project on my instagram: https://www.instagram.com/belu.honda/ where you can see everything about the project, but you will also be able to write to me for questions or queries you may have.