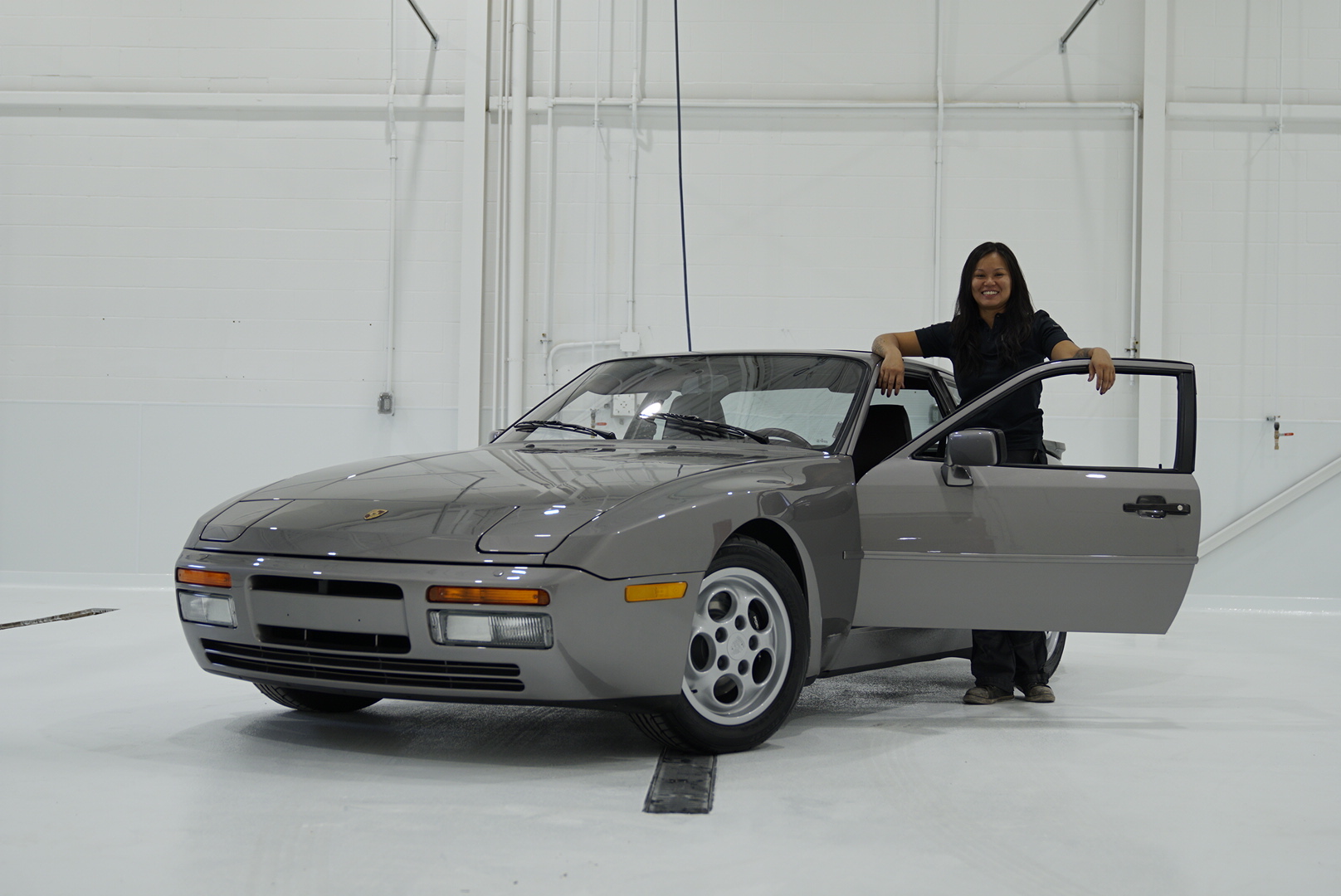 Automotive
Woman

Wednesday

We profile women who have achieved success in automotive and motorsports with integrity, passion and sheer determination. These women define the term AutomotiveWoman.

We are automotive leaders.
We are motorsport professionals.
We are women inspiring the next generation.

Who Am I: Nhu Nguyen
Company: PFAFF Tuning
Current Position: Technician
Years at Current Position: Porsche Certified, 6yrs. | Porsche Classic Certified, 2yrs.
Location: Woodbridge, ON. Canada
Career
Describe a typical day at work.
We come in, everyone gets a good morning & fist bump and we set to work. We speak with the service advisors to see what jobs are in for the day or continue with an existing job. Jobs can vary from simple tire or oil changes and repairs to performance upgrades or even different levels of restoration.
Describe a current job-related responsibility which keeps you on your toes, daily.
Fixing cars will always keep you on your toes. Failure or mistakes can be catastrophic or even deadly.
As a woman, tell us the most challenging hurdle you've had to overcome while climbing the professional ladder? 
There's been one instance where I felt that being a woman affected how a superior treated me. I tried my best to persevere, but in the end it wasn't the same work environment anymore, so I found another place where I could grow. 
When met with discouragement, how do stay focused and/or prevail?
Discouragement means nothing. What someone else thinks has no bearing on my ability to do my job. I know I can, so I do.
Being assertive is considered an asset in business.  As a woman, how do you balance the need to be your own champion with the stigma associated with the term, when it's applied to women?
When communicating, it's important to remember that how you say something carries as much weight as what you say. I'm careful of how I speak, no matter who I'm speaking to.
Someone who has never made a mistake has never tried anything new. What was your one BIG professional mistake, and what did you learn?
Mistake implies regret & I don't regret any part of my journey. I started late, but things happen when they are meant too. I truly believe that if I had pursued this when I originally wanted to, just after high school, I would have messed it up. I did not have the discipline to persevere.
Career defining moment, to-date. 
That would have to be the first air-cooled engine that I got to help rebuild. It was an 1989 911 Turbo flat 6 cylinder and I was hooked.
Words of wisdom you received from a mentor; you'd like to pay forward?
Never presume to think that you know everything. Keep learning everyday. 
Tell us the most challenging question you were asked in an interview? And how did you reply?
I've had to be thoughtful in answering questions, but I've never had a question that challenged my thinking or point of view. This was a great question and I'm disappointed that I've never had this pleasure.
If you switched career paths tomorrow, what would you do?  
I'd be an explorer/adventurer. I want to see the world.
What piece of advice would you share with women keen to follow in your footsteps? And how do you recommend breaking into your industry, or field of expertise?
Find your people. Find the ones that will encourage and inspire you. The journey can be long and hard, but it doesn't have to be made alone.
Where do you see yourself in 5, 10 years from now? 
Still rebuilding air-cooled engines. Maybe somewhere warm.  
Famous last words or motto you live by:
Hope for the best, but expect the worst. Then all your surprises will be good ones. 
Complete the phrase:
I came. I saw. I left it the same or better. 
Me Unfiltered
Morning person, or night owl?
Neither. I'm not a morning person, but I also fall asleep early. Just a barrel of fun. 
Favorite workout, or best way to blow off steam?
I'm a pretty calm individual, and I don't get angry often. But if I do, I like to get lost in my work. A mundane task, like cleaning, with some music usually does the trick.
What's on your music playlist at the moment? 
Nina Simone, Ella Fitzgerald, Amy Winehouse & Queen.
Netflix & chill or a good book?
Both. I really enjoy reading, but don't seem to have the time anymore.
Hobbies outside of work?
I don't seem to have time for anything after work except recharging for the next day, but I like to cook, read, art, climb, yoga, board games, Rockband with my family & the occasional car show. 
Best motorsport documentary or movie of all time. Days of Thunder. Rush. Ford vs Ferrari. Other?
I don't have a favourite motorsports movie, but I really enjoyed Wheelman with Frank Grillo. It's more of a car/driving movie, it even features an air-cooled Porsche. 
Name a hidden talent? 
I'm really good at whistling. 
If you won the lottery, what's the first extravagant gift you'd purchase yourself? 
A house with fully equipped garage, wood workshop and kitchen.
Most embarrassing moment? 
Ugh I've had too many to keep track of. Let's just say a bunch of them include me unsuccessfully walking in heels.
Name a pet peeve: 
Apathy.  Kindness & empathy cost us nothing and elevates the entire human race. 
Celebrity Crush:
Keanu Reeves.
Name someone famous who would play you in a movie:
Awkwafina.
If you could invite only three people to dinner, who would they be and what topic would you discuss?
I would invite Leonardo DaVinci, Hans Mezger & Hedy Lamarr. We would discuss the beauty in science & technology. 
Charities or Causes you support: 
I advocate for autism and mental health awareness. I also bake cookies every year to raise funds for Movember. 
How do we connect with you online?
You can find me on Instagram & Facebook as Dear_Nhu