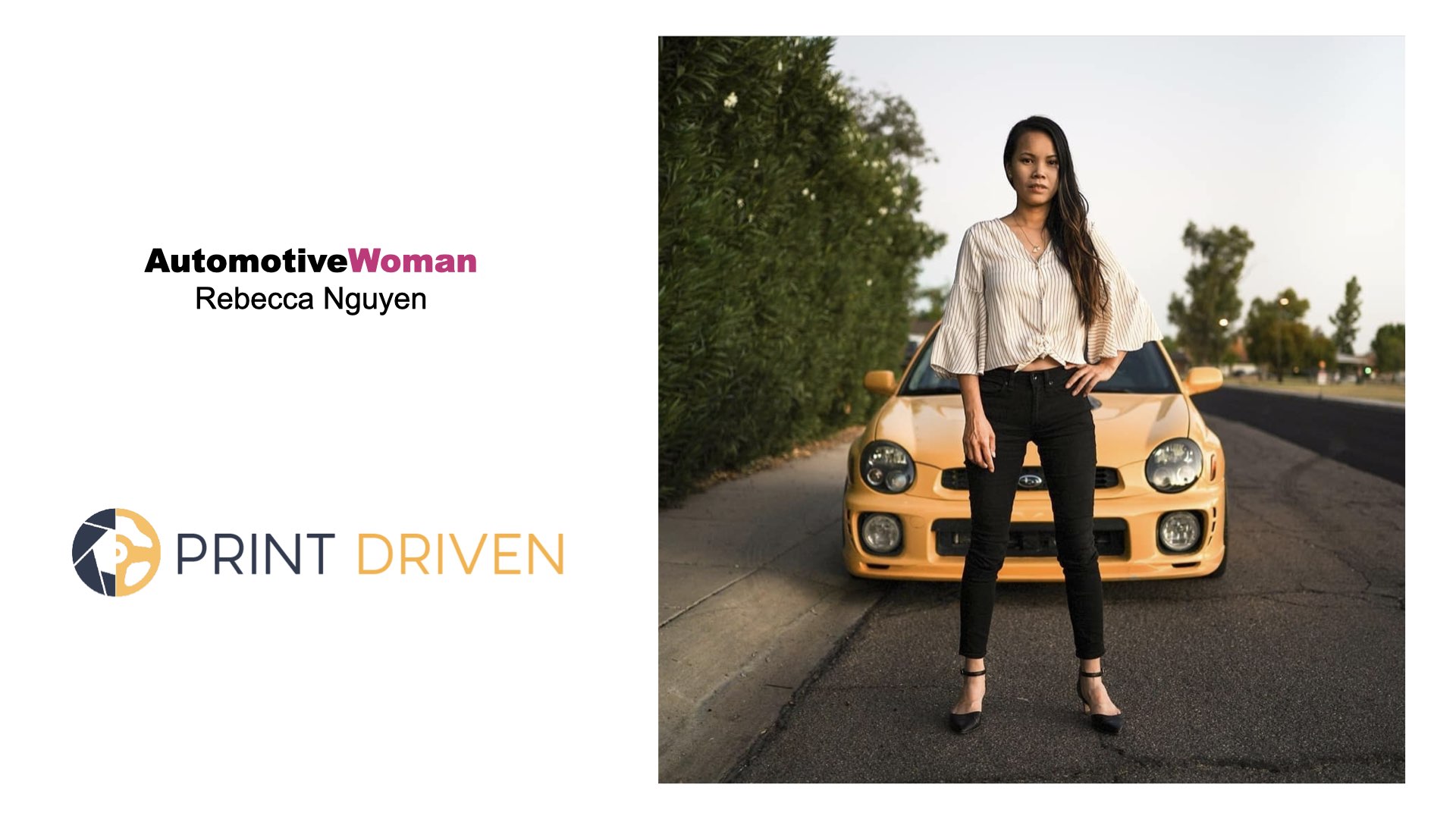 We profile women who have achieved success in automotive and motorsports with integrity, passion and sheer determination. These women define the term AutomotiveWoman.
We are automotive leaders.
We are motorsport professionals.
We are women inspiring the next generation.

Who Am I: Rebecca Nguyen
Company: Khan Media, Print Driven
Current Position: (Khan Media) Marketing Director, (Print Driven) Founder/Owner
Location: Moorpark, CA, USA
BIO
Marketing and project management expert specializing in the automotive industry with experience in event coordination, manufacturing operations, content development and public relations.
CAREER
Describe a typical day at work.
One of the areas I thrive in the most is project management, so my usual day to day typically involves me focusing on creating more effective and efficient workflows and processes while creating client successes.
Describe a current job-related responsibility which keeps you on your toes, daily.  
Task and project management is a daily challenge, especially in a creative field.
As a woman, tell us the most challenging hurdle you've had to overcome while climbing the professional ladder? 
There's two parts to this for me, not only being a woman in this male dominated field, but also climbing the professional ladder with no formal education.  I skipped college completely and went into my professional career with sheer willpower and experience.  The most challenging hurdle was determining what professional path was going to get me to the position and industry I wanted to be in, which meant proving I could be an expert in a field where career women aren't common.
When met with discouragement, how do stay focused and/or prevail?
I taught myself to redefine the terms that used to be negative.  Discouragement just meant I had reached a landmark of my threshold, and it was time to grow in order to overcome it.  Adjusting my perspective on what I thought was negative into a positive growing opportunity I found my way through any type of challenge.
Being assertive is considered an asset in business.  As a woman, how do you balance the need to be your own champion with the stigma associated with the term, when it's applied to women?
Proof is in the product.  Instead of short term assertiveness, I've adapted a long term style of assertiveness.  Essentially focusing being assertive towards the end product versus the steps getting there.
Someone who has never made a mistake has never tried anything new. What was your one BIG professional mistake, and what did you learn?
Unfortunately, I had organized a motorsports event and delegated the insurance acquisition to another party who failed to acquire it in time resulting in a day of cancellation.  This didn't stop me from delegating, I just adjusted how I managed my delegation moving forward.
Career defining moment, to-date. 
My feature in the Wall Street Journal has been the most impactful landmark in my career.  While my story is still a humble one, it was the moment that tied everything I had done in the last 10 years to get into the position and industry I wanted to be in.  It gave me the affirmation that the bridge I was building had finally reached the other side.
Words of wisdom you received from a mentor; you'd like to pay forward?
In life, positives and negatives are determined only by your perspective.  Adjust your perspective and any negative can be a positive.
If you switched career paths tomorrow, what would you do?  
If it were to be an extreme example, I'd go back to my dream of being a fashion designer.  I've always had a passion for design, but even more so for fashion because it had an ability to change how someone felt and how they are perceived. 
What piece of advice would you share with women keen to follow in your footsteps?  
Embrace failure.  It is a landmark on your map to success because without reaching a point of failure, you'll never have tried your hardest.
Where do you see yourself in 5, 10 years from now? 
I'm an entrepreneur at heart, and my plans lead me to a franchisable concept that will support my passion of creating environments that promote a kinder community. 
Famous words or motto you live by:
Aspire to inspire.
Fill in the blank:
I came. I saw. I overcame.
ME UNFILTERED  
Morning person, or night owl?
Night owl, but I'd rather be a morning person.  Currently still working on that!
Favorite workout, or best way to blow off steam?

Go out for a ride on my Ducati Monster.  I may have taken out too much steam on it in the past, so it's in need of some minor repairs at the moment.
What's on your music playlist at the moment? 
It's all over the place at the moment.  I've noticed I work best listening to instrumental music, so lately it's been Japanese anime soundtracks.
Netflix & chill or a good book?
I'm obsessed with self development, so lately it's been reading books focused on those types of topics.
Hobbies outside of work?
I actually am a fashion model as my hobby, it is a refreshing creative outlet for me.
Best motorsport documentary or movie of all time. Days of Thunder. Rush. Ford vs Ferrari. Other?
Road
Name a hidden talent? 
I'm actually a bit of an artist.  I utilize many different mediums and am not particular to one.
If you won the lottery, what's the first extravagant gift you'd purchase yourself? 
It sounds cliche, but I'd buy my mom her dream car.  Whatever that may be, but it's always been a dream of mine to be able to do something big for her.
Most embarrassing moment? 
Grinding gears trying to get into reverse to park at a car show!
Name a pet peeve: 
The phrase 'that's just how I am.'
Celebrity Crush:
Tom Hardy.
Name someone famous who would play you in a movie: 
Elizabeth Debicki.
If you could invite only three people to dinner, who would they be and what topic would you discuss?
Bill Gates, Elon Musk, and Morgan Freeman.
Charities or Causes you support: 
Shriner's Hospitals for Children, Reach Out Worldwide
How do we connect with you online?
Instagram @beccabananaru
Print Driven @print.driven
LinkedIn: https://www.linkedin.com/in/rebecca-nguyen-79898183/