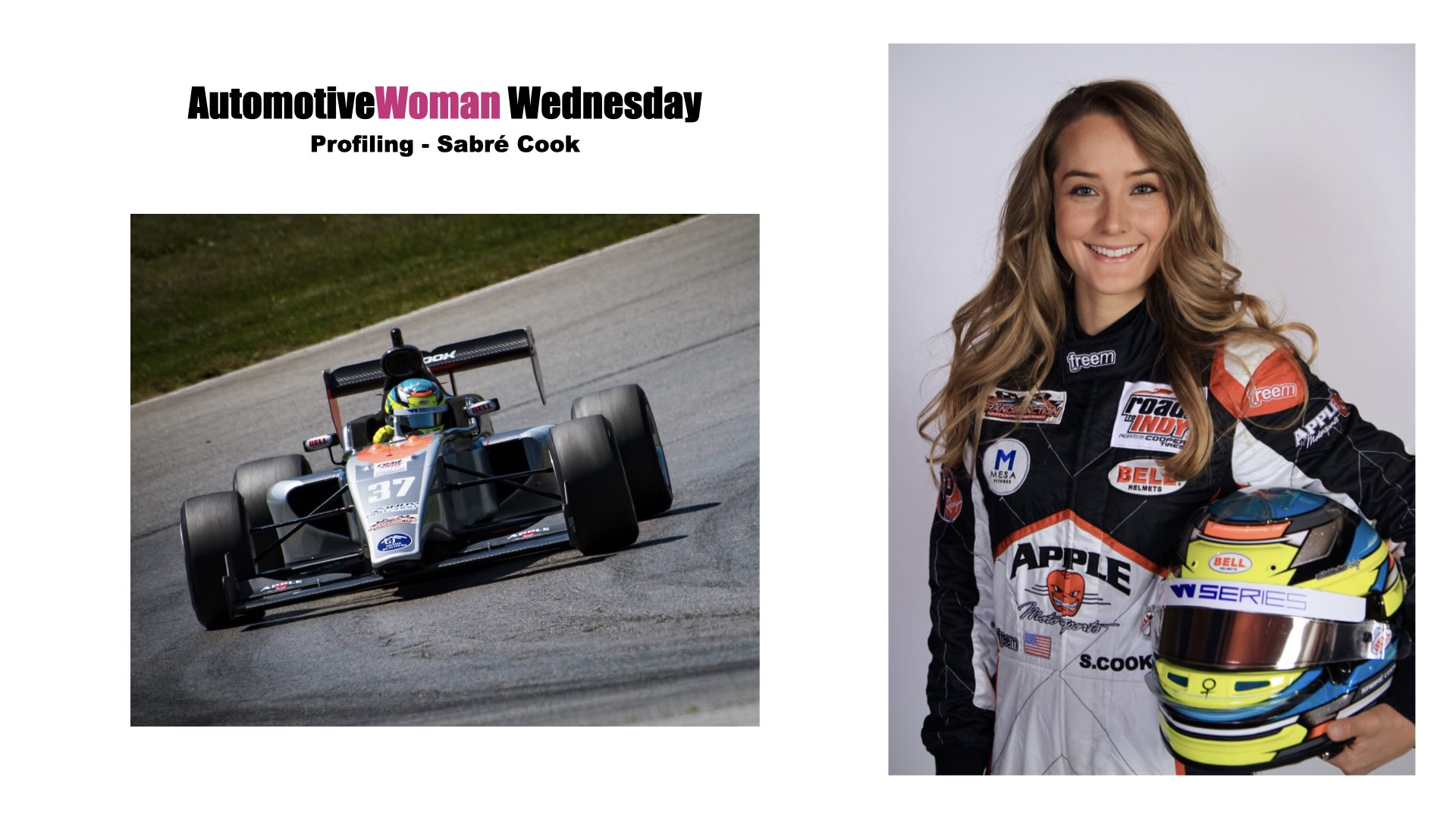 Automotive
Woman

Wednesday

We profile women who have achieved success in automotive and motorsports with integrity, passion and sheer determination. These women define the term AutomotiveWoman.

We are automotive leaders.
We are motorsport professionals.
We are women inspiring the next generation.

Who Am I: Sabré Cook
Company: Sabré Cook Racing
Current Position: Owner, Driver, Coach, Engineer
Years at Current Position: 10yrs business, 16yrs as driver
Location: Home town, Grand Junction, Colorado, currently lives in Texas, USA.
BIO
Sabré Cook is a successful female racing driver with over fifteen years of experience in karting, formula cars and sport cars racing. Hailing from Grand Junction, Colorado, she began driving at the young age of eight, and as her passion grew, she started racing competitively at the age of ten.  More learn: http://www.sabrecookracing.com/sabre
Career
Describe a typical day at work.
I wake up and train in the AM, before heading to work at Formula Mazda by 8:30am where I recently moved (Texas) to help with new race car development and engineering.  During my day I also balance media interviews, meetings and sponsorship obligation and social media creative for myself and brand partners like Cranfield Simulation, Iron-Neck, and 1st Phorm.
Describe a current job-related responsibility which keeps you on your toes, daily.  
I'm constantly preparing for the next race, which means committing time in the gym, on the simulator, an analyzing data and reviewing schedules for the event.
As a woman, tell us the most challenging hurdle you've had to overcome while climbing the professional ladder? 
Sponsorship money.  I think it doesn't matter whether you're a female or male racer, sponsorship is key to climbing the ladder, so this has been the most challenging hurdle every day.
When met with discouragement, how do you stay focused and/or prevail?
I change my perspective.  If I fail, I learn from the experience, and apply a different strategy to overcome the challenge next time.  I love what I'm doing, and I value and appreciate the position I'm in, so I choose to learn, grow from failures and keep moving forward.
Being assertive is considered an asset in business.  As a woman, how do you balance the need to be your own champion with the stigma associated with the term, when it's applied to women?
Personally, I think I can learn to be more assertive, but I shy away from conflict, so instead I choose to communicate more clearly with words with my team.  At the end of the day we all want the same thing, and that is to learn and win.  So no need to be a "bossy lady" if we all use our words, and work towards a common goal.
Someone who has never made a mistake has never tried anything new. What was your one BIG professional mistake, and what did you learn?
HA – I only get one to speak about? This is a tough question, because I've made a few, which have been a blessing in disguise because this is how I have learned.  For example, I jumped into the Road to Indy too soon without having the proper preparation. I wish I would have taken the time to do more testing, more learning, more analysing.
Career defining moment, to-date. 
Qualifying for the 2019 W Series Championship. And proudly I can share I'll be the only woman competing from the USA in 2021.
Words of wisdom you received from a mentor; you'd like to pay forward?
Focus on the process – David Tennyson.
If you switched career paths tomorrow, what would you do?  
I'd be a full-time engineer or an astronaut.
What piece of advice would you share with women keen to follow in your footsteps?  
Be prepared to work hard, don't be afraid to put yourself out there, ask questions, build a strong team around you, and don't be afraid to fail.
Where do you see yourself in 5, 10 years from now? 
Indy Car within 5yrs.  Within 10yrs, I'd like to say I competed in Indy Car, raced at Le Mans, and Daytona 24hrs, and start a charity for dogs and/or create a mentorship program or partner with a current program to benefit women racers.
Famous words or motto you live by:
If you never fail, you never succeed.
And, you control the story you see and tell yourself. You're the captain of your own ship.
Fill in the blank:
I came. I saw. I KICKED ASS!
ME UNFILTERED  
Morning person, or night owl?
Morning person. Or whatever I need to be that day.
Favorite workout, or best way to blow off steam?

HIIT or INSANITY Workouts.
What's on your music playlist at the moment? 
My playlist on Spotify titled "Kick Ass" has a bit of everything but mostly hip-hop, pop rock, and motivation speeches.
Netflix & chill or a good book?
Depends how tired I am, but I do enjoy Netflix, and reading current engineering books.
Hobbies outside of work?
Outdoor activities. Hiking, rock climbing, fishing; really anything that keeps me active and outside.
Best motorsport documentary or movie of all time. Days of Thunder. Rush. Ford vs Ferrari. Other?
Rush or Ford vs Ferrari.
Name a hidden talent? 
I'm able to write with both hands and I can sing decently from being in honor choir and musicals from a preteen through my high-school years.
If you won the lottery, what's the first extravagant gift you'd purchase yourself? 
Ha – I'd buy myself an Indy Lights ride for 2022.
Most embarrassing moment? 
As a pre-teen I played basketball and everyone would typically wear those tight Under Armour shirts beneath their jerseys. And well this one time, I sneezed into my sleeve in front of the entire boys basketball team, and you could see the snot on my sleeve and they proceeded to obvioulsy laugh and throw tissues at me.  Sooooooo embarrassing at the time, but funny now.
Name a pet peeve: 
People who stand up immediately when the plane stops- do they think they're not going to be let off or something?  Or when people stand right in front of the baggage claim belts and no one can then see their bags or reach for them without pummeling over each other.
Celebrity Crush:
Marc Marquez (GP Rider), he's such a badass.
Name someone famous who would play you in a movie: 
Jennifer Lawrence.
If you could invite only three people to dinner, who would they be and what topic would you discuss?
God, because I need answers, Robin Williams and Leonard Da Vinci. And, we'd discuss the meaning of life.
Charities or Causes you support: 
I support Animal Rescue Shelters and organizations that go in and save abused animals. I'm also a big advocate and ambassador for women in STEM.
How do we connect with you online?
Instagram: https://www.instagram.com/sabrecook/
Twitter: https://twitter.com/Sabre_Cook
Facebook: https://www.facebook.com/sabre.cook