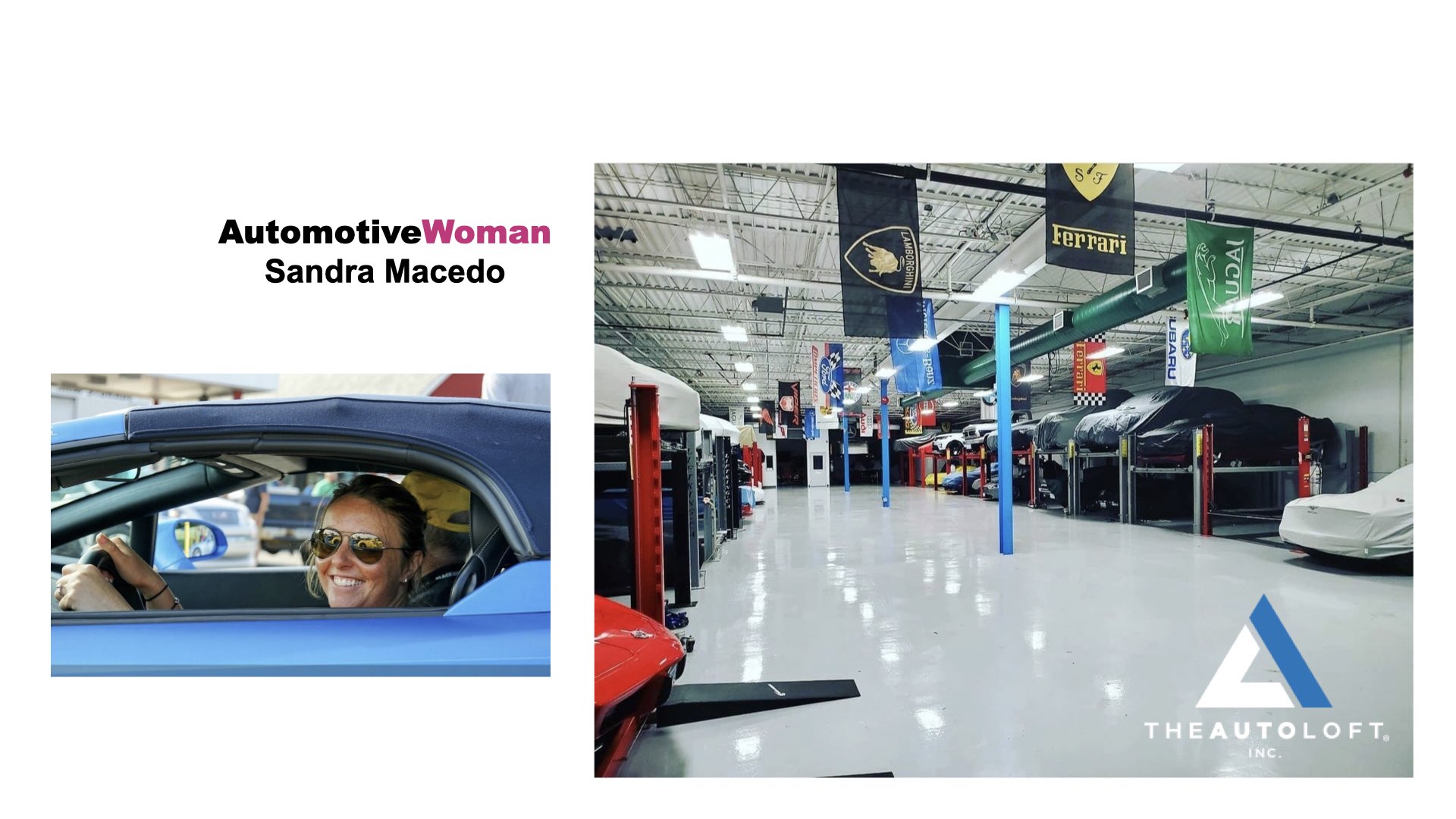 Automotive
Woman

Wednesday

We profile women who have achieved success in automotive and motorsports with integrity, passion and sheer determination. These women define the term AutomotiveWoman.

We are automotive leaders.
We are motorsport professionals.
We are women inspiring the next generation.

Who Am I: Sandra Macedo
Company: The Auto Loft Inc.
Current Position: President & Founder
Years at Current Position: 9yrs.
Location: Toronto, Ontario, Canada.
Career
Describe a typical day at work.
There really is no typical day. On any given day you might find me in the office, with customers or getting my hands dirty! I wear many different hats in my role at The Auto Loft and must be ready at a moment's notice to shift into that role. Because of the various services we offer I have learned to be flexible with my time. Whether it is a client's car into or out of storage, a trailer rental, a vehicle lift demo, product delivery or bookkeeping, I am never at a loss for things to do. The days I expect to be quiet somehow end up being the busiest. I love that every day is different and not the same.  I have learned to always be ready for the unexpected!
Describe a current job-related responsibility which keeps you on your toes, daily.
Customer service keeps me on my toes. I take pride in our customer service and am always looking for ways to ensure every customer is happy and ready to give us shining reviews. 
Forecasting and goals setting as well, this is a big one. You gotta always be hustling!
As a woman, tell us the most challenging hurdle you've had to overcome while climbing the professional ladder? 
My biggest hurdle is being a female in a male dominant field. Men doubting that I know what I am talking about because I am a woman. The stereotype that only men understand cars and anything car related best has been a really big hurdle.  I am starting to see less of this as of most recent but still come across it from time to time. 
When met with discouragement, how do you stay focused and/or prevail?
My father always encouraged my sisters and I to be tough and resilient, that said, quitting was never an option for us. My mother always stressed how important it is to be an independent woman. 
I have learned to remind myself that I can do anything I put my mind and energy into it. I believe that every challenge has its time and is here to teach us something. I always say, "Sandra, remember: And this too shall pass".
I am blessed to have a wonderful partner and husband that supports and encourages me and reminds me of everything I have accomplished.
In addition, I have a great network of girlfriends "My Tribe" that I lean on for support and encouragement when needed. As the saying goes "It takes a village…" 
Lastly, I think about the example I want to set for my kids and the legacy I want to leave behind. 
Being assertive is considered an asset in business.  As a woman, how do you balance the need to be your own champion with the stigma associated with the term, when it's applied to women?
I try to never come across as too "assertive". I am pretty transparent and upfront and have no issue saying "no" with a smile and using a little humour. I try not to be too pushy and feel I am respectful when asking for things to get done. I have also learned that everyone is different and there is no cookie cutter style that works for everyone. 
Someone who has never made a mistake has never tried anything new. What was your one BIG professional mistake, and what did you learn?
I am sure I have made many professional mistakes over the years, but I honestly can't say there is any one in particular that stands out. Although I would rather make mistakes over having regrets. At least you can say you tried. 
Career defining moment, to-date. 
Being recognized as a professional/expert in my field. Growing and expanding the business and offerings year over year. This business started as a little peanut 8 years ago. It has been so rewarding watching it evolve. Including my husband and children in the business makes me proud! 
Words of wisdom you received from a mentor; you'd like to pay forward?
Do not be afraid to ask questions. I always thought that I would be viewed as weak, inexperienced, or unknowledgeable if I asked questions. I guess that was one of the fears I overcame over the years. 
Tell us the most challenging question you were asked in an interview? And how did you reply?
The dreaded question: Tell me about yourself?
Which part? Work life, family life, social life?
I struggle with this one every time. So much to tell. How much time do you have? 😊
If you switched career paths tomorrow, what would you do?  
Something still car related. I love cars but maybe something in the culinary field. I love cooking!
What piece of advice would you share with women keen to follow in your footsteps? 
Be determined. Set Goals. Knowledge is power. No one is ever an expert on their first day. Do not let fear hold you back from being great. Better to make mistakes than to have regrets. 
You can do anything you want to do with hard work and determination. Let passion lead you. 
Where do you see yourself in 5, 10 years from now? 
Still doing what I am doing but bigger and better. Continuously expanding and evolving. 
Famous last words or motto you live by:
"It is not because things are difficult that we do not dare, it is because we do not dare that they are difficult." Lucius Annaeus Seneca
Complete the phrase:
I came. I saw. I did it! 
Me Unfiltered
Morning person, or night owl?
Neither. But I put in 1000% through out the day. 
Favorite workout, or best way to blow off steam?
Spin & Pump workout- I am currently loving my Peloton. Baking and going for walks de-stress me. 
What's on your music playlist at the moment? 
A little bit of everything. Depends on my mood or vibe. Confession: I am obsessed with Fleetwood Mac
Netflix & chill or a good book?
Both have their time and place but currently it is more Netflix. 
Hobbies outside of work?
I used to do karate for years. In fact, that is how I met my husband. 
I stopped training just before I earned my black belt. I would love to get back to it some day. 
Currently it has been a little bit of charity work whenever I can and reading Self-development books and listening to pod casts. 
Best motorsport documentary or movie of all time. Days of Thunder. Rush. Ford vs Ferrari. Other?
Ford vs Ferrari.
Name a hidden talent? 
I am a Queen in the kitchen. I enjoy cooking and baking and trying out new recipes. I have a fun Instagram and Facebook account with pictures and recipes of the meals I make for my family. I am sensing a cookbook in the horizon.
https://www.instagram.com/freckleskitchen/
https://www.facebook.com/Freckleskitchen
If you won the lottery, what's the first extravagant gift you'd purchase yourself? 
I would buy myself a Mercedes SLS- LOVE the gullwing doors and I would purchase a family vacation property in Barbados. 
Most embarrassing moment? 
Hmmmmm…..too embarrassing to share 😊 
Name a pet peeve: 
People having a telephone conversation on speaker phone in public.
Celebrity Crush:
Ryan Reynolds- Good looking, funny, he's Canadian and he knows how to give back! 
Name someone famous who would play you in a movie:
Sandra Bullock.
If you could invite only three people to dinner, who would they be and what topic would you discuss?
Amy Ledin- F*it Pod Cast host
Brene Brown-Author The gifts of imperfection
And for an element of humour Ellen DeGeneres- Comedian and Television Talk Show Host
We would discuss all the challenges and tribulations that has brought them to success and what their best practices are. 
Charities or Causes you support: 
The Shoe Box Project, Sick Kids Foundation, Be a Santa to a Senior and the Foundation for Student Achievement. 
How do we connect with you online?
Website:www.theautoloft.ca
Email: sandra@theautoloft.ca
Instagram:
https://www.instagram.com/frecklessandy/
https://www.instagram.com/theautoloft/
Facebook:
https://www.facebook.com/theautoloftservices
https://www.facebook.com/sandra.macedorocchio
LinkedIn:
https://www.linkedin.com/in/sandra-macedo-5a99b943/
Photo Credits Include:
Jireh Wong | @J_Dub_Faves 
Article Title Image, Sandra posing inside the Lamborghini Gallardo.
Eleni Mitrovski | @elenidesignstoronto 
First three images of the article.