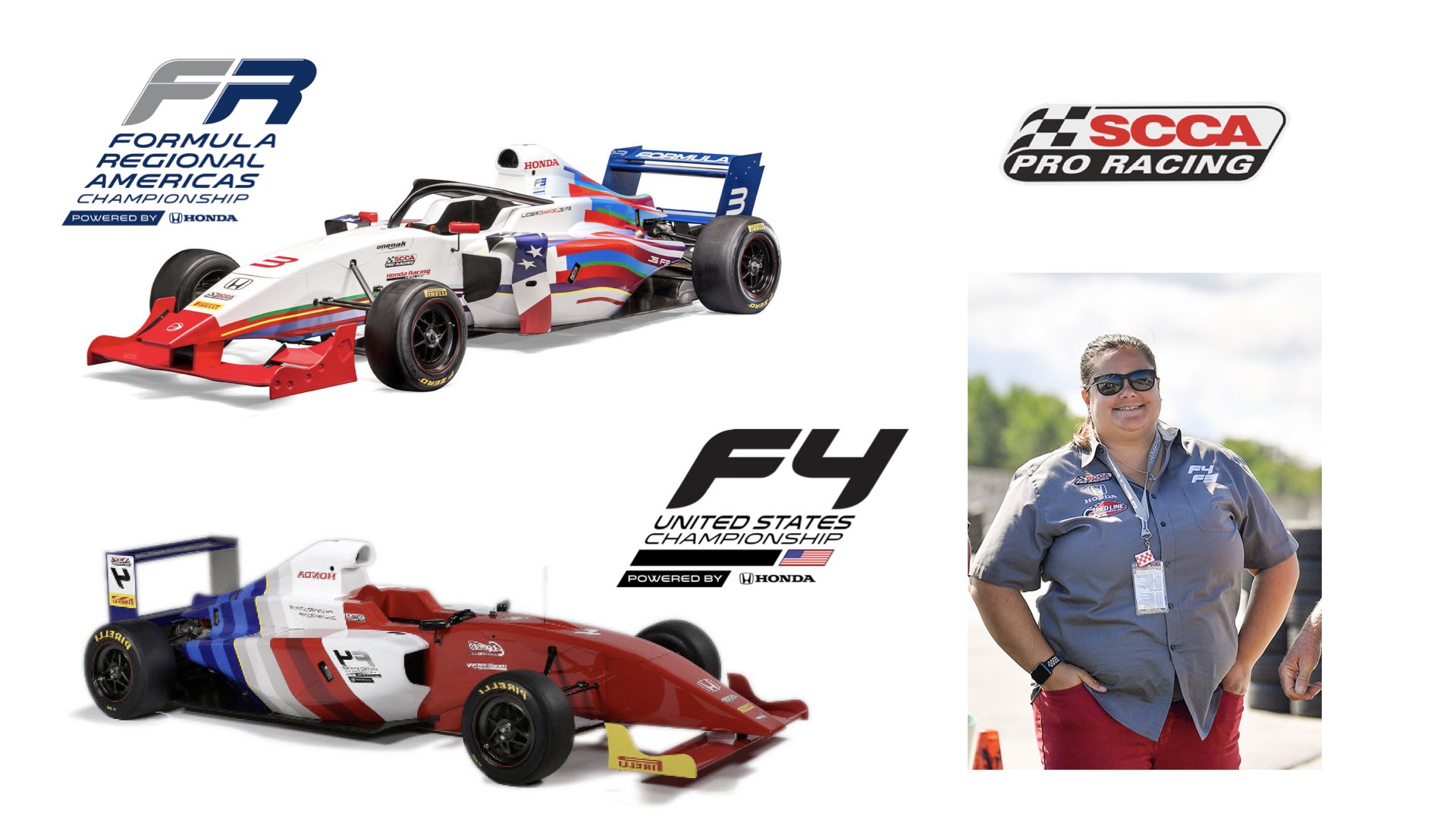 Automotive
Woman

Wednesday

We profile women who have achieved success in automotive and motorsports with integrity, passion and sheer determination. These women define the term AutomotiveWoman.

We are automotive leaders.
We are motorsport professionals.
We are women inspiring the next generation.

Who Am I: Sydney Davis Yagel
Company: SCCA Pro Racing
Current Position: General Manager
Years at Current Position: 2yrs.
Location: Brownsburg, Indiana, USA
BIO
Sydney Davis Yagel is an accomplished motorsport events and logistics specialist with a lifetime of experience in the auto racing environment having grown up in a Sports Car Club of America racing family. Coming full circle, Yagel is now the first female to lead SCCA Pro Racing, and the youngest general manager in history. 
Career
Describe a typical day at work.
In the office, it's a lot of emails and spreadsheets. At the track, I keep myself available to chat with teams, but I also like to assist with gridding cars. But, honestly, my favorite thing to do is stand back and watch. I'm a firm believer that if you put the right team together, events should almost execute themselves. If I'm having to run around doing multiple jobs, then I haven't prepared properly. 
Describe a current job-related responsibility which keeps you on your toes, daily.
COVID has definitely thrown a curve ball in our normal processes. For a while there, I wasn't planning anything because I didn't want to do things two and three times. The unknown is very frustrating to some people, and communicating through that type of crisis has been a challenge. I feel like we have managed to find a rhythm and our teams and supporters have embraced the change. At least until something changes again. 
As a woman, tell us the most challenging hurdle you've had to overcome while climbing the professional ladder? 
Growing up in the sport has never made me feel like I was an outsider, and to the credit of many, I was never treated differently because I was a girl/woman. There's always skepticism from those who I just meet, but once they see/hear me work, they realize I'm in the position I am for a reason. If anything, I feel like I had more issues being young than female. 
When met with discouragement, how do stay focused and/or prevail?
I've been told by many mentors over the years to trust my instincts, even when I didn't have the self-confidence to believe in myself. Persevering through difficult or uncharted situations has built up that confidence for me and allows me to stand firm on my decisions. My favorite phrase to tell someone who questions me is, "if this fails, I'll take full blame, but let me fail first."
Being assertive is considered an asset in business.  As a woman, how do you balance the need to be your own champion with the stigma associated with the term, when it's applied to women?
I've been put in a couple of situations where leaders have said, "you're in charge" or "go fix this." I lean into that trust they have in me to show those who I'm now leading that I'm here for a reason. I'm a firm believer that no matter what your gender is, you have to be a confident leader, or your team won't trust you. And if your team doesn't trust you, it's that much harder to accomplish your goals. There's a movie called "State of Play" starring Russel Crow and Rachel McAdams, who both play journalists. Crow's character is the seasoned veteran and McAdams is the new-ish kid on the block. At one point, the story they are working on starts to blow up and the editor wants to take McAdam's off because she lacks experience. Crow says something to the effect of, "if you want this, get loud. Get loud now." I've always loved that phrase because it's true. You have to be your own champion, regardless of what others think you can do. 
Someone who has never made a mistake has never tried anything new. What was your one BIG professional mistake, and what did you learn?
The biggest mistake I tend to make is putting too much trust in others too soon. I often times expect more than people are able to give as well. I try and use these moments to teach not only those involved, but also those who come after. Telling someone I'd rather hear, "I can't do that or I don't know how" is far better than someone pretending and leaving you with a bigger mess to clean up after. 
Career defining moment, to-date. 
This past year, I got to walk down pit lane during warm-up for the United States Grand Prix. I'm usually tethered to Race Control, so it was a very surreal and exciting moment to feel the electricity in the air as the race was about to start. 
Words of wisdom you received from a mentor; you'd like to pay forward?
Tell me before the crap hits the fan. If I know in advance, I can help you solve the problem. 
Tell us the most challenging question you were asked in an interview? And how did you reply?
Question: Do you feel you're treated differently because you're a woman? 
My response: While I'm sure I have, I don't let that change how I would approach a situation. Whether it's gender, age, or experience, those who don't know you have one chance to meet you and your skills for the first time. Make sure they remember the best part of you. 
If you switched career paths tomorrow, what would you do?  
I'd love to be a chef.
What piece of advice would you share with women keen to follow in your footsteps? And how do you recommend breaking into your industry, or field of expertise?
Learn as much as you can from whoever you can. Volunteer for a position to understand what you're worth, then don't be afraid to request getting paid. Take notes and learn from not only your mistakes, but those of others too. 
Where do you see yourself in 5, 10 years from now? 
I want to be involved in international events here in the United States and abroad. 
Famous last words or motto you live by:
In fourth grade, we made an advice book. We asked famous people, relatives, local celebrities, and complied a book. Some of my favorites that I still remember to this day are:
From a cartoon of a frog choking a bird trying to eat him: Don't ever give up.

 

From my dad: This too shall pass.

 

From my grandmother: Treat others the way you want to be treated.

 
And from the Harry Potter series, Albus Dumbledore's statement: Our choices show what we truly are, far more than our abilities. 
Complete the phrase:
I came. I saw. I made it happen!
Me Unfiltered
Morning person, or night owl?
Night owl. And I don't do coffee, so my mornings are sometimes a bit of a rough start. 
Favorite workout, or best way to blow off steam?
I love a spin class that leaves my legs feeling like jelly. I also love to go on hikes with my dog, Wilson.
What's on your music playlist at the moment? 
According to Apple Music, my favorite genre is Tropical House. It's a bit electronic, but soothing and upbeat. I've also been rocking out to Van Halen when I need something a bit louder.
Netflix & chill or a good book?
A little bit of both. Too much of either makes me fall asleep.
Hobbies outside of work?
I enjoy cooking and photography, and when I have the time I sew quilts and bags. 
Best motorsport documentary or movie of all time. Days of Thunder. Rush. Ford vs Ferrari. Other?
All three are in rotation in our household. From a cinematic stand point, Rush takes the win.
Name a hidden talent? 
I have a weird ability to recognize and correlate racecar paint schemes to drivers and their car number, even without seeing the car number. The Stewards quite enjoy this skill when watching incidents on video. 
If you won the lottery, what's the first extravagant gift you'd purchase yourself? 
A larger RV than we currently have. 
Most embarrassing moment? 
Every time I fall down because it's never graceful and usually because I tripped over my own feet. 
Name a pet peeve: 
Loud eating
Celebrity Crush:
Justin Timberlake
Name someone famous who would play you in a movie:
Jennifer Garner or Jennifer Lawrence
If you could invite only three people to dinner, who would they be and what topic would you discuss?
P!nk, Britney Spears, and Stevie Nicks to discuss the ups and downs of the music business.
Or, George Clooney, Matt Damon, and Ben Affeck on the process of making a movie from concept to premier. 
Charities or Causes you support: 
I'm a big proponent of supporting local charities and causes to ensure the proceeds stay in the local community. We love to attend events benefiting local women's and animal shelters.
How do we connect with you online?
Personal: @sydxracer
#lifeinthesydlane
Professional: https://www.linkedin.com/in/sydxracer/