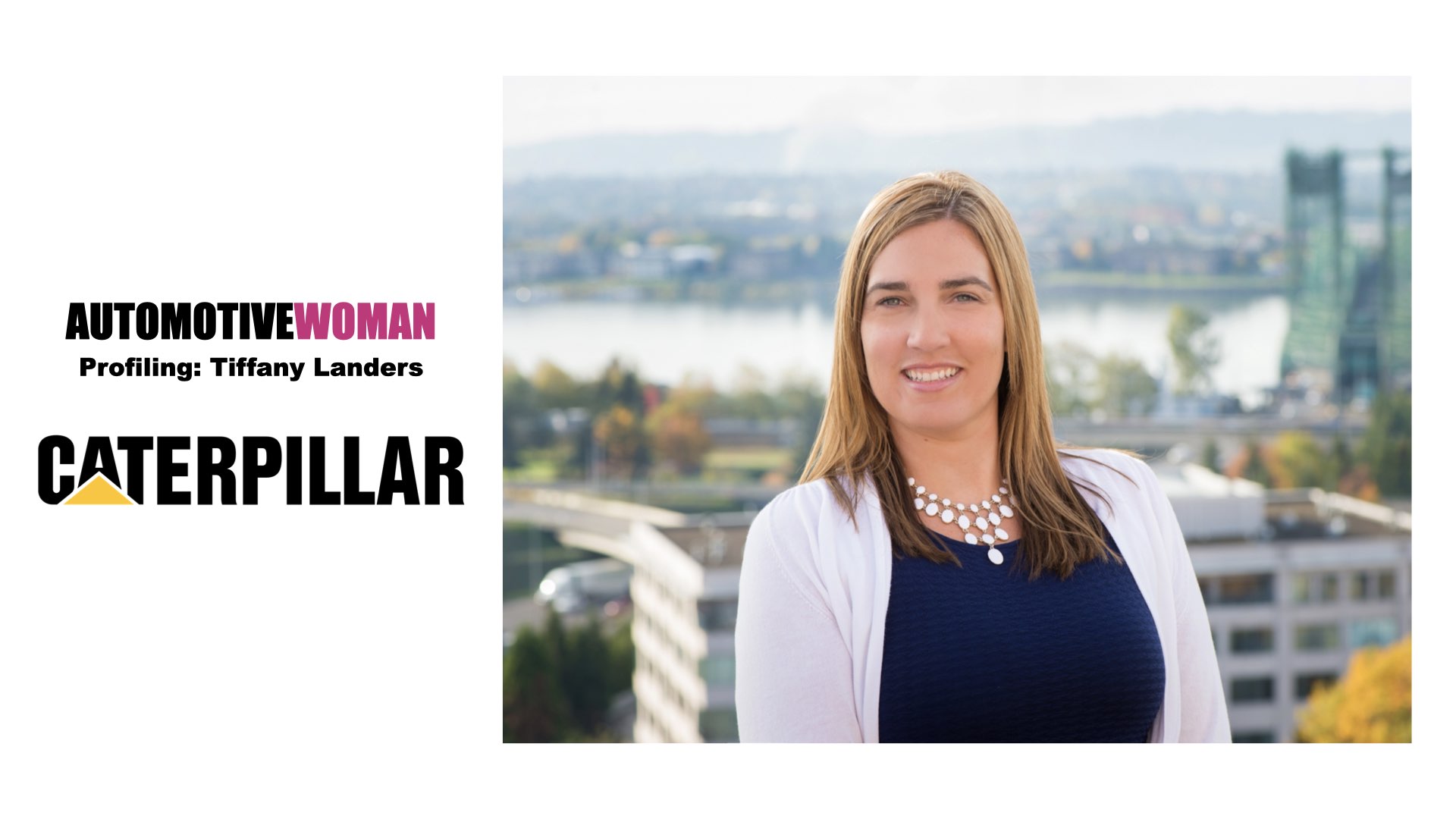 Automotive
Woman

Wednesday

We profile women who have achieved success in automotive and motorsports with integrity, passion and sheer determination. These women define the term AutomotiveWoman.

We are automotive leaders.
We are motorsport professionals.
We are women inspiring the next generation.

Who Am I: Tiffany Landers
Company: Caterpillar, Inc.
Current Position: North American Marketing Manager – Engines
Years at Current Position: 1.5yrs.
Location: San Antonio, Texas
BIO
My passion for marketing started early in high school with my participation in my first marketing course, which led to me joining a competitive marketing program. I continued that focus through my educational experience including my undergraduate and eventually graduate degrees. With over 15 years of marketing experience, I've enjoyed working in a variety of industries (all predominately male) including working in sports marketing with the NBA, in media with CBS Television Group, spent 6 years in residential construction, and another 6 years working for a group of industrial organizations owned by the Nordstrom family. My family and I recently moved half across the country to Texas, where I am now the North American Marketing Manager for Caterpillar.
Career
Describe a typical day at work.
One of my main focuses is helping our customers grow their business. While I have an obscene number of meetings, everyday I'm working on developing new marketing campaigns for our customers or reviewing metrics of current campaigns and discussing improvements needed. My focus is on strategy, but I'm constantly developing creative ways to get our messages to a variety of target audiences. Typically, my work week would contain a fair amount of travel to visit customers, dealers or some of our industry trade shows. 
Describe a current job-related responsibility which keeps you on your toes, daily.  
The customers and new products that I get to work with, keep me on my toes. Everyday I'm learning about new machines that are powered by Cat engines and needing to immerse myself into the mindset of their unique users. The continuous learning not only keeps me challenged, it also allows me to keep developing creative ideas to reach new objectives.  
As a woman, tell us the most challenging hurdle you've had to overcome while climbing the professional ladder? 
For me the most challenging hurdle has been trying to overcome the perception that I don't know enough about our industries, since I didn't start by "turning a wrench". In the construction and industrial industries, most of the executives started in a specific trade and spent their entire career in that same industry. While not a challenge unique to being a woman, you don't see as many women in trade schools and therefore, will see less who are able to earn that kind of respect. I instead spent as much time as possible learning everything I could from those people. While many tend to be very stubborn in their ways, being able to apply what you know about the industry to a new way of looking at it proved to be successful.   
When met with discouragement, how do stay focused and/or prevail?
I see it as a challenge and am usually more focused when met with discouragement. I've come across many examples throughout my career when someone has said, "that's not going to work" or "that's not how we've always done it", or even "you don't know enough about our business". When it is an idea that I'm really passionate about, I'm even more determined to find ways to prevail. One way in particular that has been successful is finding small ways to test an idea and then use the results to get larger buy-in. Taking an idea that many might not be able to conceptualize and putting visuals and data to show how it is performing, tends to be a lot harder to shoot down. 
Being assertive is considered an asset in business.  As a woman, how do you balance the need to be your own champion with the stigma associated with the term, when it's applied to women?
I try not to think of it that way. I've always maintained the perspective that there isn't a difference between men and women in business. As I've remained focused on my goals and so incredibly passionate about what I'm doing, I've been able to prove I'm the best person (man or woman) for the positions I've had. I don't think of how my actions will be perceived. I just do what is needed to get the job done. Being confident and assertive is imperative in business and I think the more we as women second guess our actions to avoid being stereotyped, we lose sight of what we're trying to accomplish. 
Someone who has never made a mistake has never tried anything new. What was your one BIG professional mistake, and what did you learn?
Early in my career I was afraid to volunteer or get involved in other projects for fear that I didn't know enough about that area. I was more scared that I would fail that I didn't want to get involved. There was a big event project that I could've been a part of while I was working at CBS. Instead I let someone else take the lead. Months later, that person was promoted due to having experience that I didn't have. I realized that I had missed a huge opportunity to get experience and missed out on that promotion. I didn't look at it as an opportunity to learn, I saw it as something I didn't think I could do perfectly. 
Career defining moment, to-date. 
I think my career defining moment relates to my learnings from my biggest mistake. After I left media, I went into residential homebuilding. As a small marketing department, I had the opportunity to stretch myself and get involved in areas that weren't my normal responsibility. This allowed me to get so much experience in areas of the business like systems, purchasing, and internal communication, which ultimately put me in a position of much more value to the organization than just a marketing manager. That swift in mindset really is what I contribute much of my success to. If I would've just stuck to my job description, there is no way I would've excelled as quickly as I did. I also worked for a leader that supported and encouraged that, even if I didn't do it all perfectly. The right leader can also drastically affect your career trajectory. 
Words of wisdom you received from a mentor; you'd like to pay forward? / What piece of advice would you share with women keen to follow in your footsteps?  
I worked with a great leader, early in my career, that taught me a lot about self-awareness and mental strength. As a woman, I tended to be more expressive with my emotions. He taught me the importance of recognizing my emotions, not to suppress them, but to find ways to not let them control my actions. Being more self-aware includes understanding how your emotions can be perceived in your body language, facial expressions, and even how you react to other people's actions. Sometimes it was as small as making sure my face didn't say that someone's idea was awful before they finished explaining it, but also led me to turn my nervous feelings into confidence when interviewing. I would also add to not let feedback or criticism affect you personally. Business is business and accepting criticism with grace, leads to strength in the future.  There is always something to learn from criticism.
If you switched career paths tomorrow, what would you do?  
A lawyer or maybe a detective. I love solving problems, data gathering, research, and sharing that information to persuade people towards a point. 
Where do you see yourself in 5, 10 years from now? 
I definitely see myself growing my career within Caterpillar. In 10 years I would like to be closer to be leading a division of Caterpillar.  
Fill in the blank:
I came. I saw. I Learned something new!
ME UNFILTERED  
Morning person, or night owl?
Night Owl. I do some of my best creative thinking at night and you really don't want to be the first person to talk to me in the mornings. I take a lot of time to wake up. 
Favorite workout, or best way to blow off steam?

I love kickboxing. As a kid I was always playing competitive sports and realized later in life how beneficial that release was. Kickboxing allows me to release that stress. I actually love traveling too. So relaxing. 
What's on your music playlist at the moment? 
Thomas Rhett & Drake. Complete opposite genres, but I love having variety in my tunes.  
Netflix & chill or a good book?
Oh that is a hard one. I think I would say Netflix & Chill is more common for me. I have 2 young children and just don't find as much time as I'd like to read. However, we can all curl up on the couch together and watch a movie or show. 
Hobbies outside of work?
Travel! My husband and I love to plan adventures and new places to explore with our children. From long weekends to near bye cities or long international trips to explore cultural differences, we have made travel a family hobby. 
Best motorsport documentary or movie of all time. Days of Thunder. Rush. Ford vs Ferrari. Other?
Ford vs Ferari
Name a hidden talent? 
I seriously don't have any cool or hidden talents. 😊 
If you won the lottery, what's the first extravagant gift you'd purchase yourself? 
A private jet so I can easily travel the world. No more delayed flights or dealing with crowded airports. 
Name a pet peeve: 
People that say what you want to hear. I would much rather have someone tell me what they really think than what they think I want them to say. 
Celebrity Crush:
Bradley Cooper. 
Name someone famous who would play you in a movie: 
Jennifer Lawrence. She's not only beautiful, but plays really strong female characters exceptionally well. 
If you could invite only three people to dinner, who would they be and what topic would you discuss?
Phil Knight (Nike Founder), Sheryl Sandberg (CEO of Facebook), My Great Grandpa – I would talk business, goal setting, and tips on what each of them did to be so successful in business. 
Charities or Causes you support: 
I like support my local women's shelters. It's a cause that is near and dear to my heart. While I wish no woman needed to seek shelter, I know many just need a little help to leave an abusive relationship. 
How do we connect with you online?
LinkedIn – https://www.linkedin.com/in/tiffanylanders/