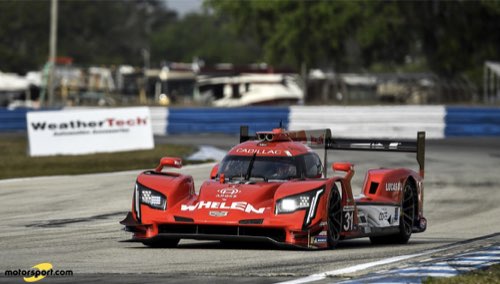 Cadillacs Soft on Bumps, Hard on Competition at Sebring
The GM Brand Has Won Three of Past Five 12-Hour Races
DAYTONA BEACH, Fla. – The bumps of Sebring International Raceway are legendary, so much so that the track has embraced and promoted the #RespectTheBumps hashtag frequently used in social media posts about the airfield-turned-racetrack.
Successfully negotiating, and merely surviving, the thumps and jolts around the 3.74-mile road course is the key for driver and machine to winning the Mobil 1 Twelve Hours of Sebring Presented by Advance Auto Parts, whose 70th running is Saturday.
Based on its recent track record, Cadillac seems to have figured a way to soften the blow of the Sebring bumps with three victories in the last five Sebring Twelve Hours races. A Cadillac DPi-V.R also won the IMSA WeatherTech SportsCar Championship sprint race at Sebring in July 2020, an event added to that year's calendar in reaction to COVID-19 schedule restrictions.
Three teams – Action Express Racing, Chip Ganassi Racing and JDC-Miller MotorSports – will field a total of five Cadillacs this week in the Daytona Prototype international (DPi) class. And one of the reigning winning drivers firmly believes his brand has an advantage over the two Acura DPis.
"There's no arguing that," said Sebastien Bourdais, who shared the winning No. 5 JDC-Miller Cadillac in 2021 with Tristan Vautier and Loic Duval. Bourdais also triumphed at Sebring in 2015 with Action Express.
"Right now, it's a two-manufacturer battle between Cadillac and Acura, but even when we were also competing with Mazda, it was pretty clear that the Cadillac with the Dallara chassis has the right characteristics for bumpy tracks," continued Bourdais, who in 2022 is teaming with Renger van der Zande and Ryan Hunter-Reay in the No. 01 V-Performance Cadillac for Chip Ganassi Racing. "It's a car that is less ride-height sensitive than the competitors, so that visually you can see we can run a bit softer. At a place like Sebring, that's very beneficial. It's the same on street courses.
"The drawback is that the car doesn't really have a big peak in downforce and therefore is less suited to smoother tracks where you can run low and stiff," he added. "It's a balance, but it's obviously won a lot of championships since 2017 so it seems to be working out pretty good."
Ricky Taylor can vouch for that. His 2017 Sebring victory came in a Cadillac for his father's team, Wayne Taylor Racing. Ricky transferred to Team Penske in 2018 to join the Acura factory DPi effort. That experience came in handy last year when Taylor returned "home" to WTR when the team switched from Cadillac to Acura.
This year at Sebring, the two-time DPi season champion (2017 and '20) teams with Filipe Albuquerque and Will Stevens in the No. 10 Konica Minolta Acura ARX-05.
"The Cadillac is obviously a very different car, which I think is great for the series and IMSA. Differences between the cars makes IMSA unique," Taylor said. "You want there to be differences between the cars, and the Cadillac felt more like a Cadillac. It was soft, and it didn't make as much downforce. It wasn't quite as edgy. Cadillacs are extremely strong at low-speed, bumpy tracks like Long Beach, and then at a smooth, high-speed track like WeatherTech Raceway Laguna Seca, the Acura is really strong."
Taylor, however, isn't conceding anything at Sebring.
"Sebring falls in the middle where you get a bit of both," he said. "It's bumpy, which the Cadillacs do very well. But it's high-speed and you can add a lot of downforce, so the Acura does well. It works out to be very even."
JDC-Miller suffered a barren spell after the memorable 2021 Sebring victory that ended with Bourdais willing a damaged Cadillac across the finish line. Co-driver Vautier credited a productive test at Michelin Raceway Road Atlanta late in the season that made the car more competitive in the '21 Motul Petit Le Mans and carried over to the 2022 Rolex 24, where the No. 5 Cadillac finished third.
"I don't want to jinx us, but it seems we made a big step forward last year at Petit Le Mans and that gave us a good feeling going into the offseason that seemed to carry over into Daytona," Vautier said. "The big test will be this race to validate it.
"I feel much better going into this race than I did last year," he added. "We feel strong, but we know we need to get everything right. Sebring is a very specific track, depending on wind, temperature … things can change very quickly on the same race weekend, and you have to stay on top of that."
WeatherTech Championship on-track activities start Thursday at Sebring with three practice sessions. Qualifying streams live on IMSA.com/TVLive at 9:15 am. ET Friday. Flag-to-flag race coverage is available on Peacock and IMSA Radio starting at 10 a.m. Saturday. USA Network coverage begins at 3:30 p.m. through the end of the race.
Story courtesy of IMSA News Wire.
Photo courtesy of motorsport.com