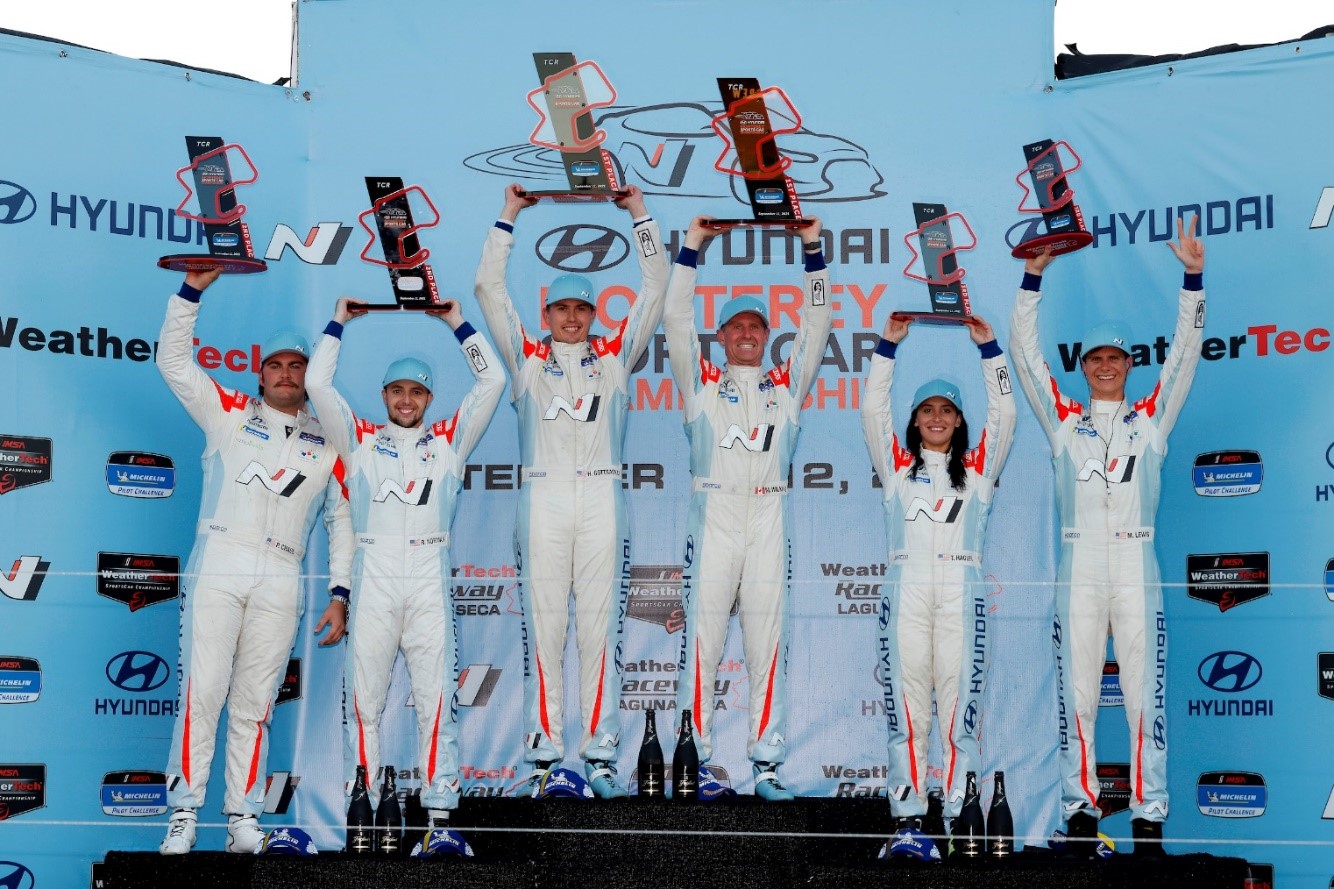 Hyundai and Bryan Herta Autosport Swept the Podium at the Hyundai Monterey Sport Car Championship
Hagler and Lewis Extended Their Championship Points Lead with a Third-place Finish in the #77 Veloster N TCR
Hyundai Strengthened Their Lead in Manufacturers' Standings
SALINAS, Calif., Sept. 13, 2021 – Harry Gottsacker and Mark Wilkins of Bryan Herta Autosport led Hyundai's podium sweep at their first victory of the season in the #33 Elantra N TCR at the Hyundai Monterey Sports Car Championship.
After an epic nose to tail battle in the closing minutes of the two-hour race, Wilkins passed teammate and fellow #98 Elantra N TCR driver Parker Chase for the lead. Chase and teammate Ryan Norman finished second and Taylor Hagler and Michael Lewis extended their championship points lead with a third-place finish in the #77 Veloster N TCR. Hyundai strengthened its lead in the manufacturers' standings and is ahead of Honda by 70 points with two races remaining.
The Elantra N TCR one-two finish came on the heels of Hyundai's exciting 2022 Elantra N consumer showcase, which took place Friday evening on the pitlane at WeatherTech Raceway Laguna Seca.
Next up, the Virginia Is For Racing Lovers Grand Prix at Virginia International Raceway on Sunday, October 10, 2021. For more information about the race visit bryanhertaautosport.com.
Hyundai Finishing Results
| | | | |
| --- | --- | --- | --- |
| Position | Drivers | Team | Car |
| 1 | H. Gottsacker / M. Wilkins | Bryan Herta Autosport | #33 Elantra N TCR |
| 2 | R. Norman / P. Chase | Bryan Herta Autosport | #98 Elantra N TCR |
| 3 | T. Hagler / M. Lewis | Bryan Herta Autosport | #77 Veloster N TCR |
| 5 | R. van der Steur / D. Dupont | Van der Steur Racing | #19 Veloster N TCR |
| 6 | M. Johnson / S. Simpson | Michael Johnson Racing | #54 Veloster N TCR |
| 7 | A. Muss / M. Filippi | Copeland Motorsports | #51 Veloster N TCR |
| 11 | T. Maxson / T. Gonzalez | Copeland Motorsports | #2 Veloster N TCR |