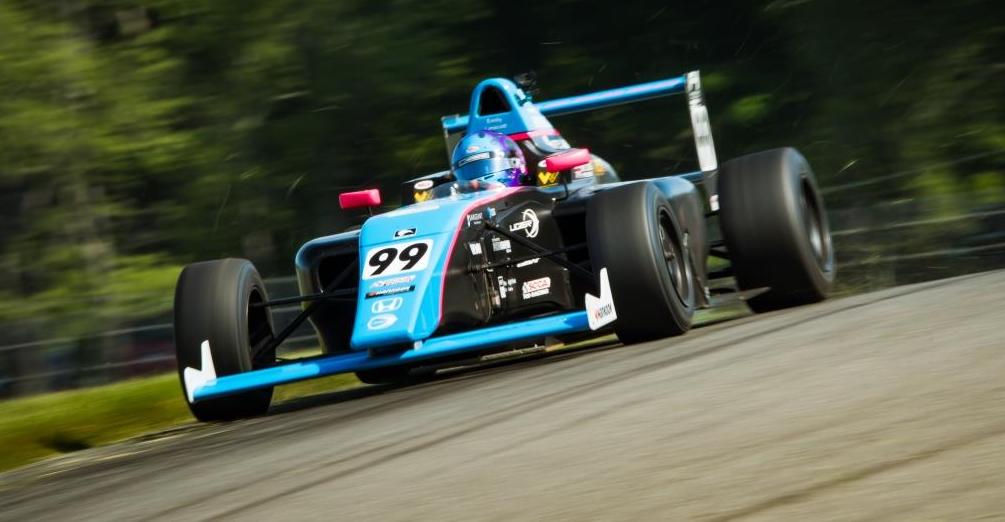 A catastrophic engine failure left young racing driver, Emily Linscott, fearing a premature end to her race season because of the huge financial implications of buying a replacement power unit.
The Bubbly Brit from Essex, UK, who races in the F4 US Championship in America, had her engine "let go" in Thursday's first practice at Mid Ohio, giving her Kiwi Motorsports Team a challenge to get the power plant swapped out for Linscott to get some track time on what is the most technical circuit on the calendar.
Linscott's father, Mark, who had been flown to the track by the TV Production company, Team Whistle, to surprise her, had to have an impromptu meeting with the team principle and then Emily's mentor and coach, Pippa Mann, about how the new engine would be paid for. He told us, "Pippa and I decided that the only sensible option was to use the money we had paid the team for Round 4 at Brainerd, to miss that round, and aim to regroup for VIR in September and see if we could raise the rest of the budget to race there."
Linscott felt this was likely to bring an end to her season…but for a selfless gesture by a "gentleman driver" who heard the news and chose to write a cheque there and then for the new engine. "Pippa and I both cried when he gave us the cheque, we were so stunned that he wanted nothing more than to help when it was truly needed. He couldn't have timed his kindness any better! "said an emotional Linscott.
The Team rose to the challenge by swapping the power units in record time to have Linscott back on track for the final F4 session of the day for some vital practice. She drove just 3 laps before the red flag was shown, leaving her with very little knowledge of the technical track layout.
To compound her woes, Linscott's car then suffered brake issues in Friday morning's Official practice, qualifying was cancelled due to substantial flooding of the circuit following a storm, leaving the young driver to start her races with almost no time on track.
With everything seemingly conspiring to halt her season, Linscott, perhaps understandably, suffered a loss of confidence when she finally got to race. "It's a lot for any athlete to take on at the best of times but when you know your season is financially hanging by a thread, it doesn't allow you to drive to your full potential", her father said. He continued, "Pippa sat Emily down after race 2 and went back to basics, having her write notes on a track map to get her head back in the game. It seemed to work as she drove much more like the hard charger we all know and love."
"This was a tough weekend for me," said Linscott. "With everything else that went on and a track that changes this much is not something I've ever had to deal with before, but I'll learn from it and be stronger in the future. Right now, I'm focused on round four at Brainerd, learning another new track, and looking forward to getting back up towards the top ten."
Not the weekend Emily or her team wanted, but one where an incredible individual decided to intervene in a positive way to keep Emily's weekend, and season, going for little bit longer this year. "Thank you" just doesn't seem to cover it!
Linscott heads to round 4 of the F4 US Championship at Brainerd, Minnesota, on July 16-18th 2021.
Story courtesy of Mark Linscott
Photo credit to Amy Lentz Photography please