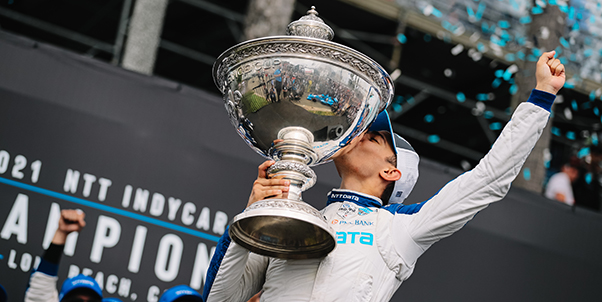 Herta Claims Victory at Long Beach
LONG BEACH, Calif. (Sunday, Sept. 26, 2021) – Alex Palou clinched his first NTT INDYCAR SERIES championship with a composed drive to fourth place Sunday in the Acura Grand Prix of Long Beach, a race won by Colton Herta.
Palou became the first Spaniard to win an INDYCAR SERIES championship and is Chip Ganassi Racing's second consecutive title winner and 14th INDYCAR SERIES champion overall. This is his first season with the powerhouse team in the No. 10 NTT DATA Chip Ganassi Racing Honda, joining CGR after his rookie season in 2020, when he finished 16th in the standings.
"What a race, what a year, what a season," Palou said. "This team is amazing. I'm super proud to be a part of Chip Ganassi Racing, all our partners. I'm super proud to be a champion and for the opportunity these guys gave me.
"Dream completed. Let's get another one now."
Said team owner Chip Ganassi: "Ladies and gentlemen, you're seeing a young man that's going to set a lot of records in this business, and he's already starting. What a great year we've had. I've got to be honest with you: It has surprised us when he came in the door and the job he's done. My hat's off. Congratulations."
Full Results
1. (14) Colton Herta, Honda, 85, Running
2. (1) Josef Newgarden, Chevrolet, 85, Running
3. (2) Scott Dixon, Honda, 85, Running
4. (10) Alex Palou, Honda, 85, Running
5. (4) Simon Pagenaud, Chevrolet, 85, Running
6. (15) Alexander Rossi, Honda, 85, Running
7. (25) Jack Harvey, Honda, 85, Running
8. (22) Sebastien Bourdais, Chevrolet, 85, Running
9. (16) Takuma Sato, Honda, 85, Running
10. (12) Will Power, Chevrolet, 85, Running
11. (13) Scott McLaughlin, Chevrolet, 85, Running
12. (9) Ed Jones, Honda, 85, Running
13. (5) Felix Rosenqvist, Chevrolet, 85, Running
14. (7) James Hinchcliffe, Honda, 85, Running
15. (23) Max Chilton, Chevrolet, 85, Running
16. (19) Graham Rahal, Honda, 85, Running
17. (27) Jimmie Johnson, Honda, 85, Running
18. (20) Charlie Kimball, Chevrolet, 85, Running
19. (26) Dalton Kellett, Chevrolet, 85, Running
20. (3) Helio Castroneves, Honda, 85, Running
21. (21) Conor Daly, Chevrolet, 84, Running
22. (28) Oliver Askew, Honda, 83, Running
23. (11) Ryan Hunter-Reay, Honda, 83, Running
24. (6) Romain Grosjean, Honda, 75, Contact
25. (24) Rinus VeeKay, Chevrolet, 48, Mechanical
26. (18) Callum Ilott, Chevrolet, 47, Mechanical
27. (8) Pato O'Ward, Chevrolet, 43, Contact
28. (17) Marcus Ericsson, Honda, 25, Contact

Race Statistics


Winner's average speed: 91.935 mph
Time of Race: 1:49:10.3764
Margin of victory: 0.5883 of a second
Cautions: 4 for 13 laps
Lead changes: 7 among 7 drivers