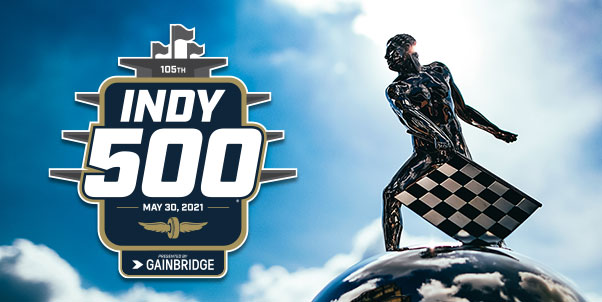 INDIANAPOLIS (Wednesday, April 21, 2021) – Fans will attend the 105th Running of the Indianapolis 500 presented by Gainbridge, with up to 40 percent of venue capacity permitted, totalling approximately 135,000 fans. 
The plan for the Sunday, May 30 race at the world's largest sporting facility was developed in close consultation with state and local health officials and has been approved by the Marion County Public Health Department.
"Our fans mean everything to us, and we can't wait to welcome them 'Back Home Again' for this year's Indy 500," Indianapolis Motor Speedway President J. Douglas Boles said. "The city and state have worked with us to identify the appropriate health and safety precautions so that we can successfully host a limited but very enthusiastic crowd. The health and safety of everyone coming to IMS, along with Central Indiana and the Hoosier State, have been paramount throughout this process."
"The number-one thing fans can do to ensure a great Race Day is get vaccinated as quickly as possible," Penske Entertainment President & CEO Mark Miles said. "We continue to offer vaccinations at IMS and will be extending our mass vaccination clinic throughout the Month of May. This is all part of the effort to continue getting Indiana back on track."
In addition to the planned vaccination days at IMS from April 24-30, vaccinations will now be available on select days from May 1-27, with additional details forthcoming. IMS and the NTT INDYCAR SERIES will unveil a media campaign to encourage Race Day attendees – and all Hoosiers – to get vaccinated immediately.
"The COVID-19 vaccine is the best tool we have to help us return to the activities we love and have missed over the last year, and every day, more members of our community receive the lifesaving protection it offers thanks in part to community partners like Roger Penske and the Indianapolis Motor Speedway," said Dr. Virginia Caine, director and chief medical officer of the Marion County Public Health Department. "Our vaccination rates, combined with the outdoor nature of the event, make it possible for fans to return to these hallowed grounds for the Indy 500 this year. We are grateful to the IMS team for their collaboration throughout this planning process and appreciate their work to ensure vaccines reach our neighbors. I continue to invite everyone in our community 16 and older to visit ourshot.in.gov or call 2-1-1 to sign up for the vaccine."
For additional updates, visit: https://www.indianapolismotorspeedway.com/events/indy500